Nowadays most people have to work in front of screens for long hours. It makes the shoulders muscles tight and leads to a cramped neck which will make you feel like you are carrying a heavyweight.
To get relief from these issues, you need to look for the best massage chair for the neck and shoulders. These will make your upper body free from all sorts of pain hence, you will be able to enjoy better sleep which is the key to starting fresh tomorrow.
Let's explore the top 8 best massage chairs and study their main features!
Best Massage Chair for Neck and Shoulders – Comparison Table
| IMAGES | PRODUCTS | RATING | PRICES |
| --- | --- | --- | --- |
| | | | |
| | | | |
| | | | |
| | | | |
| | | | |
| | | | |
| | | | |
| | | | |
---
Best Massage Chair for Neck and Shoulders – Reviews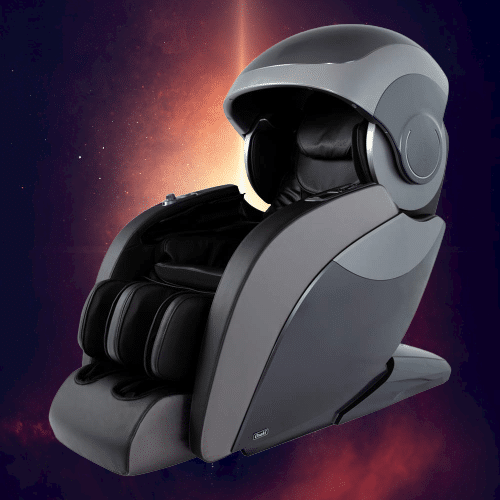 First on the list is OSAKI OS-4D ESCAPE, You might be wondering that why it is called escape? This name is given to this chair because of its distinguishing pod capsule-like design and it will provide you an escape from reality by relaxing your mind and body.
Ergonomic S-Track
Taking this into account, it has S-track which moves the roller heads from the neck to the lower spine with constant pressure. Most of the massage chairs have a typical linear massage track which has inconsistent pressure while this one is best because it evenly distributes the pressure.
4D Massage
For providing you greater flexibility and outstanding range, it comes with next-generation 4D rollers. These will precisely measure the curvature of your back for providing a more comfortable and relaxing massage.
Additional Traits
Besides, it has separate heating pads positioned on the calf and lumbar area which loosens the muscles for providing a perfect massage. It has two stages zero gravity system hence, you can choose between its two different recline angles.
To add more perspective to it, you can manually adjust its footrest for shortening or extending its length. Because of its efficient massage, it also helps in dealing with anxiety or stress by increasing the production of happiness hormones hence, worth considering.
Pros
Decent price
Equipped with 4D rollers
Provides lumbar and calf heat therapy
---

No one can understand your body and its systems better than a doctor. Keeping this in view, the 4v2 incliner massage chair is designed by a panel of 25 surgeons, pain specialists, and doctors. This is the specialty of this shoulders massage chair which makes it stand out from other products so, let's check out its features.
Unique Design
This is sturdy which is made by using excellent quality material hence, will provide you a great value in return for every penny. It has a unique design and contains wheels at the bottom so, you can conveniently move it around at your home or office. 
Chiropractic Back Stretch
Furthermore, it contains inflatable airbags that gently stretch the muscles of your back and hips. Hence, it not only provides you relief from the tight muscles but also helps in boosting up your spine health.
Full Body Medical Scan
Although most of the massage chairs companies claim that their massager can fully scan your body. But not all of those are efficient enough to do their job in the right way. However, this chair has an advanced smart medical scan technology to detect every part of your for providing you a soothing massage.
Pros
L-track Massage system
Easy to carry
Has an advanced body scan technology
---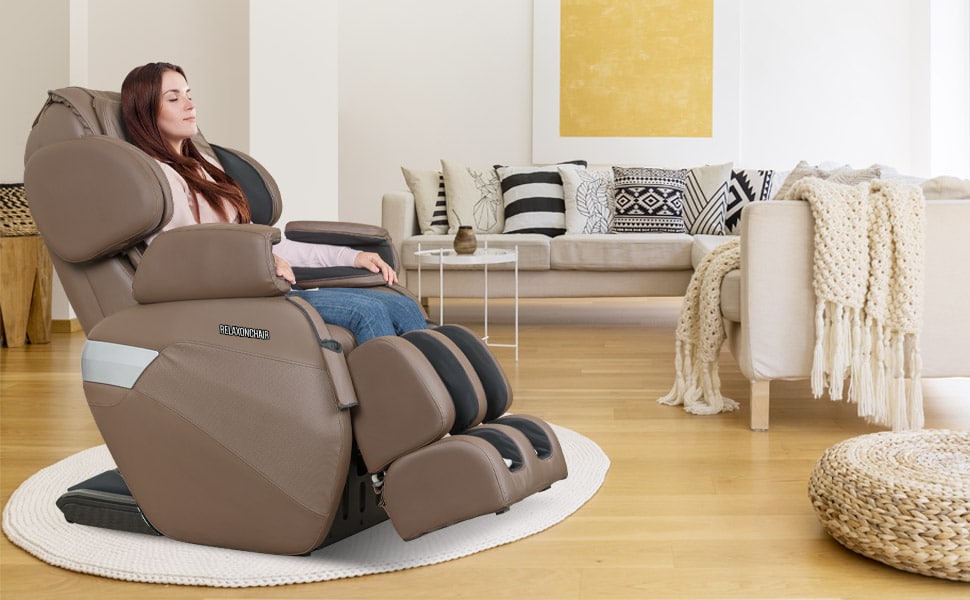 The MK-II Plus is the most popular chair by RELAXONCHAIR and it has earned a lot of customer support in less because of its brilliant performance. This has some additional yet useful features like multiple massage techniques, a body stretch feature, and a second-generation SL-Track.
Ergonomic Design
This shiatsu massage chair is redesigned to perfectly match your back for providing you a perfect massage. Besides, it has a long SL track that covers your lower head and upper thigh area to buttocks.
5 Massage Techniques
It uses five multiple massage techniques including tapping, knocking, kneading, shiatsu, kneading, or tapping. This massage chair also has enhanced body scan technology that detects pressure points and recognizes your body shapes for creating a customized back massage.
Body Stretch Feature
Additionally, this massage chair provides you a complete body stretch for effectively relieving your back pain and pressure. It contains two heating pads in the lower back are which in combination with rollers help your muscles to heal faster.
Because of its zero-gravity feature, it will place your foot at the same level as the heart hence, relieve the discomfort of back pain. Not to mention that, it also minimizes the strain of gravity and your hearts can work less hence, you feel more relax.
Pros
Provides deep tissue massage
Comes with a body stretch feature
Has five different massage techniques
Cons
Its shoulder massage is tight for some people
---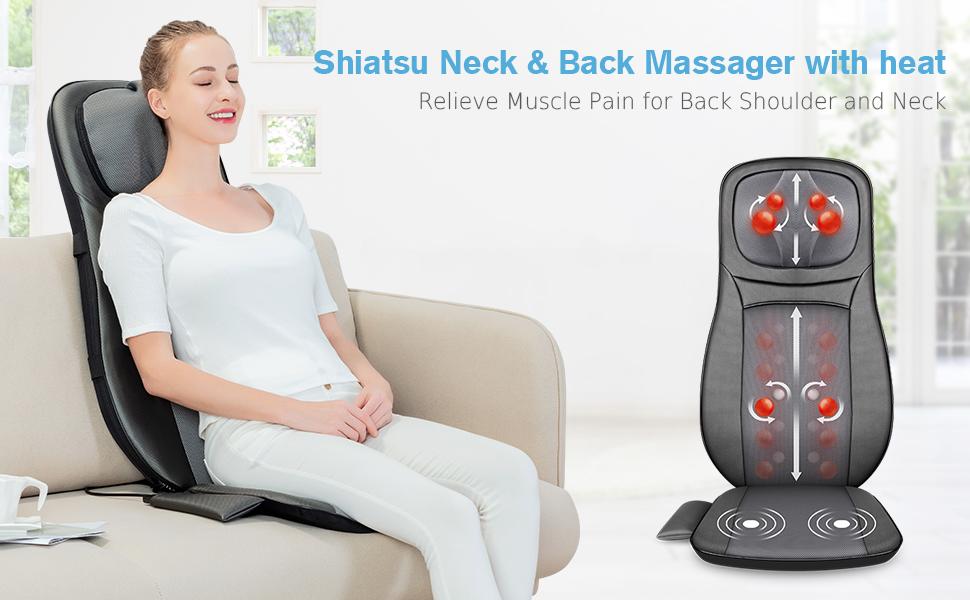 As its name depicts, the Snailax Shiatsu massager is specifically designed for neck and back massage. By having this medical massage chair, you can enjoy having a professional therapist-like massage at the comfort of your office or home.
Adjustable Neck Massage
Say goodbye to shoulders and neck pain as this massage chair is offering you 4 unique neck massage nodes. These will provide you a deep tissue massage on the targeted areas hence, instantly provide relief from tired and stiff muscles.
Shiatsu Back Massage  
Another great feature is the shiatsu back massage that is strengthened with heat and its massaging nodes travel up & down for relaxing your entire back. Other than that, it has 3 specific massage zones which are made to concentrate on your specific pain area.
These will provide you pin-point relaxation and soothes your muscle tension by adding gentle warmth.
Ultimate Comfort
This is not only a massager but also an amazing piece of furniture and super comfortable. Therefore, you can use it as a cushion on a sofa, recliner, office chair, or dining chair to make them comfier.
Pros
Well-built massage chair
Shiatsu back massage with heat
Works great for neck and back massage
---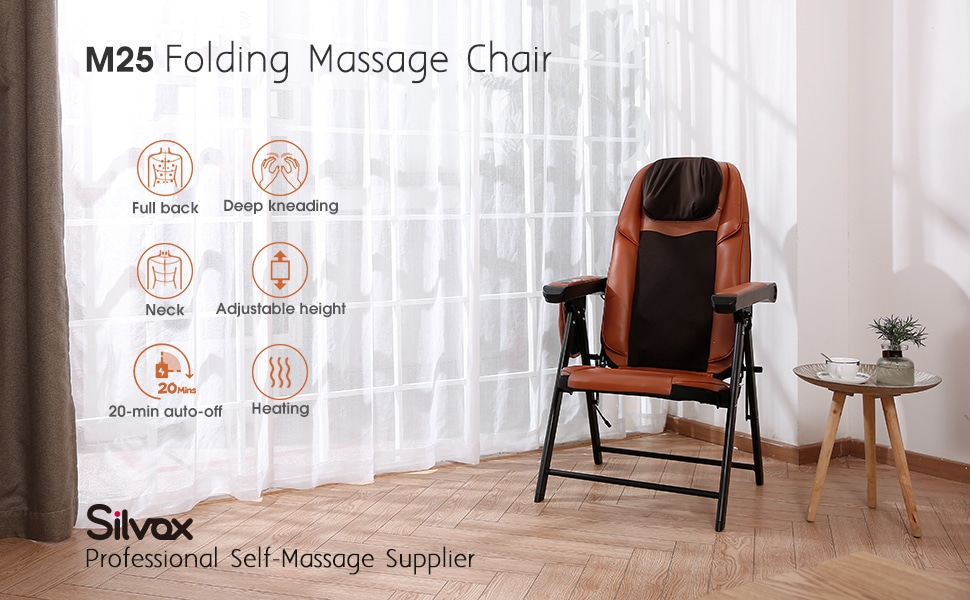 If you have a small office or home space and can't go for those heavy & long massage chairs then worry no further. As here I am going to introduce a foldable chair that takes less space for storage and provides a professional massage.
Vibration Massage
The stiffness of muscles especially on the thigh and hip area is the major cause of fatigue. To sort out this issue, it is equipped with a massage cushion that provides 3 levels of rhythmic vibration. This helps to lessen the muscle stiffness and stimulates the muscles of the thigh & hip area for giving you relief from accumulated stress.
Fully Adjustable
It has an ergonomic design and comes with a heavy-duty frame that can support more than 400lb weight. The feature which I like the most about this chair is that you can adjust its backrest from 110-130 degrees hence, keeps you in ease.
Serious Space Saver
This is the most distinguishing feature of this full-body massage chair that features silvox folding. So, after using it, you can fold this chair only in 10 seconds without going through any complex process. This makes it an ideal option for small spaces hence, an excellent purchase.
Pros
Vibration and heat function
Provides incredible massage
Best for small spaces
Cons
Some customers don't like its foldable design
---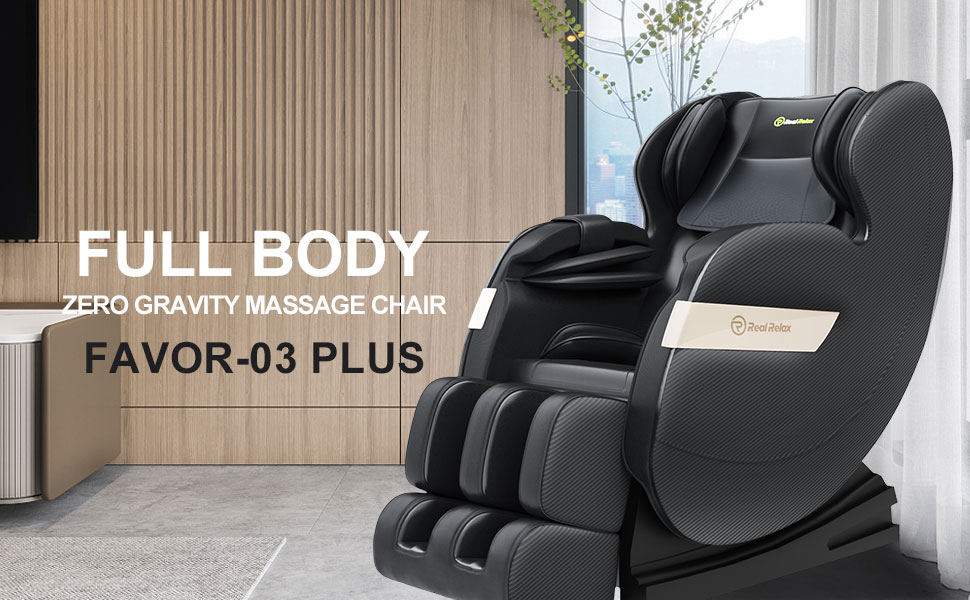 The next chair on the list is the RealRelax FAVOR-03 PLUS massage chair which is not only best for shoulders and neck massage but also provides relaxes your full body. It has incredible features like efficient rollers, an exclusive arm set link system, 4 auto-programs, and a built-in heater.  
Easy to Assemble
Not all massage chairs are easy to put together and some require an additional labor cost for their assembly. In that regard, this full-body chair is amazing as it comes with two boxes and doesn't require much time for its assembly.
Customize Massage
On the bright side, it contains special 8 neck and back rollers that will wipe away your fatigue in no time. You can also set its rollers and airbags for creating your customized massage. It has 3 levels respectively for speed & strength and you can adjust these backup& down.
Zero Gravity
Another great feature is its one-button zero-gravity design that will equally distribute your weight for making you feel relax. Moreover, this real relax massage chair is powered with a built-in heater to the lower back and foot so, highly efficient in providing relief from pain.
Pros
Easy to assemble
Fantastic chair with good design
Best for full body massage
Cons
Airbags on the legs have high strength
---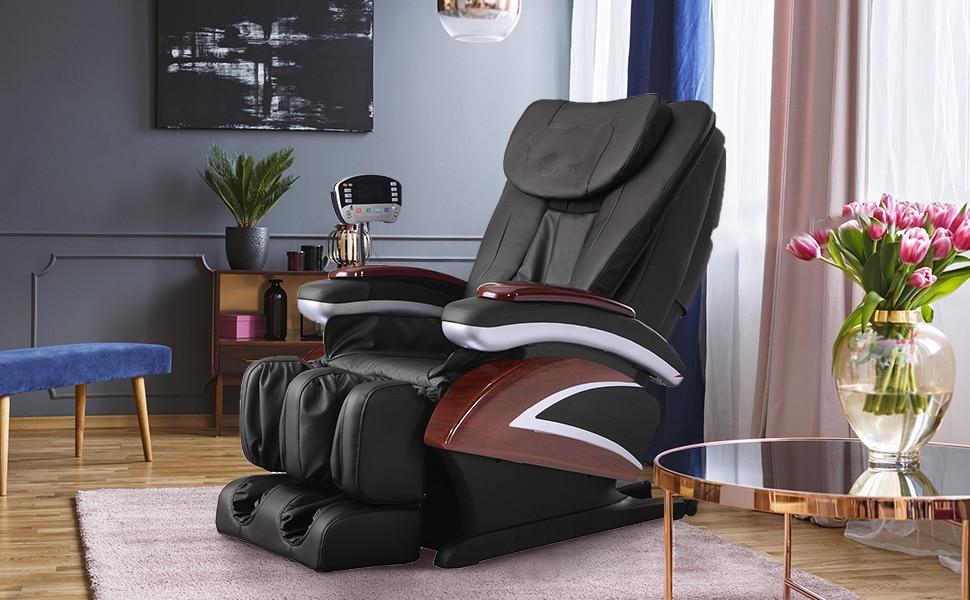 Next on the list is the BestMassage BM-EC06 full-body electric shiatsu that contains everything which you need in a perfect massage chair. It is not unique and amazing in terms of design but also gives a flawless performance so what else you could ask for?
Functional Diversity
This massager is very versatile and comes with seven different massage modes including air pressure, heating, kneading, tapping, stretching, etc. For providing you the best experience, it contains 9 different preset auto programs so, you can enjoy using different massage methods.
Computerized Body Scanning
Moreover, it has built-in sensors that will automatically measure the length of your spine for knowing exactly where to massage. Now you don't need to adjust the intensity of massage as it will do this automatically according to your body weight.
This makes it a great option for those people who want to get the most out of their massage chair by taking a personalized massage.
Air Massage System
It has more than 21 airbags that are positioned in the feet, calves, thigh, arms, hip, and shoulder areas. These airbags when combined with heat therapy helps your joints to recover faster by decreasing the pain and aches.
Pros
Contains 7 massage modes
Adjustable massage chair
Best for pain relief
Cons
Their customer support service could be better
---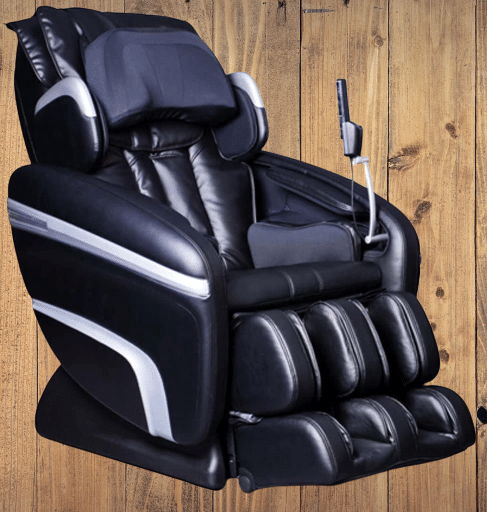 The Osaki OS-7200H executive massage chair has a unique and fantastic S-track function and has an affordable price. So, if you want to have a good quality massage chair for neck and shoulders massage but don't have enough dollars to spend then consider this one.
Superior S-Track Design
It has a specific S-Track design for especially paying attention to your lumbar spine, shoulder, and neck area. For providing you a great massage, it will automatically make micro-adjustments for matching the curve of your spine.
Manual Adjustment
Besides, you will also get the luxury of 3 options for partial, fixed, or full body massage. Whenever you want to pay attention to any special pain point or specific part of your body, you can use its fixed massage.
Other Features
It has 6 pre-set programs that provide you specific health benefits including improved blood circulation. For keeping your body in a weightless position, it has a zero-gravity design. You can get an automatic massage for both the upper and lower body by using its 2 automatic settings.
It has an LCD with which you can easily adjust its functioning but unfortunately, it lacks space-saving technology.
Pros
Has an affordable price
Contains 6 preset programs
Good for neck and shoulder massage
Cons
Beeps loudly after every massage
---
Buying Guide for Best Massage Chair for Neck and Shoulders
The best quality massage chair is loaded with multiple features for providing you a great experience. But while you are looking for the best neck and shoulder massage chair then there are some key features which you need to consider.
Below, I have listed all of those crucial features so read them carefully.
Body Scanning
First of all, the massager should be equipped with automatic body scanning technology. This helps to determine the shape and curvature of your body hence, provides you a personalized massage according to your body requirements.
Not to mention that this will increase the health benefits of the massage as your chair will be targeting specific pain points. This will help to loosen the muscles knots, regulates blood pressure, and will increase the strength of your body for fighting against diseases. 
Headrest with Neck & Head Massager
Almost all of the massage chairs contain a headrest but those for the neck & shoulders also contain rollers in these areas. This is an important feature to look for as the presence of a roller will provide you a soothing massage to get rid of neck & shoulder pain.
Heat Therapy
Other than that, it will be great if your massage chair contains heating pads in the neck and shoulder area. Heat therapy is considered reliable from ancient times as it helps in the speedy recovery and provides greater relief from pain. Note that, not all of the massage chairs contain heat pads in these areas so, you need to be careful in this regard.
---
Best Massage Chair for Neck and Shoulders – Conclusion
With that being said, now it's time to give final remarks about the best massage chair for the neck and shoulders.
All of these products will do the job but my favorite pick is the medical breakthrough 4 v2 recliner massage chair. This is designed by doctors and pain specialists so, equipped with highly advanced body scan technology.
Thanks for reading this article and don't forget to share it!