There is no doubt that massage chairs have brought incredible peace, luxury, and relaxation to our lives. Their addition to our regular routines contributed a lot to keep us healthy in both medical and physical senses. The market is full of various massage chairs. At times, it turns out to be testing for the buyers to buy the most reliable and comfortable massage chair.
When it comes to choosing a massage chair, then every person has different opinions. Some select the variety of features available in a massage chair, while some choose their massage chair due to the level of comfort it provides. However, a massage chair has won the hearts of its users with its flawless functions and maximum efficiency. That massage chair outstands every other massage chair with its durability. Did you get it? If you are thinking of Titan Pro Executive, then yes, you have guessed it right.
Titan Pro Executive is the best 3D massage chair available in the market. It has a punch of admirable features that came after a number of successive innovations. You can experience a full body massage at your fingertips with deep 3D massage rollers. The chair gives you an intense shoulder and neck massage that will go all the way down to your spine. The use of mechanical foot rollers in the massage chair is made for a deep kneading mechanism. The Titan Pro Executive will give you a deep tissue massage covering you almost from top to bottom. Its memory and other premium functions have made this chair top the table among the other luxury massage chairs. There are numerous beneficial features of the Titan Pro Executive massage chair that are going to be described in detail in this informative review.
Product Details
---
Titan Pro Executive Massage Chair – Full Review
Features of Titan Pro Executive Massage Chair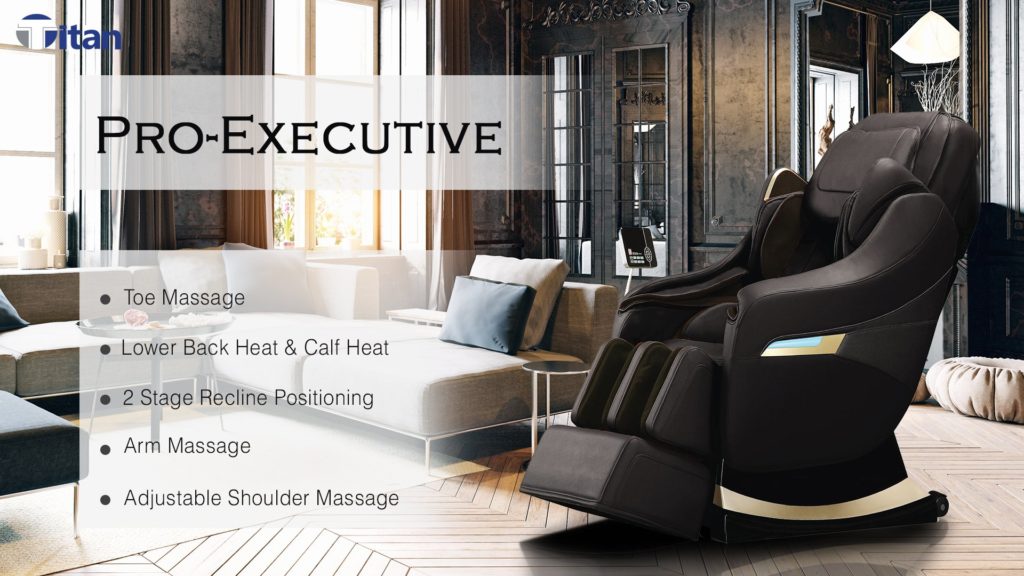 Now let's take a deep insight into the Titan ProExecutive to understand that it works and which settings will suit you the most. Titan massage chair provides a wide sort of facilities, such as deep tissue massage, air compression massage, heat therapy, 3D rollers, adjustable shoulder massage, zero-gravity, and Bluetooth technology. All these bewildering characteristics made Titan Pro a versatile massage chair that has outdone every obstacle in its path to be the most relaxed and comfortable.
● Two-Phase Zero Gravity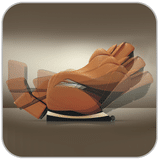 The Titan Pro has a two-stage zero gravity, and this zero gravity position is manufactured to better every massage aspect. The zero-gravity feature of the Titan massage chair allows you to relax as your legs are raised to the height of your heart and thus permits you to escape the forever-pulling force of gravity. When gravity's influence is reduced, stress from joints, muscles, and different parts of the body released from the body, and you feel much lighter, soother, and relaxed. You could acquire this posture by using the remote that is placed in the middle.
With the first press of the remote, you will access a reclined posture in which the seat base will slight to leaning.
In the second press to zero-gravity button, the Titan Pro Executive massage chair will acquire a complete zero gravity position but although one could customize the settings according to one's own.
A zero-gravity position's primary function is to put you in a weightless feeling and provide a deeper massage. NASA mainly inspired the position as they used this technology when astronauts are sent into space.
● 3D Massage Roller Technology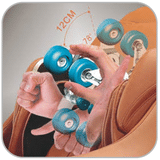 From 2D to 3D, the roller technology could not be better without Titan Pro Executive. Buying a massage chair with 2D roller technology will never provide you with a deep body massage. If you want to decide the only distinctive and distinguishable feature of the Titan Pro, it will be its 3D roller technique. The rollers of Titan Pro could outspread up to 4 inches to the body to perform a deep massage. You can also select a lighter touch option if you do not prefer to get a deep body massage. The 3D roller technique could be tuned with the help of manual and auto programs. It gives a tremendously humanistic massage experience. For those people who admire getting treated with a deep body massage, the Titan Pro Executive is made for them.
● Air Compression Massage – More Airbags, More Relaxation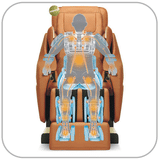 There are 61 airbags in the Titan Pro Executive massage chair. These airbags are tactically incorporated throughout the chair. They are placed in such an area of the chair where your body interacts the most. These positions are the shoulders, lower and upper arms, glutes (buttocks), hips, waist, calves, legs, feet, and seat. A full-body air compression massage is delivered to you so that it would get to all those places and parts of your body where 3D rollers are not able to reach. There is another feature that you could choose the intensity (strength levels) of these airbags, such as mild, medium, and strong. While in other massage chairs, you could only select one airbag in the whole chair. By the fantastic airflow system in the Titan massage chair, you would walk away with a sustaining full-body massage.
● Titan Body Stretch Program and Back Twist
The Titan Pro Executive allows you to stretch your back, legs, and waist. With the use of 3D roller technology, the upper back and chest of your body are stretched. In the massage chair's seat, the air compression technique provides a stretch to the lower back. Additional airbags are placed in the outer waist alongside the airbags of the hips. The airbags on the rear side of the chair would freely roam to provide a more profound twist.
● Foot Rollers – Three Rows
The Titan massage chair offers you one of the most effective and efficient foot massagers with its three rows foot rollers designed with the help of the latest technology. Such a comprehensive foot massage system you could hardly find in any other massage chair. These rows of foot rollers locate the aching points of each foot and facilitate the benefits of kneading to minimize the pain and maximize comfort. This technology of 'three rows foot rollers' has also been described as 3D foot massage as the rollers have the ability to in almost every possible direction of your feet. Even if a man's foot size is 14, the foot rollers will deliver an adequate massage.
● Full Body Computer Scan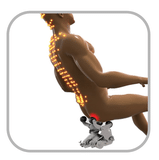 When a person sits in Titan Pro Executive massage chair and selects a desired style or program of massage with suitable intensity or pressure settings, then the body scan equipment activates at once. This body scan technology of the Titan massage chair allows the back rollers to align themselves according to the curvature of a person's spine. This feature makes the chair cover almost the entire rear section of the body, starting from the neck and ending to the lower back. Thus, making Titan Pro a pro cyber massage chair of modern times.
● Adjustable Shoulder Massage
The shoulder massage feature of the Titan Pro makes it even more outstanding and a distinctive massage chair. This luxury chair with its shoulder massagers is made to be adjusted in two ways (up and down) in order to facilitate the users of every height. This feature of adjustable shoulder massage has been highlighted by many of the people who bought Titan Pro Executive massage chairs. The shoulder massage quality was present in other massage chairs, but that feature was not adjustable, which means that the shoulder massagers are stationary. As a result, the non-adjustable shoulder massagers leave a person who has broader shoulders unrelaxed, unhappy, and half treated as their stress could not be relieved completely. Additionally, the Titan Pro Executive offers shoulder massagers with a margin of width up to 8 inches. Thus, one could choose the width of shoulder massagers according to his shoulder axis.
● Knee and Lower Back Heat Therapy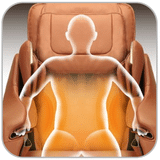 The massage chair has two heating pads in the lower back area along the lumbar region. These two heating pads are placed to reach a relaxing and soothing temperature of 104 – 122⁰ F (40 – 50⁰ C). By getting the pre-mentioned temperature, the Titan massage chair lessens pain, tension, and pressure, resulting in increased, better blood circulation. It helps you to soothe sore muscles and joints. Moreover, alongside the dual heating pads, in the region of the massage chair's calf/knee, an infrared heating mechanism is installed to excite acupuncture points on the knee joints and calf's area so that the stress and tension are reduced.
● Extension Feature for Various Heights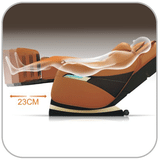 As the Titan Pro dreamer massage chair offers shoulder massage, foot rollers, and heating pads, it provides an extension for people with short or tall height. It possesses a foot ottoman that contracts and retracts for taller and shorter users. The foot ottoman is manufactured with two separate sections on a steel track, and each unit functions differently. One section deals with your feet, while the other section deals with your calves. Simply, just place and press your feet on the ottoman till they are fully extended. You could also use a remote if you want to manually adjust the contraction and retraction of the foot ottoman. The foot ottoman could extend up to 9 inches (23 centimeters). With its versatile design, the chair allows every user to enjoy the benefits of the massage chair. The Titan Pro Executive can accommodate people whose heights range from 4'11" to 6'4".
● Bluetooth Technology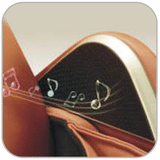 Titan wants its users to get the most out of their beneficial products, and when it is about Executive Pro massage chair, they did not step back from making it a complete techno-equipped massage chair. That is the reason that Titan allows its users to sync the extraordinary massage chair with their intelligent devices. It lets the users listen to their favorite music and songs while receiving a soothing and unmatched massage. You can also download the Titan massage chair through your mobile phone to download the Titan massage chair mobile application.
● Six Preset Programs
The Titan Pro Executive massage chair offers six preset massage programs. Each automatic program provides a soothing and exceptional experience to the users that are impeccable for almost every occasion, including Relax, Time, Stiffness, Fine, Air Pressure, and Waist Stretch.
---
Specifications of Titan Pro Executive Massage Chair
| | |
| --- | --- |
| User Height | 4'11" – 6'4" ft |
| Maximum User Weight | 285 lbs |
| Roller Track Length | (S-Track) 32 inches |
| No. of Airbags | 61 Airbags |
| No. of Auto Programs | 6 Auto Programs |
| Heating Pads | Available (Knee & Lower Back) |
| Timer | 5 – 40 minutes |
| Upright Dimensions | 54.3" L x 36.6" W x 53" H |
| Reclined Dimensions | 86.6" L x 36.6" W x 28.5" H |
| Product Weight | 276 lbs |
| Power Usage | 200 Watts |
| Storage Condition | 68 – 140⁰ F |
| Usage Condition | 50 – 104⁰ F |
| Safety Feature | Overheating and Power Surge Safety Available |
| Health Benefits | Improved Blood Circulation, Reduced Muscles Fatigue |
---
Conclusion
In the above-mentioned detailed review of the Titan Pro Executive massage chair, it has become easier for you and anyone to consider the benefits one could get after buying the Titan massage chair. With its remarkable unlimited features and unquestioned reliability, one could hardly get any doubt regarding its performance and effectiveness. With an economical rate, this optimized beast is a perfect solution for your day, full of fatigue. It is time to take your level of comfort to be upgraded and if you want to bring relaxation and comfortability in your hectic life, give it a chance, and you will be proud of your decision.