Kahuna is a well-known brand that has earned a lot of customer support and appreciation because of its awesome products. Especially their customer service is so incredible as they tried their best to satisfy your queries and doubts.
Check Best Kahuna Massage Chair – The Most Simple Guide
However, when it comes to picking up the one between Kahuna LM6800 vs SM-7300 then purchasing decisions become greatly difficult. As both of these are their most popular massage chairs and have excellent features.
Here, I will help you to reach a final decision as I am going to compare the features of both products. The LM-6800 has an ergonomic design, multiple different massage options, and is powered with 3D scan technology.
At the same time, the SM-7300 is not less than anyone and offers you good value at a reasonable price. It has multiple different rollers, various massage options, and zero gravity positions to keep your body inclined.
But who is the best among both of Kahuna LM6800 vs SM-7300? For finding out the complete answer to this question, scroll down!
---
Kahuna LM6800 vs SM-7300 – Specs
LM 6800
SM 7300
Image
Framing Material
Cotton and Steel Alloy
Cotton and Steel Alloy
Controlling Power
Remote Control
Remote Control
Rollers
4
6
Voltage
110-120V
110-120V
Frequency
50-60Hz
50-60Hz
Power Consumption
230 W Max
230 W Max
Zero Gravity
3 inches
3 inches
Space Saving Technology
Yes
Yes
Leg Zipper Extension
Yes
Yes
LED Light Design
Yes
Yes
Massage Time Control
30 Minutes
30 Minutes
Auto-programs
6
9
Heat Therapy
Yes
Yes
Roller Movement
Adjustable
Adjustable
Chair Dimensions
(LxWxH)
48x31x46 Inches
48x28x47 Inches
Pain Relief
Yes
Yes
Remote Holder
Yes
No
Extra Padding of Cotton
Yes
No
Track
L-Track
SL-Track
Weight
200lbs
247lbs
Massage Zones
Neck, Shoulders, Low Back, Hips, Feet, Waist
Shoulders, Side Seat, Low Back, Neck, Hips, Feet, Back, Waist
Pre-programmed modes
6
9
Massage Cycle Time
15min
30min
Warranty
3 years Limited
2 years Full
Check Price
Amazon | Official Website
Amazon | Official Website
Use coupon code 'chairsarea' on the official website for a 5% discount.
---
Kahuna LM6800 vs SM-7300 – Full Comparison
Design
Both of these machines look similar in design but these have few variations. The SM-7300 has an ergonomic design and comes with triple hip airbags for providing you're a better experience.
The SM-7300 has an updated remote controller for more user-friendly functions hence, you can use it without any hindrance. On the other hand, the LM-6800 has newly designed arm airbags along with a double-layered shoulder bag for providing extra comfort.
There are many massage chairs are available in the market but it is painful to arrange them. Because of their large size, they take more place and this feature makes them unsuitable for those who have a small living area.
Check Best 8 Massage Chairs for Small Space
But Kahuna has done a remarkable job in this regard, as both of its machines have a space-saving design. They will only require the space of 3 inches between the wall and back of the chair, therefore, incredibly space-saving.
Despite having a reasonable price, the SM7300 is equipped with this standard feature same as the LM6800. Note that, the LM6800 has comparatively less weight than the SM-7300 and is designed in such a way that you can put it right against the wall.
Body Stretch Features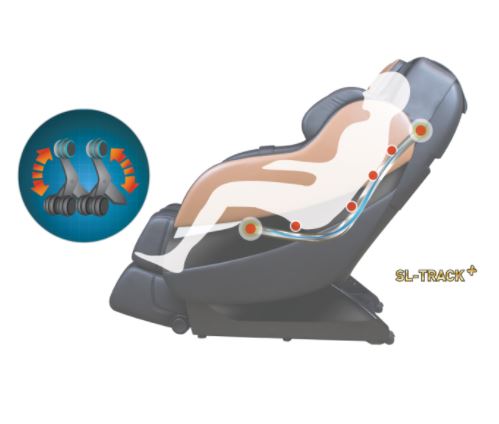 Taking this into account, the SM-7300 is equipped with six rollers that are placed in a strategic position. These rollers are capable of reaching most of the parts of your body for providing a unique massage.
Besides, it has uniquely designed and follows the SL Track. The L-Track will efficiently handle your glutes and thigh area while the S part follows the natural curve of the human spine. These both additions make it super comfy and you won't get these features in any other product of this price range so, give it a try.
Check What Is SL Track Massage Chair? Here's The Answer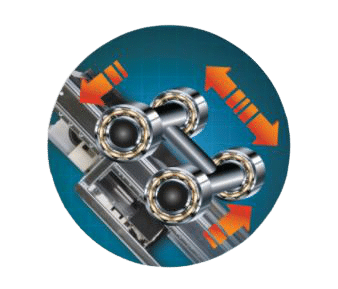 A notable difference among both of these products is that the LM-6800 has 4 rollers instead of 6. However, these are enough to efficiently massage your neck, back, arm, and feet area. On the bright side, it is greatly useful for those people who have the issue of a compressed spine.
On the remote of LM-6800, there is a yoga stretch button that will provide you with full-body stretch. Adding to this, it provides you with nice stretching by gripping your ankles while tilting your back and sides. In this way, it targets your pain points and helps you in getting rid of stiff muscles.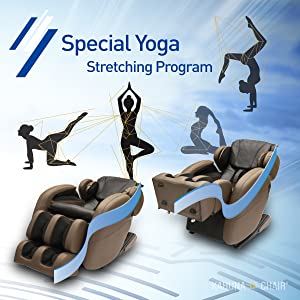 Note that, this feature of body stretching is not useful for everyone. Especially, if you recently had surgery or have any sort of serious back injury then, it will be better to avoid using its full body stretch feature.
Because of our sedentary lifestyle, our spine undergoes a lot of pressure. But worry no further as the LM-6800 will provide your spine a big relief by stretching it out in an appropriate manner. If you have not used the stretch feature before, then use it with the shortest program length. The stretch feature of LM-6800 is quite intense which is not for those who don't stretch often.
Massage Options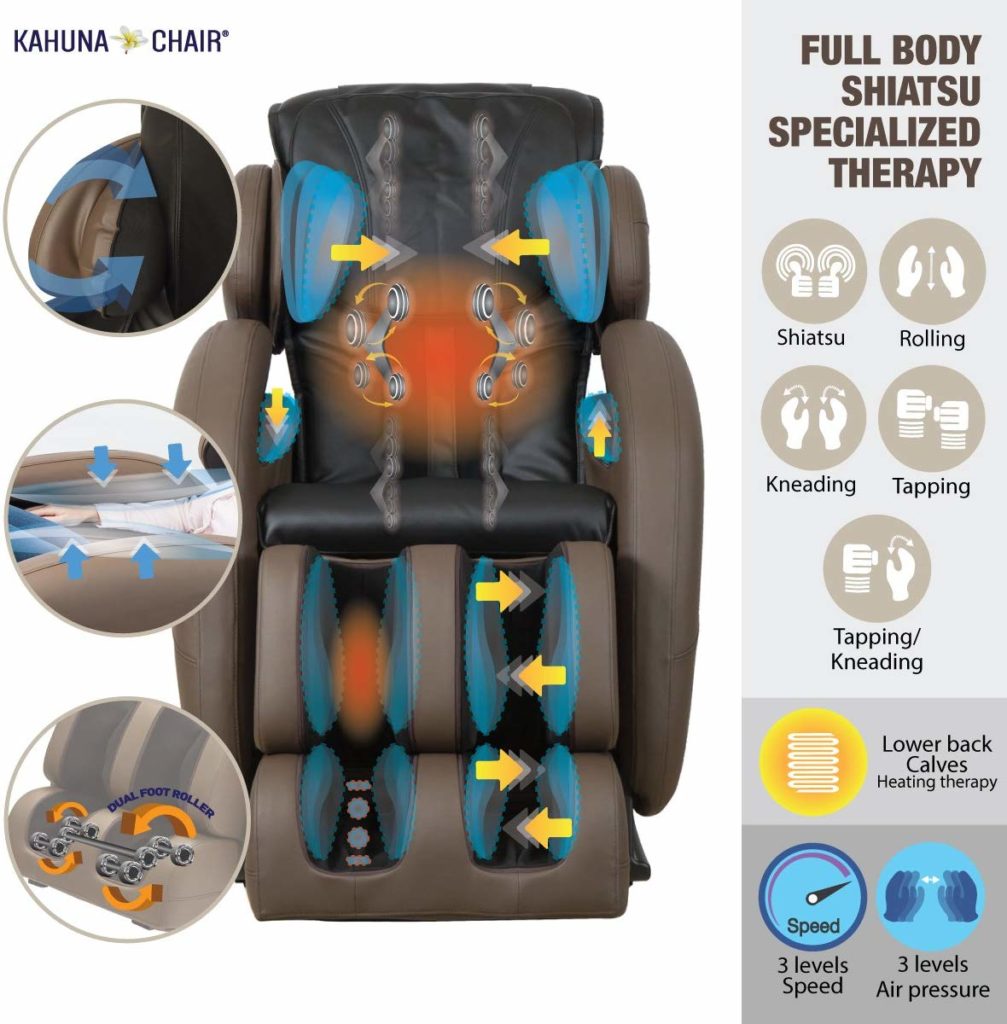 When it comes to the massage options, both SM-7300 and LM-6800 feature five different massage techniques. These include the rolling, shiatsu massage, kneading, tapping, and a combination of both tapping plus kneading.
The most admirable feature of these machines is that they come up with three different intensity levels and speeds. Now you can adjust them as per your convenience for getting light or relaxed sessions.
These are also useful for those people who want to have stronger pressure. Because of their wide range of massage techniques, you and your family can experiment to find a preferred treatment for themselves. So, you don't need to visit a therapist as you can get a perfect massage in the comfort of your home.
The LM-6800 goes some extra miles as it also has extra pre-programmed massages while focusing on various parts of the body. These focus points include mid-back to glutes, neck to glutes, and neck to waist.
Moreover, it is pre-programmed for the lower back to waist massage, glutes, and thigs massage. Another useful feature of the LM-6800 is its zone massage option with which you can target particular areas of your body that require more attention.
Calf & Foot Massage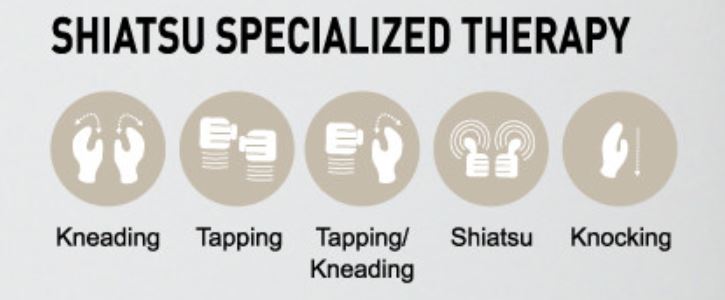 Although both of these massage chairs offer foot and calf massage but in a different manner. Starting with SM-7300, it contains air cells that are attached to the feet and calf part of the massage chair.
All of its massage techniques including kneading, rolling, and squeezing work simultaneously for making you feel relaxed. This is especially great for those people who have leg problems or commonly engage in strenuous exercises.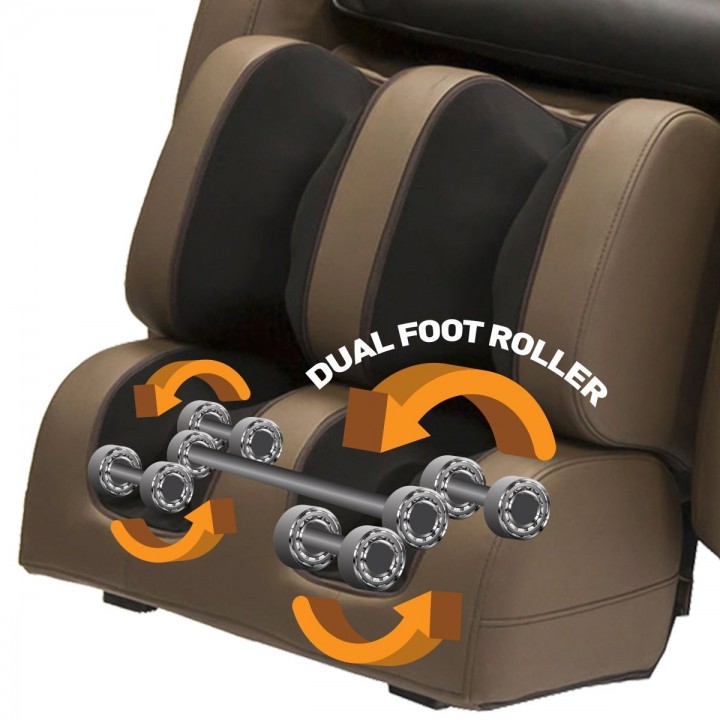 On the other side, what makes the Kahuna LM-6800 better is that its footwalls are more flexible. This makes it handy as with this amazing equipment, you don't need to sit in any funny position neither you have to bend your knees.
This is greatly comfortable but for those who are using it the first time, it could be intense. If you are among those and even find its lowest intensity hard I have a suggestion for you. Wrap your foot with a towel or just use some thick socks and it will work fine.
Zero Gravity Position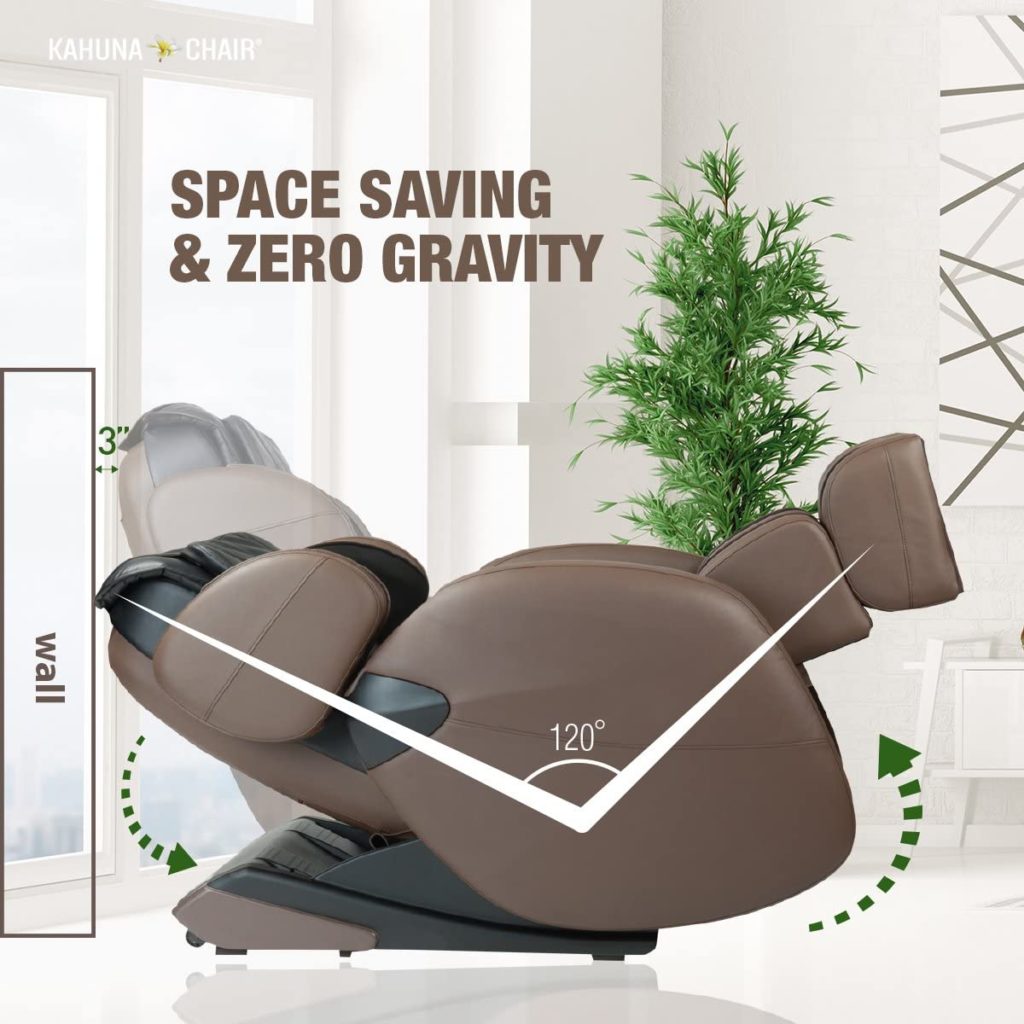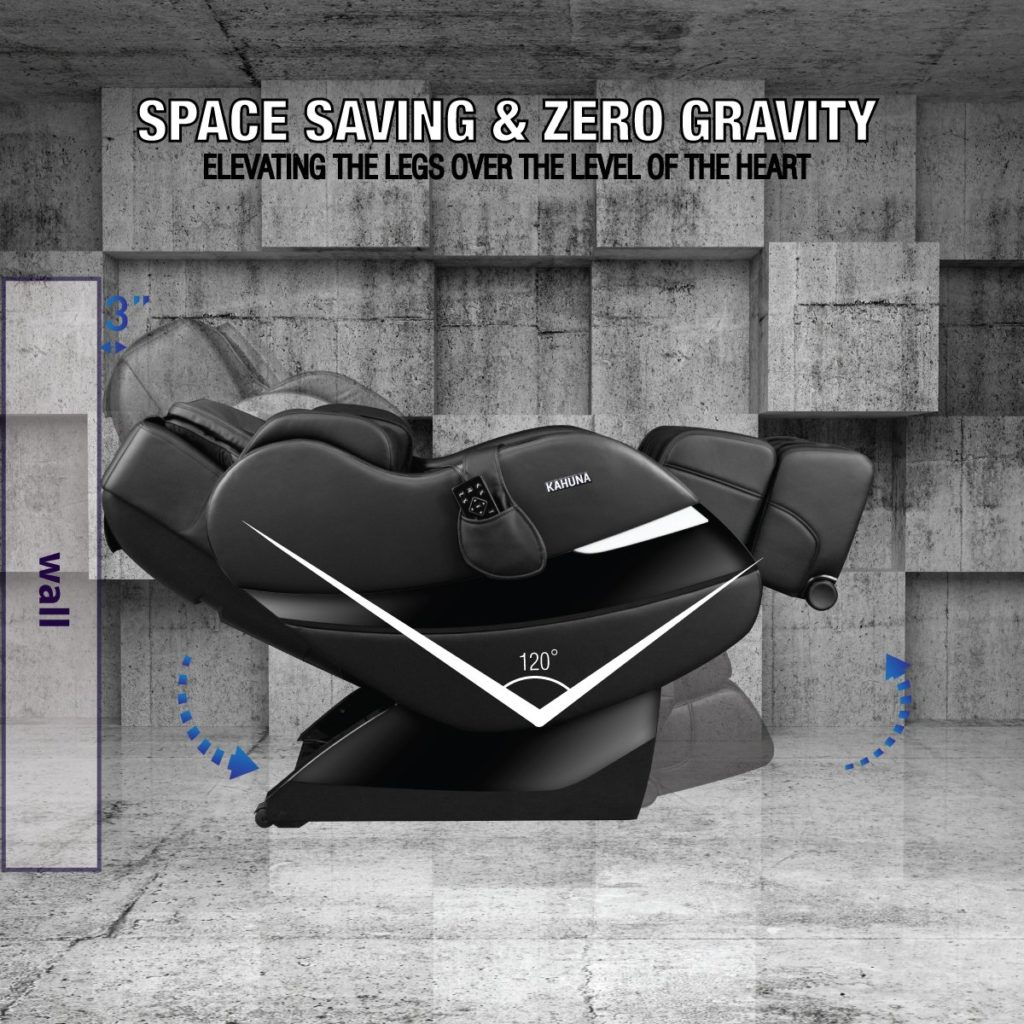 The zero-gravity feature is a new advancement in massage chairs that was introduced a few years ago from two levels to three levels. While I studied these massage chair review in-depth, I found out that both of these chairs have this feature.
Zero gravity mode will put you in a reclined position and presses your tired muscles against the roller for applying more pressure on them. That's why these chairs will provide you with a more satisfying and intense massage hence, provide incredible value in return for your money.
Although the zero-gravity feature seems like a minor addition but it has a wide range of benefits. For instance, it helps to improve the posture of your body by correcting the misalignment of your shoulders and neck.
Check Best Massage Chair for Neck and Shoulders
The top advantage of using these massage chairs is that they can help you to get rid of chronic lower back pain. Furthermore, it keeps you fully relaxed and makes you feel good hence, regulates your heartbeat rhythm and blood pressure.
For providing you with a relaxing effect, specific parts of the zero gravity massage chairs are set into motion. Therefore, it will improve the flow of your blood which will further on helps in the elimination of toxins and speedy recovery from injuries.
Recent studies have shown that if you get a proper massage even for 45 minutes, it increases the production of lymphocytes in the body. So, your body will be able to easily recover from sickness and infections. It is because the ability of your body to fight against disease-causing organisms will be improved because of the increased formation of white blood cells.
You May Like: Best Zero Gravity Massage Chair under $500
Body Scan Technology
If you want to have 3D scan technology in your massage chair then you can't go wrong either with LM6800 or the SM7300. Both of these machines contain 3D massage technology but wait, do you know what is a 3D massage?
It is an innovation that is available in some advanced massage chairs. This technology features a distinguishing type of rollers, you can customize how far the roller can reach from track to the muscles. Other than that, 3D technology contains all the features of 2D technology. But it provides something extra as well because it can move in & put for providing you extra dimension.
Before starting the sequence of massage and setting the rollers, the LM 6800 first takes your accurate measurements. In this way, it will provide you with a customized and specific massage according to the shape and curve of your spine.
Likewise, the SM-7300 is also capable of adjusting its pressure points and rollers according to your exact requirements. By using this efficient massage chair, you can also manually adjust the width of the massage area for getting an effective & personalized massage session.
So, these are not only good pieces of furniture but also helpful medically because of their wide range of benefits. The biggest advantage of these full-body massage chairs is that they help in reducing stress and anxiety level.
Automatic Massage Programs
The purpose of using a massage chair is to provide relief to your mind and body. But it is only possible when your chair is equipped with an automatic and easy-to-use massage program. So that you don't have to go through any complex process for operating it.
If you want to have this kind of efficient massage equipment then go for SM-7300 as it contains 9 auto programs other than manual controls. This program includes yoga stretching to boost your happiness level and reduce anxiety.
Moreover, it has various programs for pain relief, relaxation, and fast recovery from injuries. It doesn't stop here but also contains specified programs for athletes, office people, dynamic support, and a golf mode along with a senior mode. Hence, it is a perfect combination of style and performance that provides you remarkable value in return for your hard-earned money.
Talking about LM-6800 it contains 6 sets of programs and these are already set and you can't customize them further. It includes a yoga stretch program as well but the most appealing feature of this massage chair is its multiple ranges of specific body zones.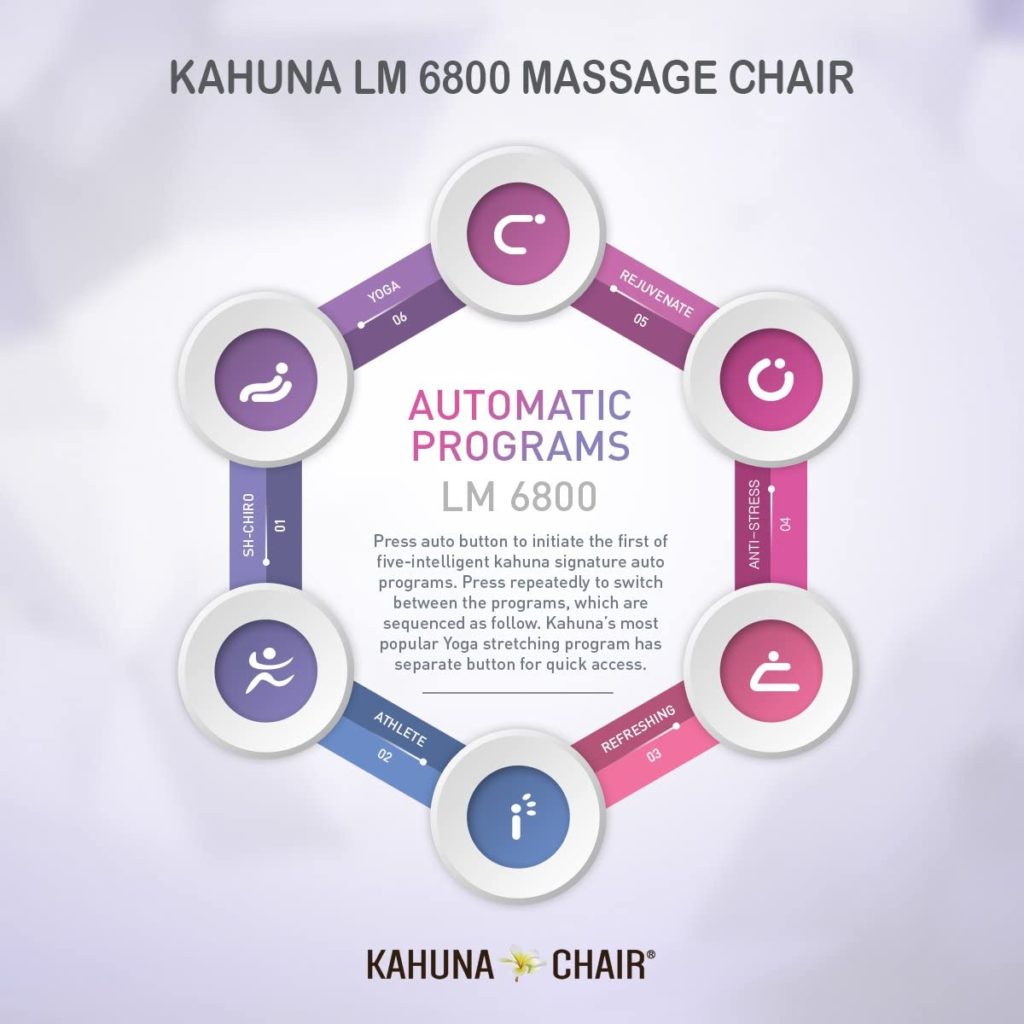 These specific zones include full back, lower body, upper back, lower back, and body. With the LM-6800 you can choose any of these specific body zones for getting a deep tissue massage.
But it doesn't stop here and the best is yet to come. The most magical feature of this massage chair is its fixed spot button which you won't get in other chairs. After pressing this button, the chair will focus on that specific part where you want to concentrate more. This will make you feel like "Ooo, that's what I want" and it is very soothing.
You May Like: Kahuna LM6800 vs Kahuna LM6800s – Which You Should Get?
Heat Function
Both of these products differ in terms of heat functions as SM-7300 provides heat therapy only at one side and lacks heat pads on the calf area. While the LM-6800 massage chair has heat pads on its back and legs. Its shoulder heat pads work great and have a soothing effect to give you relief from shoulder pain.
On the flip side, the SM-7300 only provides heat therapy on the lumbar region which is good for those who are suffering from back pain.
You May Like: Kahuna SM-7300 vs SM-7300S – Who's The Best?
---
Conclusion
It was not an easy task to find the distinguishing features of Kahuna LM6800 vs Kahuna SM-7300. But I have tried my best to provide you with useful information and hope now you will be able to know about their exclusive features.
Both of them are equipped with top-notch features to provide you with an incredible experience. Now the final choice is going to be yours but if you can afford the Kahuna LM-6800 is best.
For those who don't want to invest that much money and looking for a low-price option then Kahuna SM-7300 will be right for them.
Hope we helped you with this full comparison " Kahuna LM6800 Vs SM-7300 " See you next time, Cheers!