Are you suffering from neck or lower back pain issues? Well, the medicines are not much effective with these types of issues. Having a massage on a massage chair is the best solution for neck or lower back pain.
It will also improve your blood circulation and relax your muscles. How to find out an affordable and effective massage chair? In this post, we are going to review the six best massage chairs for under 2500 dollars.
This is the best and most popular price range for massage chairs. You can get a full body massage, extra features, and much more at a pocket-friendly price. These six best massage chairs under 2500 dollars are going to be the best purchase ever for people who are looking for a less expensive and high-quality massage chair.
Do you want to say goodbye to your neck and lower back pain?
Then continue reading…
Best Massage Chair Under 2500 Dollars – Comparison Table
| IMAGES | PRODUCTS | PRICES |
| --- | --- | --- |
| | | |
| | | |
| | | |
| | | |
| | | |
| | | |
---
Best Massage Chair under 2500 Dollars – Reviews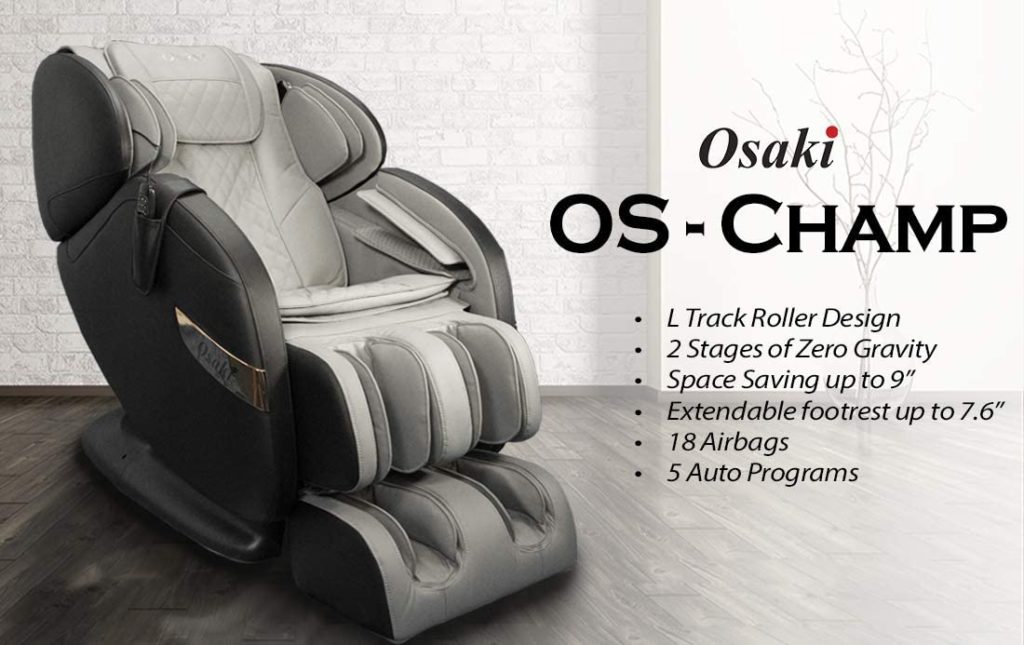 The Osaki OS-champ massage char is a cost-effective massage chair with a variety of massage modes. It comes with an L-track roller system to target hot spots around your neck and lower back. It will stretch your muscles and give you a relaxing massage.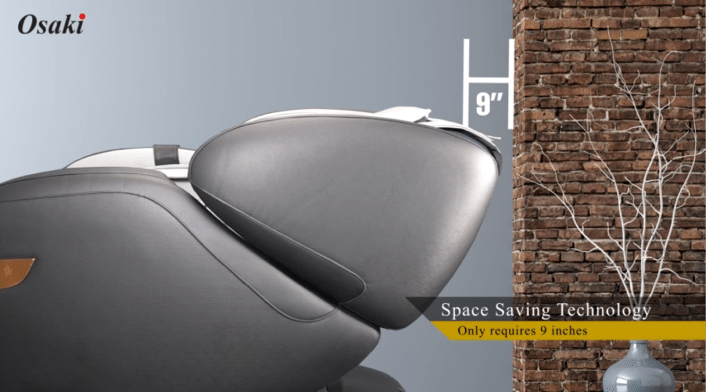 The Osaki OS-champ massage chair is also designed to save space in your home. If you are finding a space-saving massage chair, then this is the one for you. There are two spinning reflexology massage rollers at the bottom of the feet.
The foot massage rollers will target acupuncture points on your feet. This will give you a soothing and relaxing massage on your feet. The intensity of the foot rollers is also adjustable by a remote controller.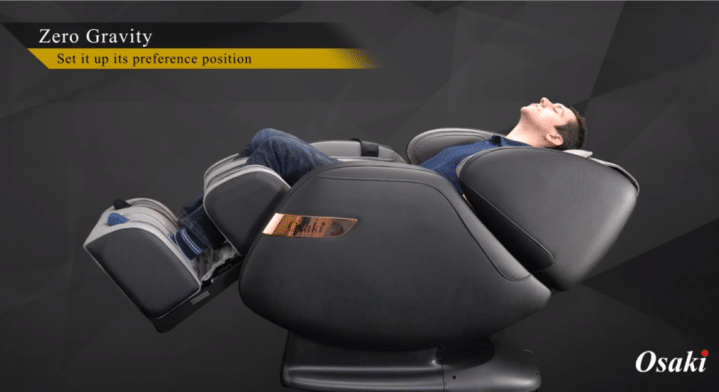 It also comes with a zero-gravity position for an effective massage. There are two stages of a zero gravity massage chair. In zero gravity massage position; your knees are above your chest to improve your blood flow.
People who are suffering from low blood flow problems should try this zero gravity massage. You can change the stages of zero gravity position from the remote controller. The Osaki massage chair has 18 airbags.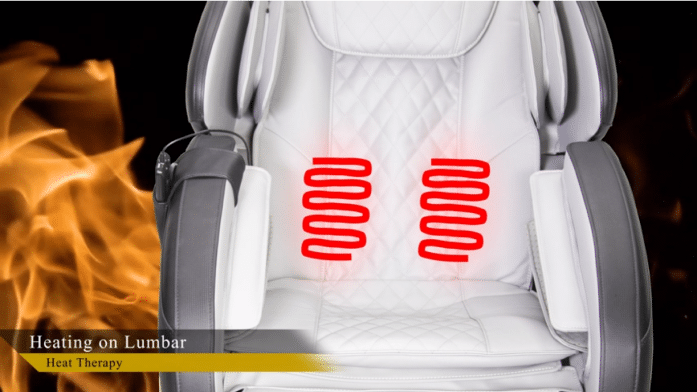 These 18 airbags will cover the main massage areas of the arm, foot, calf, and other body parts. The airbag massage is also helpful to get rid of muscle and lower back pain. You can also change the intensity of airbags. People who are suffering from lower back pain can use its heating function to get rid of the pain. It will reduce muscle tension and improve blood flow. The massage chair has five massage programs. There are also two Bluetooth speakers on both sides of the massage chair.
User's Critic
There is one feature missing in this massage chair. The Osaki massage chair does not have a body scanning feature like other massage chairs. Also, the foot rollers feel too strong on your feet.
Pros
Customizable features
Affordable price
Comes with 18 airbags
Full body massage chair
Comfortable
Cons
Body scanning feature
Foot massage is too strong
Final Thoughts
If you are looking for a full-body massage chair, then no one can beat this massage chair. You can use it for blood circulation, lower back pain, foot massage, and heating therapy. The foot rollers are customizable. You can lower the intensity of foot rollers if it feels too hard.
---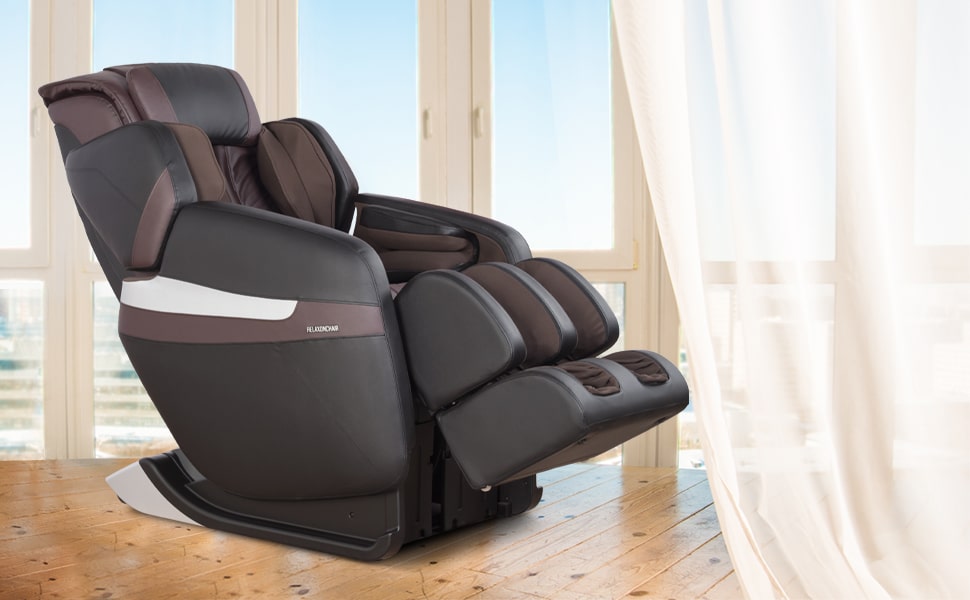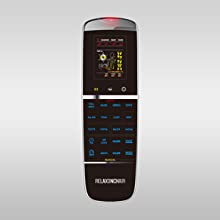 The RELAXONCHAIR Massage Chair comes with an intelligent body scan feature and 2nd generation SL-track. It covers from your lower head to the upper thigh area. However, it also depends on the upper body length.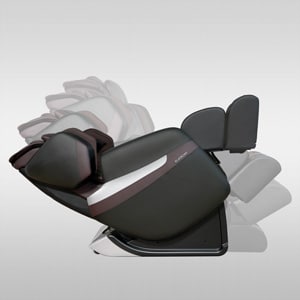 The 2nd generation body scanning measures your entire upper body length and detects pressure points for your back. It also recognizes body curves and shapes. This feature will scan your body whenever you start the massage.
There are three stages of zero gravity positions. In the second stage, your heart and feet will be on the same level, in the third stage, your feet will be on the upper side of your heart. The third position is helpful to improve blood circulation.
It comes with lumber heat therapy as well. There are two heating pads in the lower back area. The heating pads will enhance your massage experience with back massage rollers.
Its height adjustment feature makes the chair usable for everyone. You can adjust the shoulder height by pushing the shoulder airbag housing inward. There are additional five inches of foot extension.
It ensures that the massage chair is designed to fit most people. With the back-lit remote controller, you can operate the massage chair under darkness.
User's Critic
Well, if you are a short person then this massage chair is not for you according to a review on amazon. Some users may feel the airbag more painful. Otherwise, it is a durable and long-lasting massage chair.
Pros
Comfortable and durable
Long-lasting
Cost-effective option
50-inch L-track
Great customer support
Multiple functions with adjustments
Cons
Not for short persons
Airbags are painful for some people
Final Thoughts
The 50-inch L-track is the best feature of this zero gravity massage chair. This shiatsu massage chair is designed for perfect back massages. It has three zero gravity positions that help to improve blood flow.
---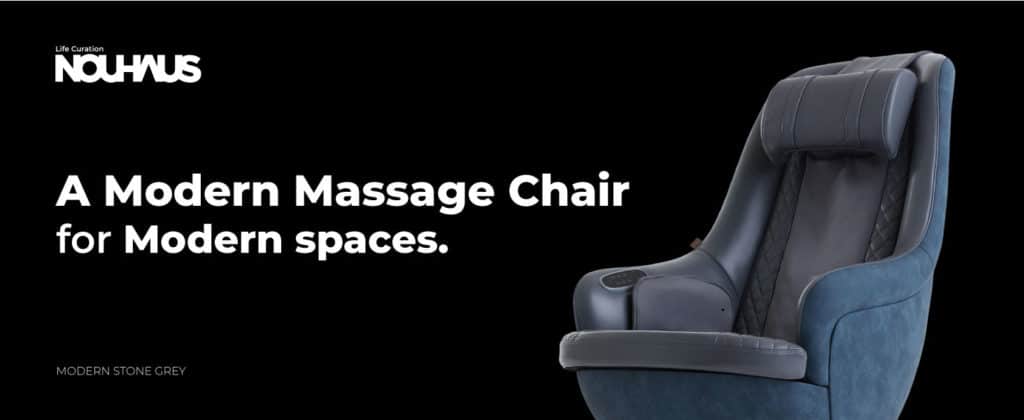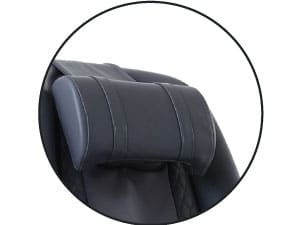 The NOUHAUS Massage Chair can be a perfect option for décor as well. It is available in three colors brown, burgundy, and elder white. The massage chair comes with four adjustable rotating massage nodes.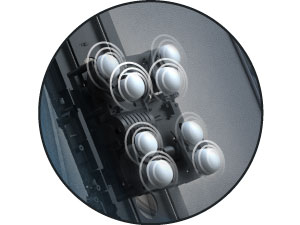 They are located under the pillow to remove the tension in your neck and shoulders. Its l-frame track comes with 8 synchronized massage nodes. These massage nodes will massage your upper and lower back by moving up and down.
There are two airbags for your hips and one for your glutes. You can customize these airbags to release muscle tension from hips and glutes. Its seat heat feature can help you to get rid of back pain.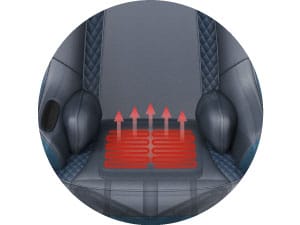 The heating feature can reach up to 45 degrees Celcius. There is a detachable head cushion. You can attach or detach it according to the intensity of the neck massage you prefer. This strong-capacity massage chair can hold up to 250lbs.
It has maximum hip width of 35" inch with an airbag function switch on and 40" inch airbags switched off. The massage chair is made of PU leather with luxury diamond-cut stitching. It has a compact half-dome design with a five-point base.
With neck massage, it can give you 35 kneads per minute. The massage chair comes with a separate ottoman that allows you to position it beneath the ankle for comfort.
User's Critic
The massage chair cannot recline which many people may not like. Also, it is uncomfortable to sit n if the massage is not on.
Pros
Value for money
Compact design
Adjustable height of neck rollers
Easy to assemble
Powerful massage chair
Heated seat feature
Cons
Cannot recline
Uncomfortable to sit when massage is off
Final Thoughts
If you want a massage chair and décor piece, then this one is the best option for you. You can keep it in your living room and use it as a regular chair. Note it cannot recline. But, it provides the best features at an affordable price.
---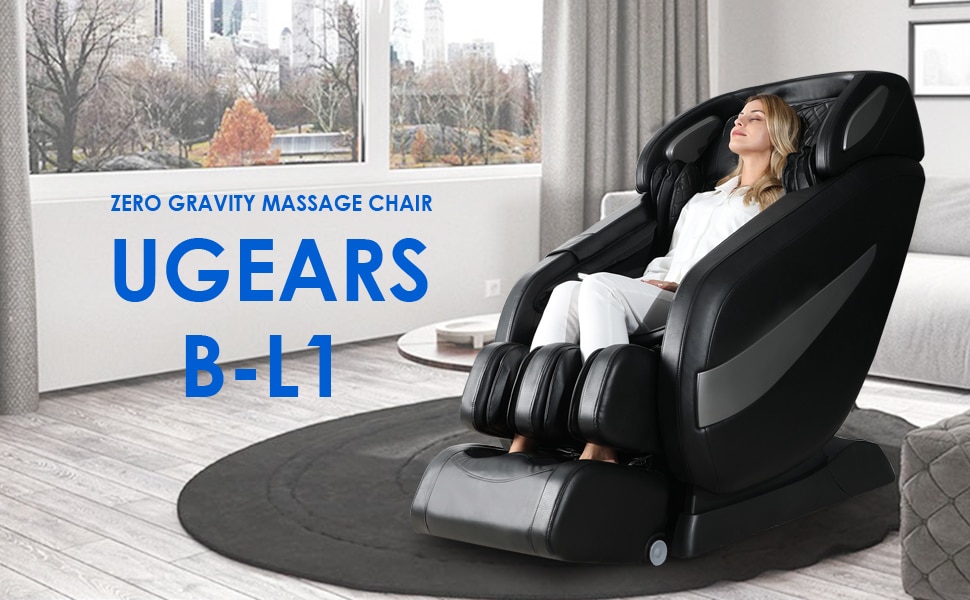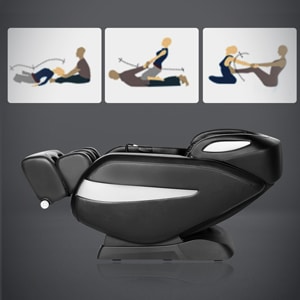 The OWAYS Zero Gravity Massage Chair has a 130cm long SL-track system. It will cover from head to the bottom of the buttocks. The Sl-track system includes movements like pushes, squats, presses, tops, and knocks with the guide rails to relax your body.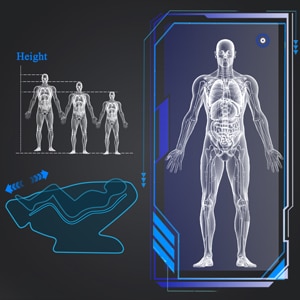 It also features an auto body detection feature that automatically detects your height and body shape. The auto body detection feature will adjust the massage points according to height and body requirements.
Its Thai stretching massage program can relax your whole body in just 15 minutes. The massage chair has a three-stage zero gravity feature with a space-saving design. The three stages are initial, comfort, and beep.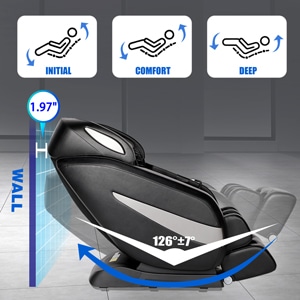 Its space-saving design allows only about 2 inches of space between the massage chair and wall. The oways massage chair comes with Bluetooth speakers on both sides. You can connect it to your mobile phone Bluetooth and play your favorite music.
However, the Bluetooth speakers are not compatible with iPhone 12 and above. This full-body massage chair has 32 massage airbags to simulate human body massage technology. These airbags are located in the shoulder, neck, back, waist, hip, legs, and feet area.
There are also 3D robot hands to simulate human massage techniques. Moreover, the massage chair comes with a heating function for the waist. It will improve your blood circulation and metabolism.
User's Critic
The main issue with this massage chair is its Bluetooth speakers. Its Bluetooth speakers are not compatible with iPhone 12 and above. The foot rollers are a little rough.
Pros
Comfortable
Bluetooth speakers
Fully assembled
Worth the money
Great customer service
Heating function
Cons
Speakers are not compatible with iPhone 12 and above
Foot rollers are a little rough and hard
Final Thoughts
The OWAYS SL-track massage chair provides comfortable fitting for everyone tall and short. Their customer service is also best. We found many reviews about customer service on amazon. We highly recommend this best massage chair under 2500 from the list.
---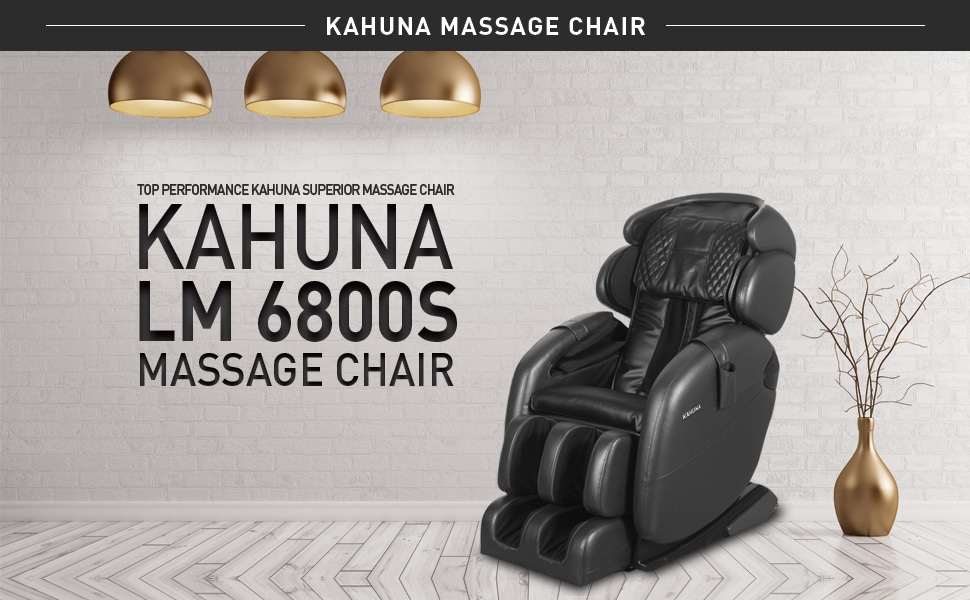 The price of the Kahuna LM-6800s is a little higher, but it comes with advanced features at a less-expensive price. It comes with 12 auto massage programs including four daily, four stretching, and four elite.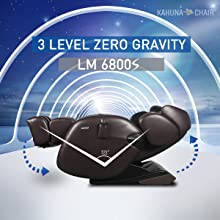 The kahuna LM-6800s massage chair recliner has three stages of zero gravity features with space-saving technology. According to your requirements and comfort, you can set the levels.
It features adjustable shoulder pads. You can adjust the shoulder pads according to your height and comfort. There are three auto massage programs. The auto basic is for deep tissue massage. You can use the auto stretching program for yoga stretching.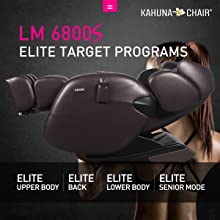 The auto-elite program is for upper back and lower back massage. One of the most attractive features of the kahuna massage chair is custom saving memory. With this feature, you can save your massage settings.
Unlike other chairs, you do not need to set the manual massages every time. There are acupoint nodes on the arm and an exchangeable zipper for easy maintenance. It has a new head pillow that you can use as back padding.
The kahuna massage chair also features air cell massage technology that covers the entire body. It also has body scan technology and heating therapy on the lower back and legs. The kahuna massage chair allows you to adjust the roller speed and air cell massage up to five levels.
User's Critic
According to a user, the right shoulder airbag can start to leak after some time of use. The kahuna massage chair comes with a spring-loaded ottoman that requires constant pressure to hold in place. The auto scan is not 100% accurate.
Pros
Sturdy and durable
Comfortable seat
Great deep tissue massage chair
Easy to assemble
Nice sleek design
Cons
Shoulder airbag can leak
Have to put constant pressure to hold ottoman in place
Final Thoughts
It is a Kahuna Massage Chair so no need to talk about the quality of massage. Kahuna is one of the leading brands of massage chairs. However, a few issues like airbag and auto scan needs improvement.
---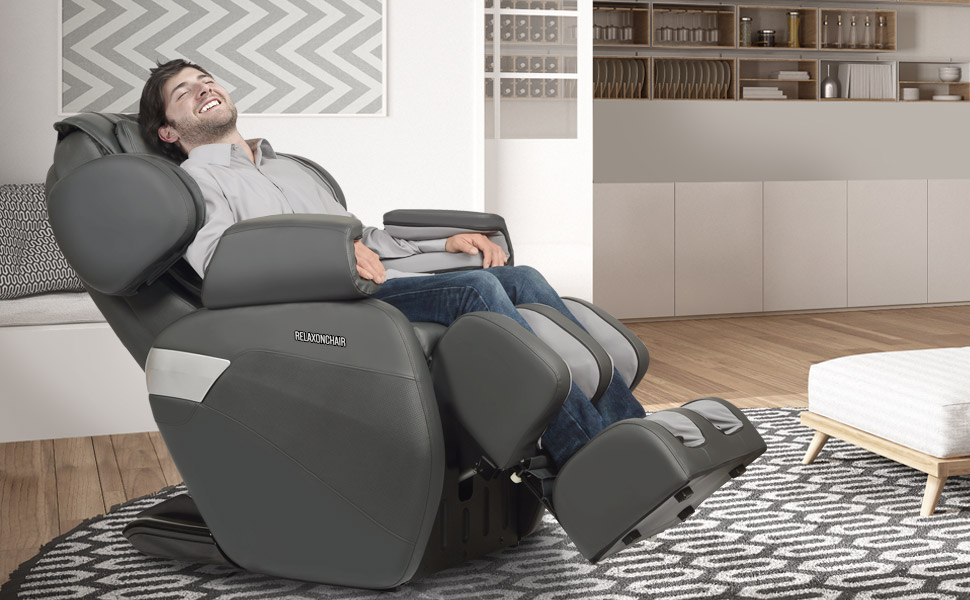 The MK 2 is the most popular massage chair from The RELAXONCHAIR. It comes with four automatic massage programs including body stretch therapy for comfort and healing. In body stretch therapy, the backrest and footrest recline together while airbags will tighten your legs to create an arch-like posture.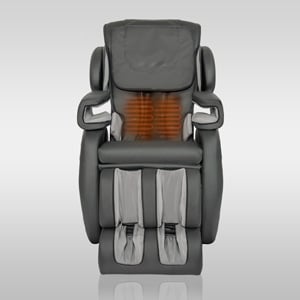 The body stretch therapy is specially designed to relieve back pressure and pain. There is a lumber heating therapy to heal your back muscle quickly. The massage chair has two heating pads on the lower back area.
The combination of heating pads and back massage rollers will help your muscle to heal faster. It is suitable for most people with different body shapes. There are additional five inches of foot extension.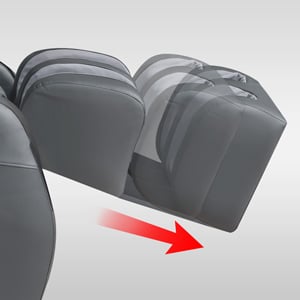 Its light spring action will automatically retract the foot extension after use. Are you finding an all-in-one massage chair? Well, the relaxonchair MK-‖ offers five techniques of massage.
The massage chair offers shiatsu, kneading, tapping, kneading & tapping combo, and knocking. It comes with 2nd gen. intelligent body scanning system. This feature will scan your body whenever you start the massage.
The shiatsu massage chair 2nd gen SL-track system as well. It is ergonomically re-designed to match your entire back and give the best back massage. The massage chair also has a zero gravity massage feature.
User's Critic
The only issue with this full-body massage chair is the foot rollers. Its foot rollers can be intense for some people. No issues with other features and massage programs.
Pros
Four auto programs
Remote controller is easy to understand
Perfect for every one
Quiet and affordable
Easy to set up
Cons
A bit bulky
Foot rollers can be intense
Final Thoughts
Overall, it is the best massage chair to buy for under 2500 Dollars. If the foot rollers are intense for you then you can fold up hand towels under your feet. It is the best solution for these issues. You will get instructions as well for easy setup.
---
Final Verdict
Well, these are the best massage chairs under 2500 with high-quality features. We highly recommend to you find out the best model from these six if you want a cost-effective and high-quality massage chair.
We hope this article will help you to find the best massage chair under 2500 according to your desires and budget. While buying a massage chair make sure to check user reviews. It will help you a lot to find the best one. So that's it for now.
See you in the next post. Till then have a great one…