Do you want to have a professional therapist-like treatment in the comfort of your home? Or just in search of having the closest thing for your masseuse? Well, whatever the situation may be, you can't go wrong with a perfect massage chair.
Whenever we talk about a massage chair, the first brand which pops up in the mind is Kahuna. They have different series in this regard, among which the most famous is the Kahuna SM series. In this write up, I am going to compare Kahuna SM-7300 vs Kahuna SM-7300S.
Both of these chairs are equipped with top-notch features and provide you great value in return for your precious money. Hence, it's quite difficult to pick up the one among both of these but you don't need to worry.
As here I have unveiled the basic features and details of both massage chairs so track me below for further information!
So dive in for more informations about Kahuna SM-7300 vs SM-7300S
---
What Is Kahuna Massage Chair?
Kahuna is one of the beast brands in the massage chair world. It's not like the traditional massage chairs in the market, it's better.
The shape of the Kahuna massage chair has been designed by engineers to offer the most comfortable experience possible, Also it has features that are not available on other types of chairs. Which can provide even more precise and accurate therapies than other chairs in the market.
Kahuna Massage Chair is for people who appreciate quality and comfort.
---
Kahuna SM-7300 vs SM-7300S – Specs
SM-7300
SM-7300S
Image
Series
SM-Series Premium
SM-Series Premium
Coverage
Full-body
Full-body
Track
SL-Track 48"
SL-Track 48"
Roller
On top: 2 of 1.25"
On bottom: 4 of 0.8"
On top: 2 of 1.25"
On bottom: 4 of 0.8"
Massage System Speed
Up to 3 levels
Up to 5 levels
Intensity Control
3 Levels
5 Levels
Air Cell Quantity
32
32
Massage Foot Roller
3 Roller Techniques- Scraping, Rolling, Tapping
3 Roller Techniques- Scraping, Rolling, Tapping
Massage System Technique
Kneading, Tapping, Knocking, Kneading & Tapping, Rolling
Kneading, Tapping, Knocking, Kneading & Tapping, Rolling
Weight
247lbs
245lbs
Check Price
Amazon | Official Website
Amazon | Official Website
Use coupon code 'chairsarea' on the official website for a 5% discount.
---
Kahuna SM-7300 vs SM-7300S – Full Comparison
Design
Starting with their design, both massage chairs have a lot of resemblance in their looks. However, there are few variations in their structure as the SM-7300S is the updated version of the SM-7300.
The SM 7300S is equipped with some advanced features that were not available in the SM-7300. For instance, it also contains premium-quality speakers on both sides of the chair hence, getting a massage on it becomes more fun and enjoyable.
These massage chairs are made by using high-quality cotton padding and have a smooth finishing. Because of their super comfy build quality, your neck, back, legs and should be at ease all the time during the massage.
Massage chairs have indeed replaced the need of going to a therapist for getting special treatment. But they cannot be accommodated in every home as most of the cheaply designed massage chairs are heavy and take a lot of space. This makes the purchasing decision hard for those people who don't have enough space in their homes to place these bulky chairs.
Good news for all of them as Kahuna is introducing both of these machines with space-saving technology. Therefore, these will take comparatively smaller space as compared to all of the other chairs.
However, the size of SM-7300S is slightly larger than the Kahuna SM-7300 massage chair and it takes 3.5 inches from the wall. While the Kahuna SM-7300 needs a 3-inch gap between the back of the chair and wall hence, extremely space-saving.
---
Zero Gravity Position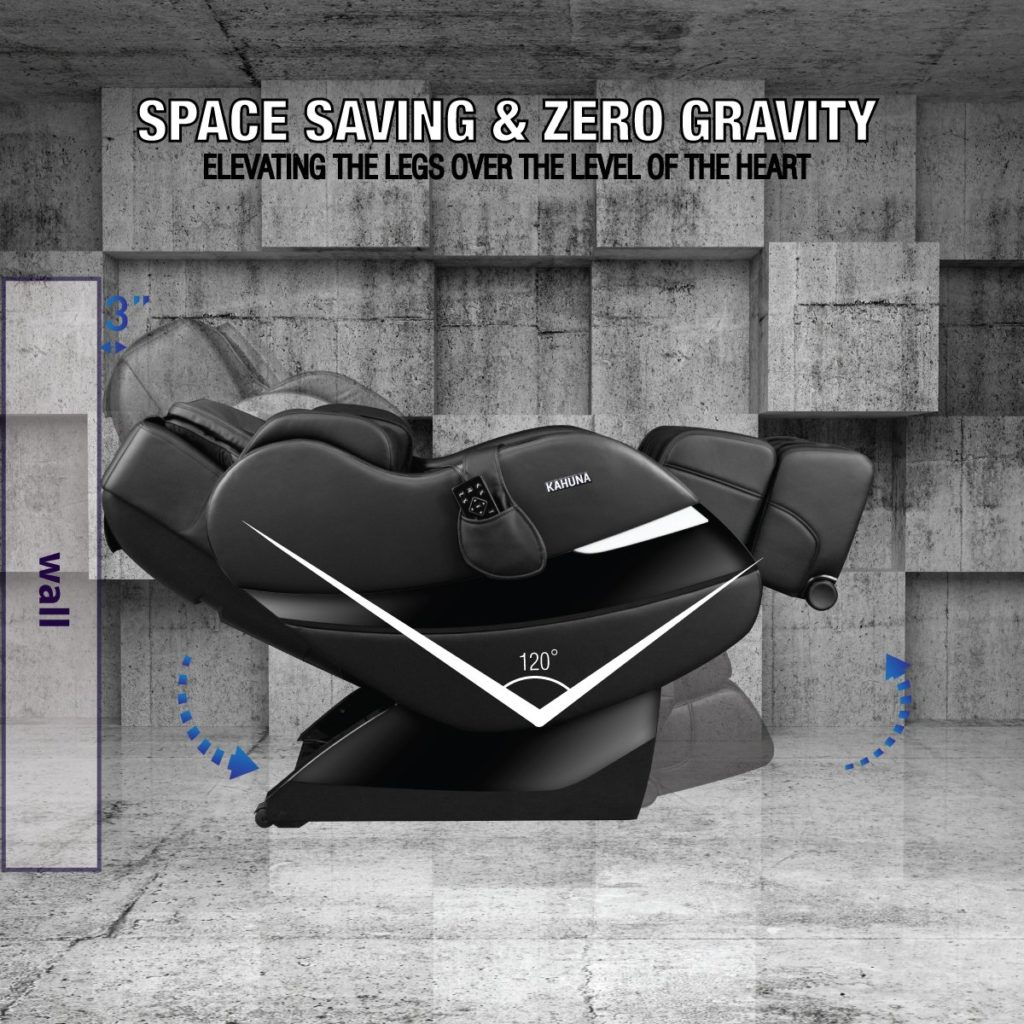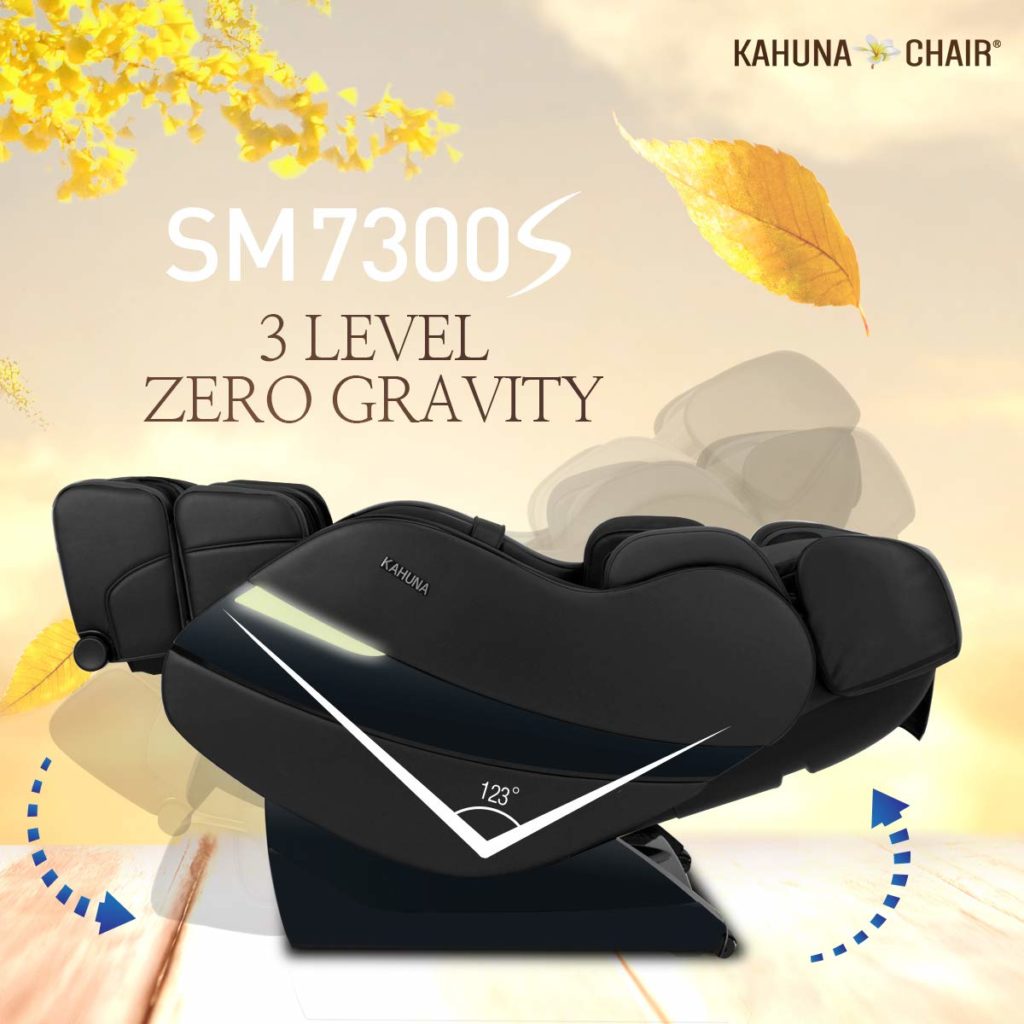 To provide you incredible value in return for your money, Kahuna has incorporated a zero gravity position in both of these chairs. This is an advanced and highly useful feature that is only available in few excellent quality chairs.
With the help of zero gravity, your weight will be equally distributed on the chair. Hence, it will allow you to have a deeper and more intense massage on the pain points for making you feel relax. Note that, you won't find this feature in other common massage chairs.
The new addition in SM-7300S is that it is redesigned for providing you a better zero gravity angle. Although the SM-7300 is also equipped with this feature the new version provides you something extra because of the improved design.
There are a lot of therapeutic benefits of zero-gravity and it helps in regulating your blood pressure. Furthermore, because of zero gravity positioning, your body will be able to quickly recover after a heavy workout. This means that your muscle soreness will be gone faster and you will be able to comfortably focus on your routine work.
In this modern age, most people are suffering from insomnia (a sleep disorder) and we put all the blame on digital devices. But this is not entirely true as many other lifestyle factors cause fatigue and disturb the natural sleep cycle.
Now with these amazing massage chairs, you don't have to suffer from this issue anymore. By providing you an appropriate massage, help you to sleep fall asleep quickly. Also, these will improve the functioning of your nervous system hence, provide many other health benefits.
---
Automatic Massage Programs
The most important function of any massage chair is its automatic programs as it gives you stress-free operation. Both of these massage chairs are the part of SM series but they have different automatic programs. Let's proceed further with this massage chair review to know exactly what they are offering.
The SM-7300 has 9 auto programs which are less than the SM-7300S. However, its programs are very easy to control and it has a flawless performance. It has a designated program for yoga stretching that helps you to lessen anxiety and increase mindfulness.
Its other programs include specific sessions for relaxation, pain relief, and speedy recovery. So, no matter how tough and hectic your day was, you can quickly boost up your mode by picking up your favorite session.
On the other side, the newly introduced SM-7300S has 13 auto programs along with Bluetooth speakers. It has four stretching programs including Sv-chiro stretching, yoga stretching, active stretching, and dynamic stretching.
Yoga stretching helps in getting rid of stiff muscles hence, you will feel more active, energetic, and less tired. While active stretching helps you in improving your flexibility and increases your range of motion. Dynamic stretching consists of some sport-specific and functional movements for helping to increase muscle temperature and decreases muscle stiffness.
If you need any variation in these programs or just want to create your personalized session then worry no further. Both of these machines allow you to have better control over them and you can change their intensity level with the help of a remote.
---
Quality Massage Experience
Kahuna is considered the king of massage chairs and most of its models contain nice features for making your experience better. Likewise, the SM-7300 and SM-7300S are powered with the zone massage options.
This is a very awesome feature as it allows you to focus on your specific pain points for providing an intense massage on them. For operating it, all you have to do is that when its roller touches your tender point, press the zone button. Afterward, the rollers will provide that location extra attention by staying within six inches of the zone.
For the air massage mode, kahuna SM-7300 and SM-7300S contain 32 air generation bags. These bags are placed in a scattered position throughout the chair for delivering you world-class performance.
This is enough for providing you a full-body air massage and you can adjust its intensity according to your requirements. However, the SM-7300S is more efficient in massage as it gives you a human-touch-like experience so what else you could ask for?
Needless to say that, an effective massage increases the level of feel-good hormones including serotonin and dopamine. This will makes you feel happy in no time and it also reduces the level of the stress-causing hormone cortisol to fight off anxiety.
---
Body Scan
For getting the most therapeutic benefits from massaging, your rollers must touch all of your pressure points. For this purpose body scan technology is vital as it will determine those specific points of your body which need extra protocol.
Speaking of which, cheaply designed massage chairs are not equipped with this feature which makes it difficult to find out your pressure points. This makes them less useful and that's why you won't feel relax even after taking a massage from those machines.
On the bright side, the Kahuna SM-7300 firstly scans your body and rearranges the roller for making sure they provide you an optimal experience. Sometimes a computer may fail to work and couldn't use its 3D scan technology.
To fix this issue, kahuna goes further and allows you to manually adjust the roller's position with the help of its remote. So, you will get a perfect massage whenever you will use the Kahuna SM-7300.
Speaking about the SM-7300S, this massage chair comes up with the Auto smart body scan that is a bit different from 3D scan technology. This new model of the SM series by Kahuna will effectively detect your body size for providing a custom-fit massage.
---
Heat Therapy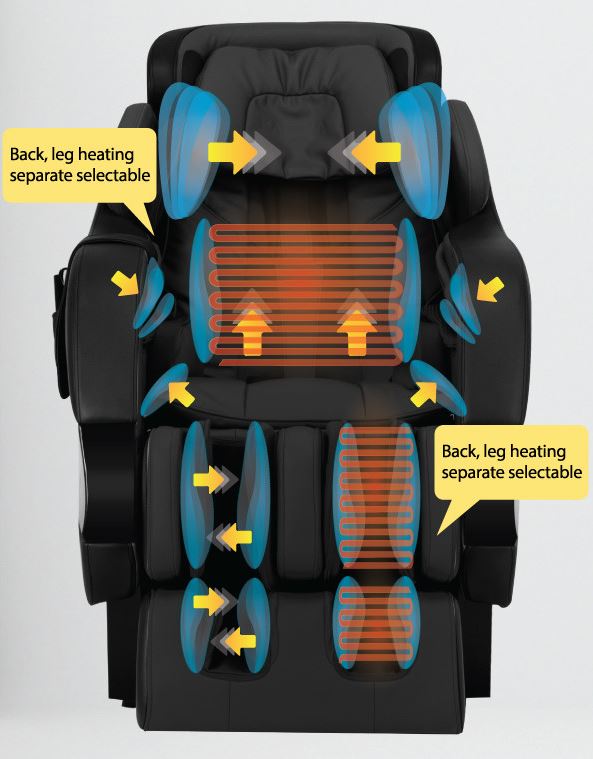 Both of the massage chairs differ in heat therapy as the Kahuna SM-7300 offers heat in both leg massage ports and the lumbar region. While the SM-7300S does an incredible job here as it also provides heat therapy on the back other than the leg area.
Heat therapy is also known as warm therapy or thermotherapy and it applies heat to specific parts of the body. This type of treatment is very popular as it opens up the veins for better blood flow and provides relief from muscle pain.
It becomes more effective when combined with the massage and provides greater therapeutic benefits. Especially if you suffer from chronic back pain or arthritis then this feature is going to be your favorite.
This method is very effective and it helps to loosen the knotted muscles by dilating the veins. Not to mention that this will also remove the tension of the muscles and the blood flow in the inflamed area will be improved. This further on will help in the better flow of oxygen and nutrients hence, the damaged tissue will heal quickly.
The only complaint about the heat function of both chairs is that these only come with an on/off button. So, you can merely turn it on while needed and turn it off after use. But it does not allow you to adjust the temperature of heat treatment which is a bit of a disappointment.
---
Rollers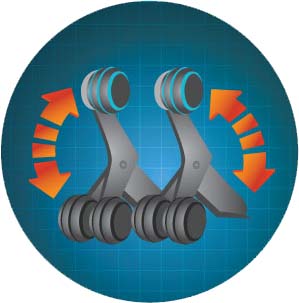 Another fantastic piece of furniture from Kahuna at the time while the industry is providing standard four-roller system, it is offering six rollers. Both of its massage chairs contain six rollers that are extremely useful and beneficial.
The presence of six rollers will provide you the advanced motion of rollers and you will be able to blend it with the existing massage techniques. Adding to this, you can't expect this advantage with the 4 roller system as their motion is limited.
It is a heavenly experience and will make your body very relaxed, active, and fresh. Likewise, the SM7300S contains a 6 roller system for providing you partial or full body massage with 5-speed levels.
---
Adjustable Timer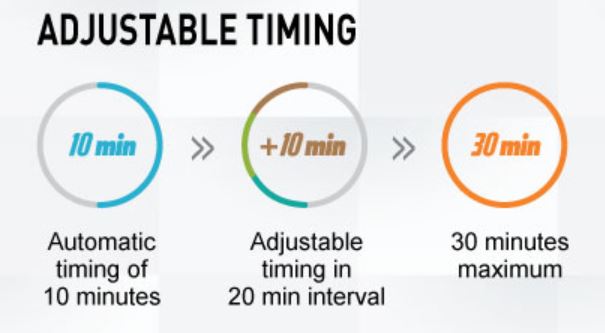 These massage chairs also have the feature of an adjustable timer but with a slight difference. The SM-7300 contains a default setting of 10-minute duration but you can increase it by adding more time with the help of a remote.
This can be maximum increased for thirty-minute time duration but not more than it. However, the ability of SM-7300 to control massage time is a nice welcoming feature and this is what makes it different from the other ordinary chairs.
On the other hand, the SM-7300S provides you more flexibility than the SM-7300. It is because the massage time of SM-7300S can be increased by more than an hour per massage session. The feature which I like the most about this chair is that you can also connect it with other devices.
It contains a Bluetooth app controller and offers a wireless controller so what else you could demand? Another handy feature is that its speakers are of premium quality so you won't be having any trouble using this. This is specifically ideal for those people who find it boring to have a massage without music or sounds.
---
Track Design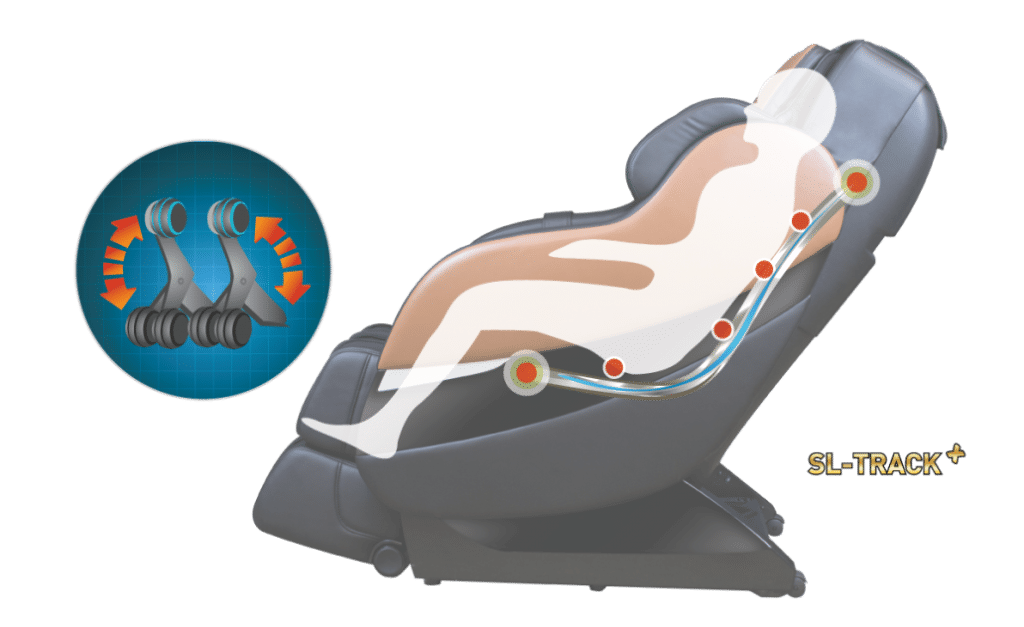 The track design of both of these massage chairs has variations as the SM-7300 follows a hybrid L/S track design. That's why it follows the natural curve of your spine hence, helps in improving your posture and makes you more flexible.
Along with containing all the benefits of S-track design, it provides something extra by increasing the length of the track. Because of this unique design, rollers will effectively reach your thigh and gluten area for providing a satisfying massage.
On the flip side, the SM-7300S is equipped with the new 48" SL-track technology. For providing you the precise and unique massage techniques, it incorporates the additional two rollers with a longer extended SL track.
---
Calf and Foot Massage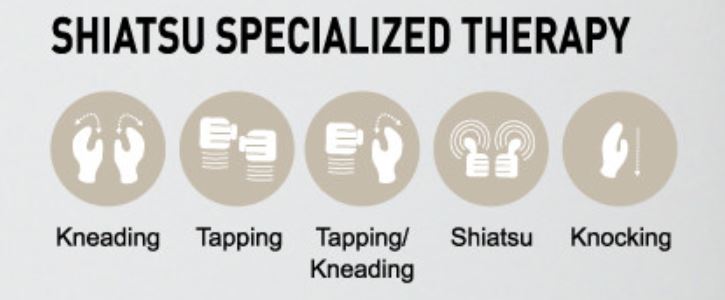 Other than that, the SM-7300S contains three different techniques including kneading, rolling, and scrapping. This will provide the full squeeze function on the foot are hence, worth spending your hard-earned money.
This also contains dual air cells which will inflate and wrap around the sides of your claves. Furthermore, these will also cover the top of the foot for providing you an extended full-coverage upgrade.
While in SM-7300, the airbags are positioned only in the leg massage ports. At the same time, it utilizes three techniques to perform on your foot which include rolling, scraping, and kneading. This feature is amazing and makes it one of the best massage chairs available in the market.
To add more perspective to it, the calf and foot massage is especially useful for those people who spend most of their day in a standing position. This magical feature will instantly provide you a relief and you will surely love it even after the first use.
---
Guarantee & Price

While we are making a final purchasing decision about any product, we can't overlook one important factor and that is the price of a product. Both of these products have different prices so, keep their prices in mind for making a wise choice.
As SM-7300S is an improved version so it is not a surprise that its price is comparatively high. But with a high price comes some additional features which were not available in the SM-7300.
However, for those who are looking for an affordable option and don't have enough dollars to spend, SM-7300 is a decent option. Although its price is reasonable still Kahuna has not compromised on the quality of this massage chair.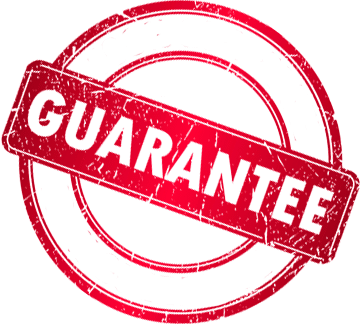 Talking about their warranties, you will get 2 years warranty of parts & labor with the SM-7300. If you face any issue during this time then you can contact the manufacture and claim the warranty.
However, the SM-7300S does not have any warranty and it could be a bit disappointing for those who want to have a hassle-free purchase.
---
Kahuna SM-7300 vs SM-7300S – Conclusion
With that being said, now it's time to give final remarks about the Kahuna SM-7300 vs Kahuna SM-7300S. Both of these massage chairs are the perfect combination of style and performance.
I have explained all of their similarities and differences in this write-up and now it's entirely up to which one you pick among both of these.
Besides, I will be glad to know about your valuable suggestion so leave them in the comment section below!
Hope this article " Kahuna SM-7300 vs SM-7300S " has helped you, Stay safe.