Finding the Best Suitable Massage Chair is a headache. There are many options; it's hard to pick one of them. We hope your research will end after reading our Osaki Pro Os-4D Paragon Review.
Osaki is the leading brand in the massage chair industry. Suppose you have decided to purchase an Osaki massage chair. But, another question will rise. Which Osaki Massage Chair is best?
You can check other Osaki Massage Chair Reviews on our site. The Osaki Os Pro 4D Paragon Massage Chair has some advanced technology. But, there are also some drawbacks to this massage chair. 
Let's discuss everything, good and bad about this Osaki Massage chair in detail. To pick a perfect massage chair based on your requirements, keep reading this Osaki Pro Os-4D Paragon Massage Chair Review until the end.
Continue reading…
---
Osaki Pro Os-4D Paragon Massage Chair Complete Review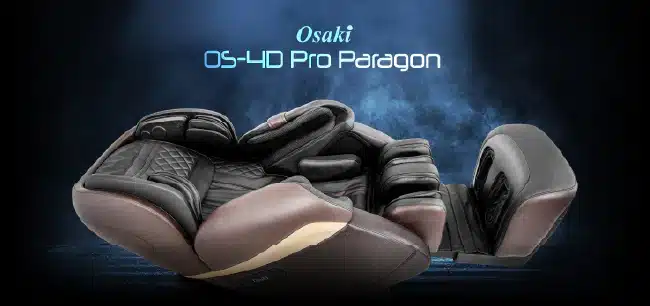 • Voice Recognition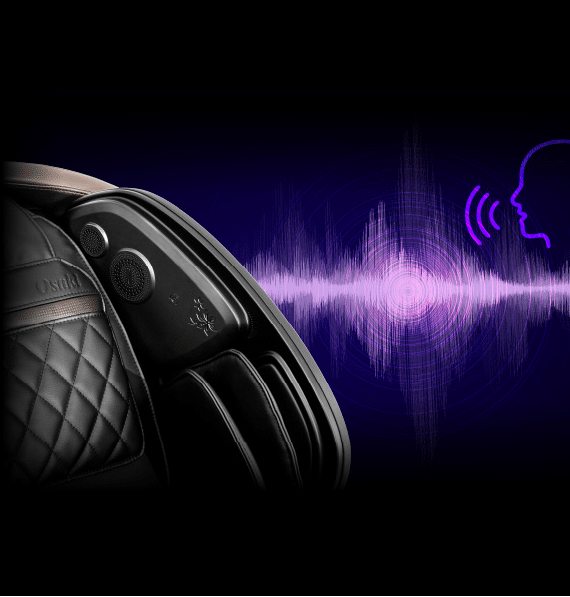 The Osaki Pro Os-4D Paragon comes with advanced voice recognition technology. This makes users able to adjust the massage type without reaching the remote.
However, the voice recognition in this massage chair is limited. It has microphones around the speakers on both armrests. These microphones can recognize 9 different phrases of massage modes.
Chinese Massage
Pain Relief
Body Stretches
Experience
Relaxation
Zero Gravity Start
Voice Off
Massage Chair Shutdown
It is a nice feature that gives you a more comfortable massage. However, the voice technology will only work when you speak into the microphones. It will not work if you speak while standing away from the chair.
The massage chair comes with a remote control as well. You can use the remote to adjust these nine massage modes and other settings. Some users complain that the remote is difficult to understand. There is nothing much about the remote in the user manual.
You have to adjust the massage intensity using the remote controller. If a user could change massage intensity through voice command, it would have made the chair better than others.
• 4D Massage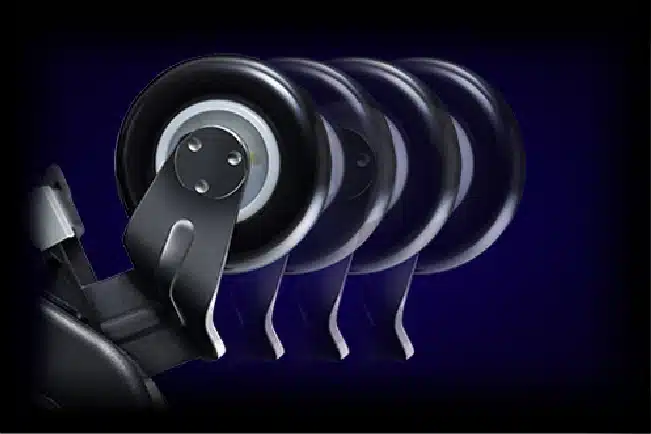 If you are buying a massage chair for the first time, you may have this question. What is 4D massage? What is special in 4D massage?
Well, a 4d massage chair gives you a more deep and relaxing massage. The 4D massage chairs are more adjustable than 3d or 2d massage chairs. In a 3D massage chair, you can only change different modes of massage.
But, a 4D massage chair allows you to adjust its massage rollers. You can change the speed and rhythm of massage rollers in a 4D massage chair. The 4D massage chars are a lot more powerful.
The Osaki Os Pro 4D Paragon Massage Chair has many pre-programmed massages. If you don't like any of the given auto massages, you can customize it manually.
However, users say manually customizing the massage is complicated in this chair. The user manual has less information about this. There is one more drawback.
It will not allow you to adjust the speed and intensity of massage in pre-programmed massage. Almost every 4D massage chair lets you do that. In this chair, you can set these settings only in customized massage.
• Body Scan Technology
Most of the 4D massage chairs offer body scan technology. The company claims this technology allows massage chairs to pinpoint the key areas.
With this technology, the massage chair can also understand the level of intensity for key areas. Body scan technology does not make much difference in the quality of massage. Therefore, some people say it's a useless feature.
• Heated Back Roller Massage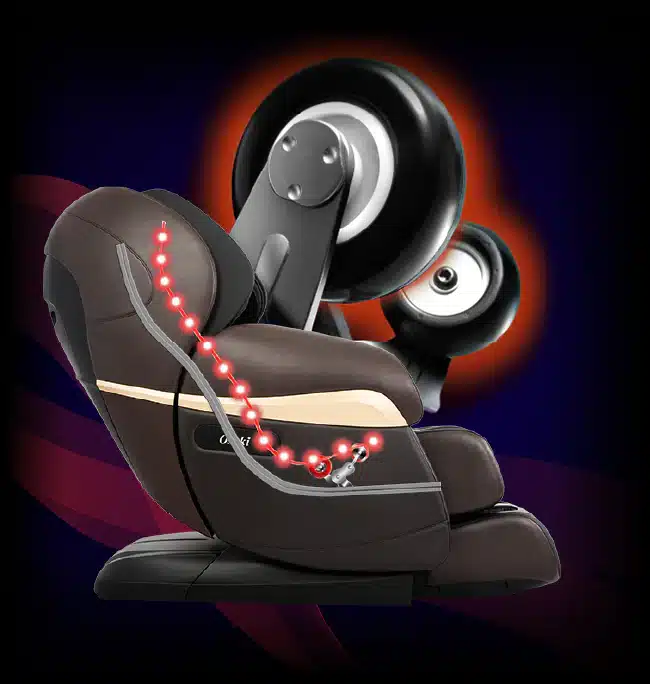 The Osaki Pro Os 4D Paragon Massage chair offers heated back rollers with an L-track massage system. The l-track Massage system massages a wider area than the S-track Massage system.
The system extends the massage area from the neck to the back of your thighs. Its heating rollers will feel like a hot stone massage your muscles. Not only this, but you can also customize the temperature of these heating rollers.
The Osaki claims that their L-track system is different than other massage chairs. It comes with a multi-level L-track massage feature. This feature will move the rollers up and down at the thighs. It can give you a more realistic massage in the recline position.
• Heating Foot Rollers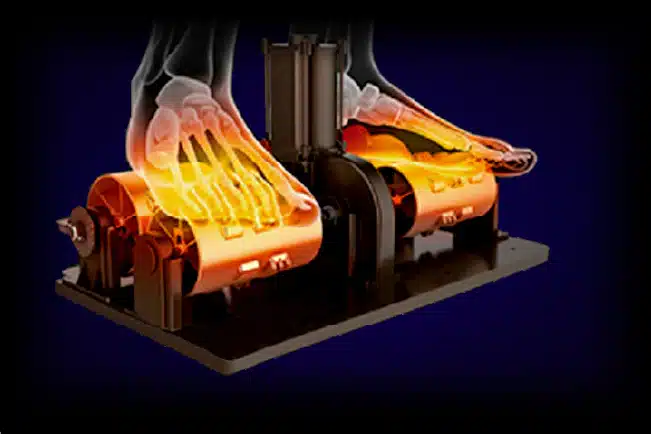 The Osaki OS Pro 4D Paragon massage chair the best for exceptional foot massage. It gives you a better foot massage than other 4D massage chairs on the market.
The most massage chair comes with two rollers for foot massage. But, this massage chair has two rollers with a heating feature. It will provide great calf, knee, and heel massage.
There are air massagers in the upper leg rest that will move in a circular motion for better calf massage. The massage chair has some other functions for stretching the heel and bridge of the foot.
This heating therapy with heated foot rollers will increase your blood circulation. The Osaki Pro Os 4D massage chair has an auto leg extension feature. With the help of an ottoman, the chair can assume the leg length according to the user's height.
The company claims foot components will automatically extend up to 8.7" and retract automatically. However, you can adjust the foot component manually using the remote.
Furthermore, the footrest is extended over the toes. It will keep your foot warm during the massage. If you have knee joint pain then this massage can help you to reduce it with stretching and heating massage.
• Osaki Bluetooth Pairing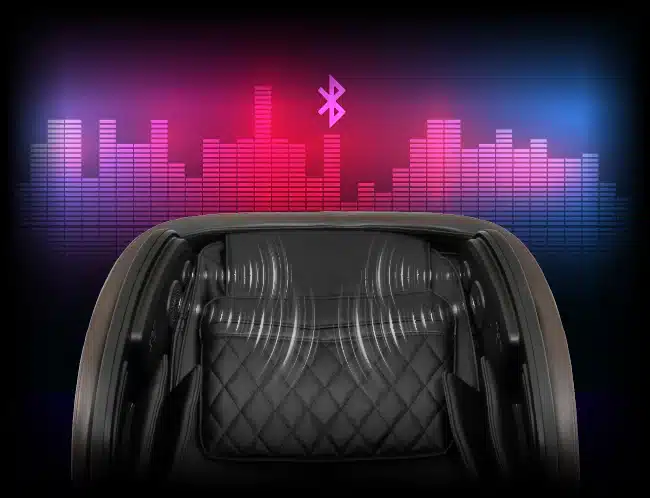 There are multiple Bluetooth speakers in this 4D massage chair. You can connect these speakers to any Bluetooth device or Smartphone. It will allow you to enjoy relaxing sounds while having a deep massage.
• LED Remote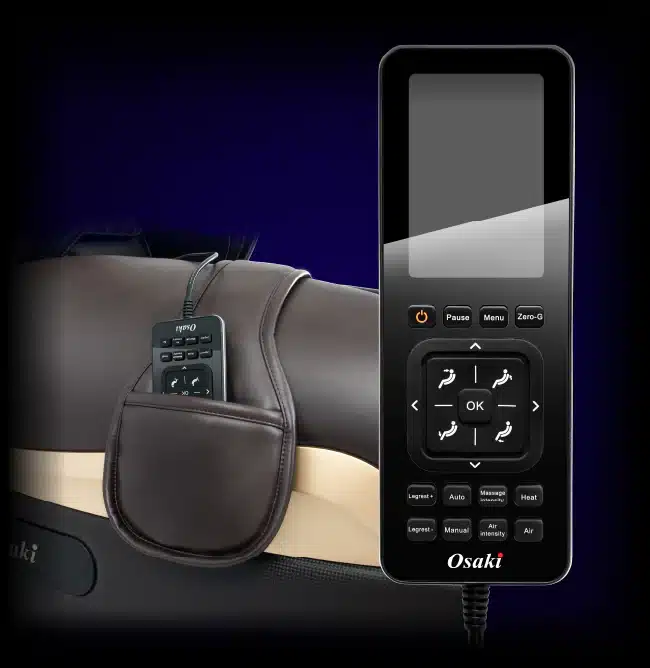 As we discussed earlier the remote controller is not so easy to understand. However, the company claims that the LED will display all functions of the massage chair.
You can also set a massage timer with the LED remote from 5 minutes to 30 minutes. If you have used this type of LED remote then it's an easy task to navigate the functions.
• Space Saving Design
The Osaki Pro Os 4D Paragon is a well-designed massage chair. You can set up this chair in the corners of your house. Even in the zero-gravity position the chair will not use much area of your home.
You may like: Where To Put Massage Chair In House? Full Guide
• Zero Gravity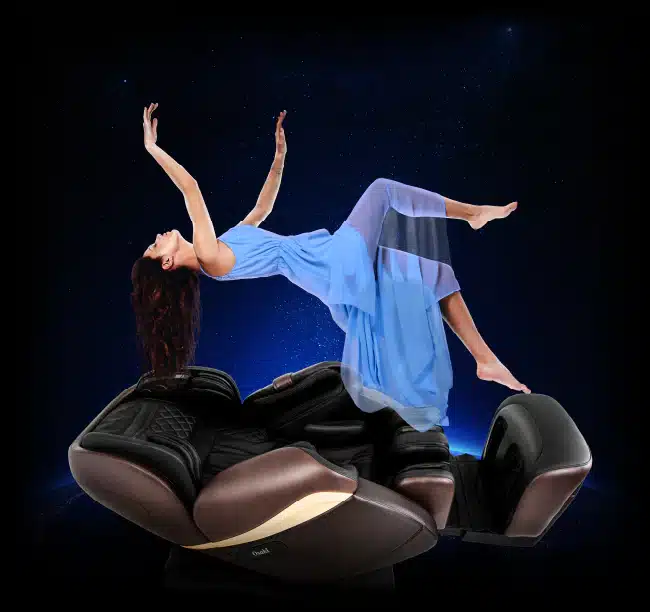 Zero Gravity is a common feature in every massage chair. This feature helps to reduce heart and spine pressure. The zero gravity position will help to aid blood circulation issues.
In a zero gravity position, your knees will be above your heart to minimize pressure on the heart. The zero gravity position is also the best solution for back pain.
This is a simple and the best natural way to heal your back issues. According to NASA, the zero-gravity massage chairs give deep relaxation and heal your body.
Read also: What Is Zero Gravity Position? Here Is The Answer
• Assembly
The massage chair is easy to assemble. It will come in four different parts. You will need maximum 30 minutes to set up the massage chair. A single person can also assemble this chair without anyone's help.
In the packaging, it includes a remote controller, massage chair, user manual, and remote controller cable. Assembly is too easy. You don't need to read the user manual for assembly.
• Price
The Osaki Pro Os 4D Paragon massage chair is available in three colors. However, all colors are available at the same price. The actual cost of this massage chair is $8000 on the official website (osakiusa.com)
But, you can get it at $3999 at Amazon. It is a good value-for-money product. This is a one-time investment to keep your body relaxed all the time. It is better than spending some dollars every month in a massage spa.
---
Pros and Cons
What we Like
Foot & Calf Massage
Easy Assembly
Heated foot rollers
Heated back rollers with adjustable temperature
Space Saving
Value for money
Osaki Bluetooth Pairing
What we don't
Voice recognition has only nine commands
Neck & Shoulder massage is not up to mark
Hard to understand the user manual
---
Frequently Asked Questions
Q – Is 4D Massage Chair worth it?
A – The 4D massage chairs are updated versions of 3D and 2D massage chairs. Surely it will give a better massage as it is an updated version. The price is a bit high than the previous 3D and 2D versions.
Because of the features, the 4d massage chair is value for money. We recommend purchasing a 4d massage chair for a better massage experience and extra features.
Q – What is the Difference between Osaki 3D and 4D?
A – In the 2D massage chairs, the rollers were designed just to move up and down + back and forth. The 3D massage chairs were designed to give deep massage by adjusting the intensity of the massage.
In a 3D massage chair, you can adjust the rollers forward and backward. Also, the 3D massage chairs let you customize the massage according to your liking.
There is not a big difference between 3D and 4D massage chairs. But, the 4D massage chair gives you more flexibility than the 3D massage chair. It allows you to set the speed and rhythm of the massage rollers.
Not only this, but the 4d massage chairs come with an L-track massage system. Whereas, the 3D massage chairs have an S-track massage system.
However, this difference makes a significant impact on the quality of massage. The S-track massage system is designed to follow the natural curve of the spine. It starts from the neck and goes all the way to the bottom of the spine.
A massage chair with a long S-track system can massage your glutes. The L-track system is longer than S-track. Starting from your neck and extending to your back, glutes, and thighs.
If you want a deep massage to the thigh area, you must look forward to the L-track massage system.
Q – Is Osaki a good Brand?
A – Yes, Osaki is one of the most popular brands for massage chairs. It offers mid-range to luxury massage chairs. Every Osaki massage chair has something good for its users. It's a faithful brand for massage chairs.
Q – Is Osaki Made in Japan?
A – Osaki is a US-based company. However, the Osaki products are manufactured in China or Japan. The US imports these products from China and Japan for distribution.
Most of the Osaki Massage chairs are manufactured in China except the JP chairs which are made in Japan. China is the biggest manufacturer of Osaki Massage Chairs.
---
Final Verdict
There are many points where Osaki Pro Os 4D Paragon Massage chairs are better than others. It gives you exceptional leg and calf massage with heating rollers.
The chair includes features like USB ports, leg extension, voice commands, an L-track system, and many more.
It is a value-for-money massage chair. Furthermore, you can also control the chair with an app on your iOS or Android devices. You can easily customize your massage using the app.
While providing these benefits, there are a few disappointing features of this massage chair.
As the chair has limited voice commands, you cannot control everything with the voice command feature. Some users also complain that the neck and shoulder massages are not up to the mark.
Just like other massage chairs it also has small disadvantages. We hope this Osaki Pro Os 4d Paragon Review will help you to buy the best massage chair for you.