When it comes to selecting the best massage chair, the decision can often feel staggering. The options are numerous, but two brands that stand out in the market are Kahuna and Osaki. Each offering its unique features, both brands work towards delivering the ultimate relaxation and rejuvenation experience.
Kahuna massage chairs are well-known for their superior functionality, pretty decent prices, ease of use, and cutting-edge technology, providing a full-body massage chair that meets a wide range of needs. Conversely, Osaki is renowned for its sleek and sophisticated designs, the best value, reliability & support.
In this blog post, we'll provide an in-depth exploration of Kahuna vs. Osaki, two leading manufacturers that have achieved success with their offerings. We'll examine their distinct features and assess roller technology comparisons, price points, plus added value for each brand's chairs.
Key Takeaways
Kahuna and Osaki massage chairs offer a variety of features to suit personal needs.
Osaki models provide a more intense massage experience, while Kahuna offers more preset programs for customization.
Both brands have 3-year warranties and great customer support, so compare their models to find the best deal!
Kahuna Massage Chairs: Brand Overview
Kahuna massage chairs have earned a positive reputation for being cost-efficient yet providing up-to-date features and reliable customer service. Not only do they offer full body massages but also multiple massage techniques, such as L-track or air therapy, while still saving space with their clever design that includes zero gravity recline capability.
You can customize your experience through different programs tailored specifically to meet individual preferences. When compared against more expensive options from Osaki chairs on the market today, Kahuna offers much of the same quality at reasonable price tags, starting below $2 000 and going above $8 000, depending on model selection.
This brand provides 3D rollers coupled with heat therapy, which is altogether great value for money in terms of comprehensive massage experiences these days!
Top 3 Best Kahuna Massage Chairs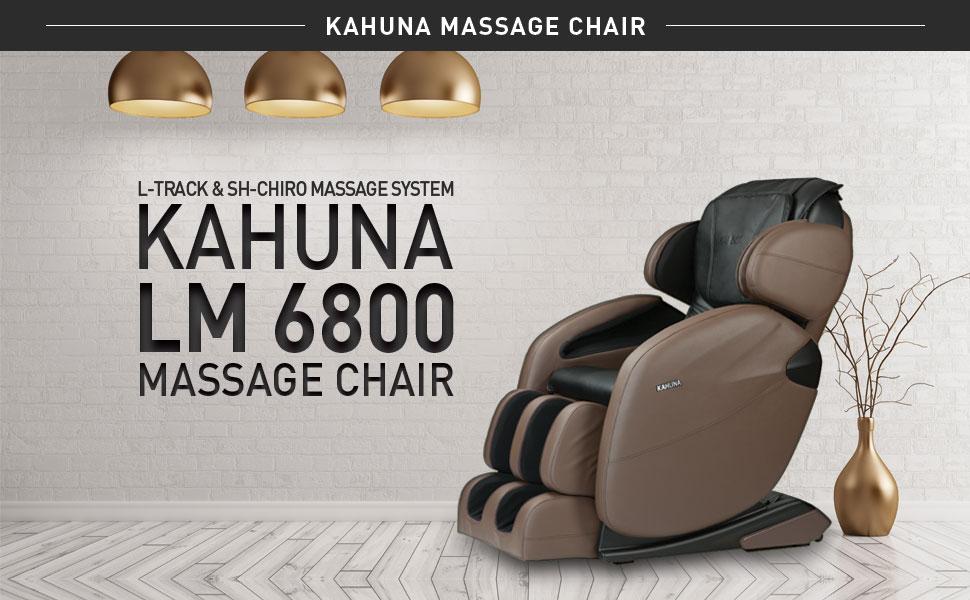 Kahuna Full-Body LM-6800 is the best under $2000 massage chair. We really appreciate its super amazing features and top-graded technology in that particular price range, which lets your body rejuvenate, unwind, and get energized every day.
The chair features a double-layer shoulder airbag for added comfort, 6 auto programs to choose from, 5 manual programs, an arm airbag for added support, extra foot padding, a remote holder, an L-track frame, and 4 rollers.
The air-cell massage system effectively massages your shoulders, arms, waist, thighs, and hips, while 3 stages of true zero-gravity positions provide supreme respite. Not to mention, it does take much space and requires only 3 inches during the transition to the zero gravity positions, so you can easily place it anywhere from your home office room to bedroom and living room.
Key Specs
Dimension – 48 x 31 x 46 inches
Weight – 220 Pounds
Color – Black, Brown
Use coupon code 'chairsarea' on the official website for a 5% discount.
---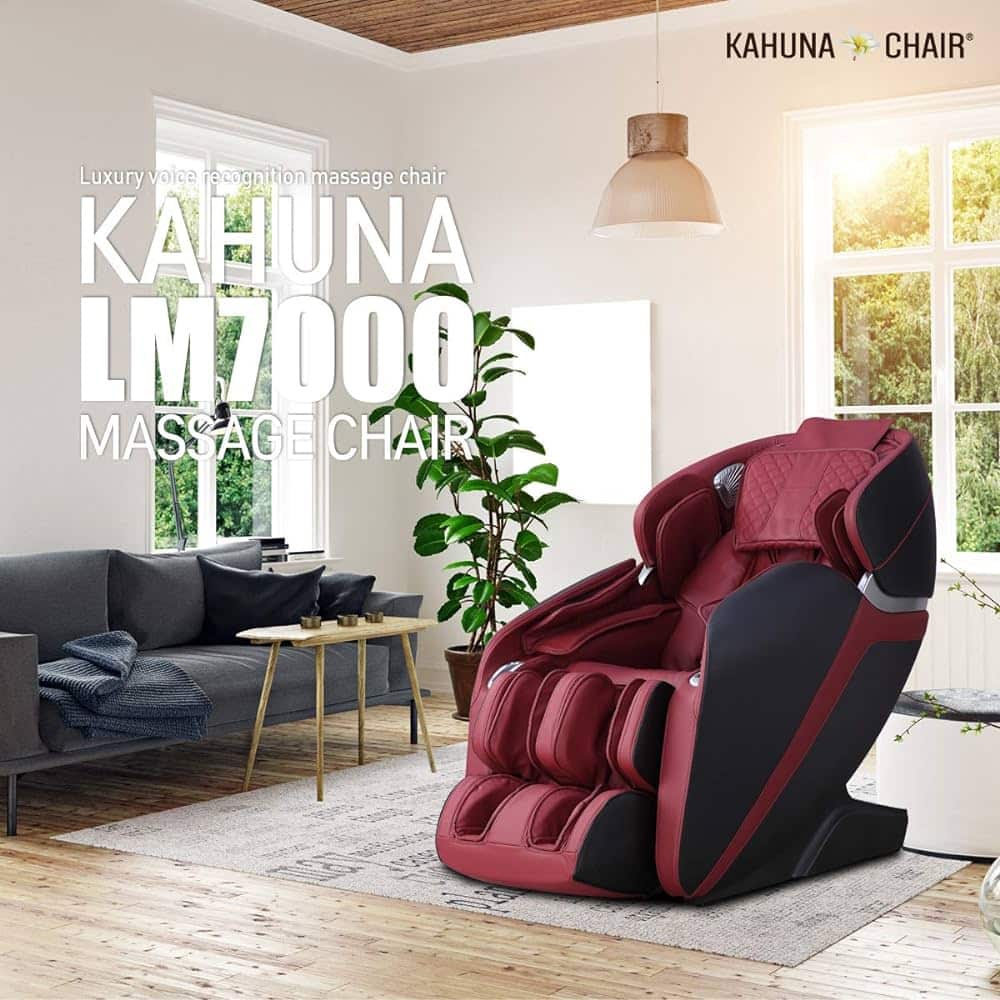 When it comes to Kahuna Chair LM-7000, the first great thing is it's a fully assembled massage chair that offers full-body massage and is ideal to relax, relieve stress, and soothe tense muscles.
Likewise, Kahuna LM-6800, which is under $2000 dollars, offers 6 auto programs; it's slightly expensive but offers 12 auto programs along with a whole new voice recognition feature to target all those sore spots that need to be taken care of.
It's a perfect blend of a zero gravity system, airbags technology, acupressure points for feet and calves, computerized body scan, MP3 player support, and heat therapy – making it super functional and a truly luxurious massage chair.
Key Specs
Dimensions – 30 x 51 x 45 Inches
Weight – 199 Pounds
Color – Red, Black, Orange, Brown
Use coupon code 'chairsarea' on the official website for a 5% discount.
---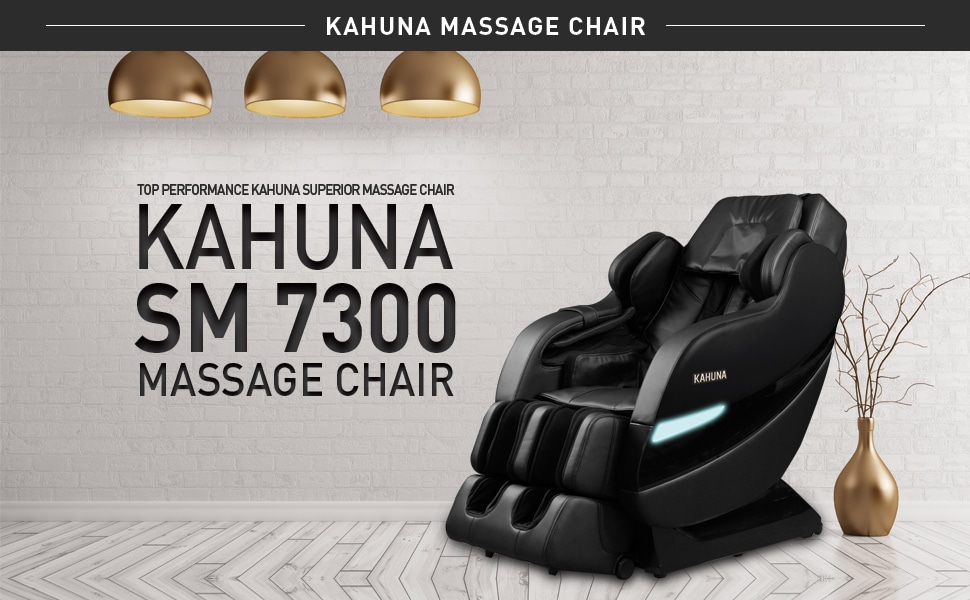 The Kahuna SM-7300 is our last and most higher-end pick in the best Kahuna massage chair list. The chair features the SL-Track 6 Rollers, which can move up and down your back all the way to the neck and between the shoulder blades to ensure that your entire back is targeted by the massage.
Triple hip airbags provide a gentler massage, and the revised remote controller allows you to customize the air intensity up to 5 levels. The chair contains 9 auto programs, including 4 special programs, such as Office Person, golfer, Senior Mode, and Dynamic Sport, so you can get the most out of your massage.
You can also choose from a variety of different techniques like kneading, tapping, knocking, tapping + knocking, and shiatsu massage for a more personalized experience. The Kahuna SM-7300 comes equipped with advanced massage technology that performs close to a human-touch massage, allowing you to take advantage of its many features while feeling refreshed and relaxed.
Key Specs
Dimensions – 48 x 28 x 47 Inches
Weight – 239 Pounds
Color – Black, Dark Brown
Use coupon code 'chairsarea' on the official website for a 5% discount.
---
Osaki Massage Chairs: Brand Overview
Osaki massage chairs, which have since been rebranded as Titan Massage Chairs, are renowned for their advanced roller mechanisms and lavish features. With a large range of models to accommodate various tastes and budgets, Osaki has earned its place among the preferred choices of consumers interested in buying a top-of-the-line massage chair.
The luxurious additions found on many of these high-tech devices ensure an incomparable full-body massage experience with variables like 3D or 4D technology, head massaging capsules, infrared lights Bluetooth compatibility all incorporated into each product. Below, we have reviewed a few massage chairs from the Osaki brand.
Top Osaki Massgae Chair Models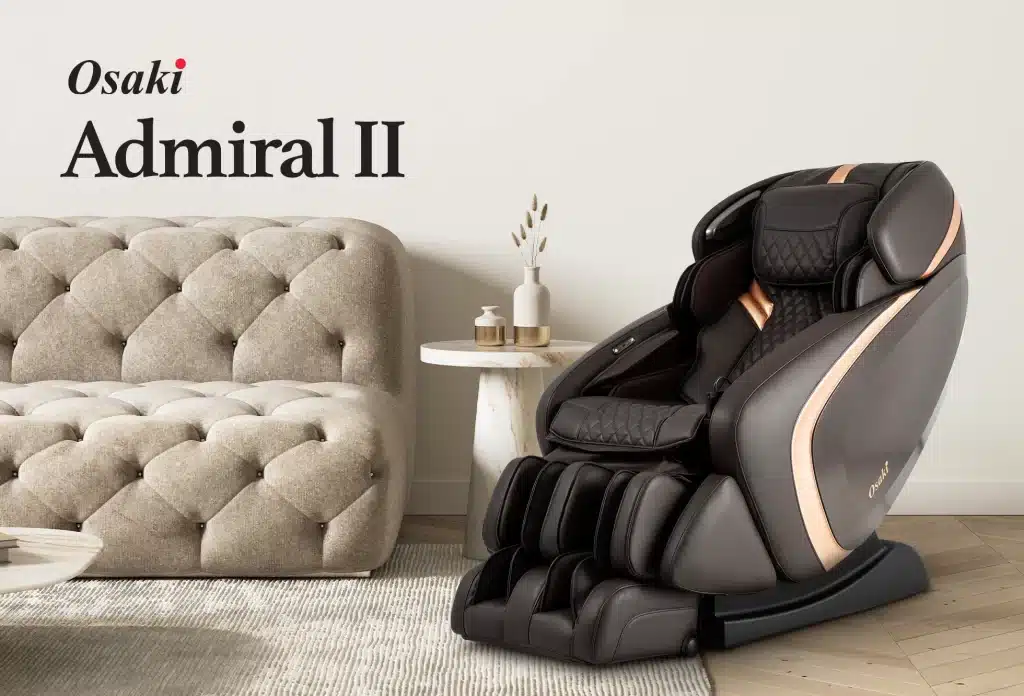 In a world where the massage chair industry is brimming with choices, the Osaki Os-Pro Admiral AS Massage Chair stands tall among the most luxurious and advanced massage chair models. Advanced body scan technology, body air massage, foot air massage, and deep tissue massage, 24 airbags are some of the amazing features that you get after purchasing this fabulous model.
Space-saving technology ensures that you enjoy all these features without compromising your living space, a concern with many other expensive massage chairs. The zero gravity position, inspired by NASA technology, promises relief and relaxation at a level experienced by astronauts in space. The inclusion of 15 Auto Massage Programs not only proves its superiority in the market but also offers an array of options to cater to every massage need and preference.
The lumbar heat therapy, which is not standard in many massage chair features, adds the perfect finishing touch, ensuring your lower back is afforded the soothing warmth to ease tension and enhance relaxation.
Key Specs
Dimensions – 50D x 30.7W x 64.2H in
Weight – 280 Pounds
Color – Off-white
---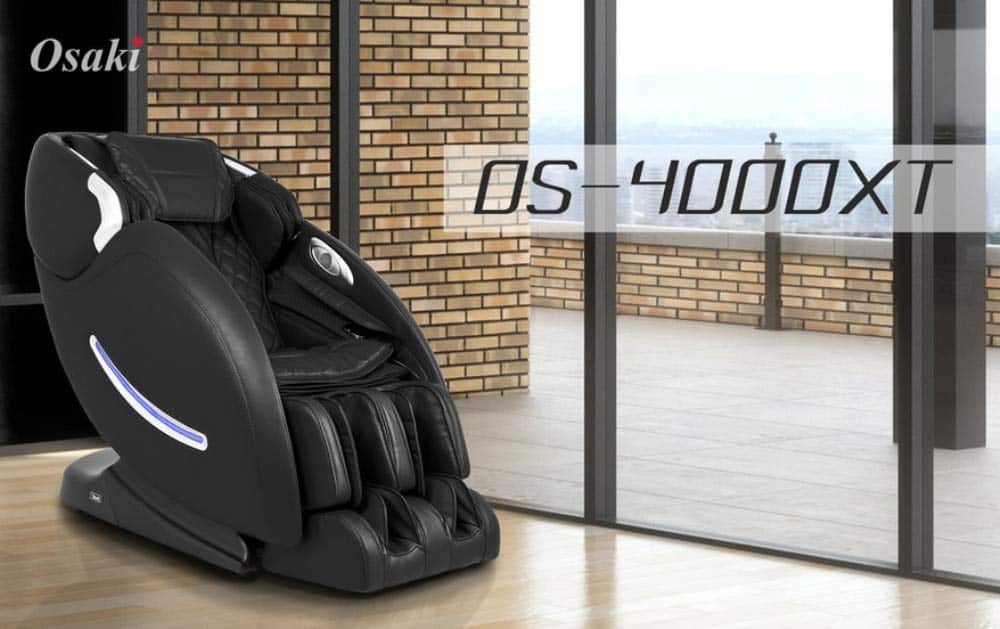 Osaki OS-4000XT B massage chair is the most luxurious choice for all of your relaxation needs. With a unique foot roller massage, manual massage settings, and great air cushion hugs, the OS-4000XT B provides a highly customized experience every time.
The cushion even squeezes your hands for an extra layer of comfort and relaxation. The kneading massage is decently strong and adjustable in terms of strength, intensity, and width. And the recline feature is great, making it even more comfortable to use.
Not only is the quality of the construction outstanding, but it's also incredibly beautiful. To top it off, it's also lightweight and easy to carry, ensuring that you can take your relaxation with you wherever you go.
Key Specs
Dimensions – 58.5 x 29 x 44.5 Inches
Weight – 175.2 Pounds
Color – Brown
---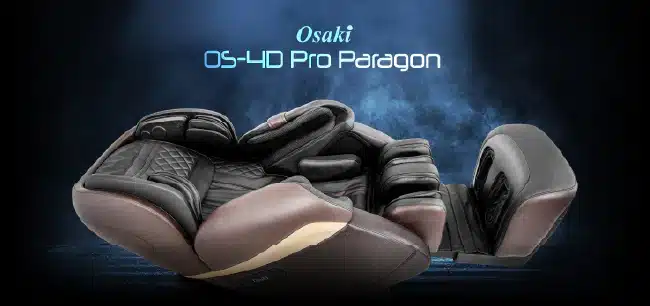 The Osaki Pro OS-4D Paragon 4D Massage Chair offers a deep, therapeutic massage in the comfort of your own home. It features 4D massage technology, allowing you to customize your massage experience with a wider, deeper, and more rhythmic massage.
It is also equipped with voice recognition technology, allowing you to customize the settings of your massage with simple voice commands. The massage chair also has the L-Track with the Heated back roller massage, which is designed to optimize your blood flow and relax your body even more.
The Foot Roller doesn't just knead your feet; it adds a touch of warmth with its mild infrared heat. And that's not all! The Zero Gravity feature takes your massage experience to new heights of comfort and relaxation. Read The Full Review
Key Specs
Dimensions – 60 x 31 x 53 Inches
Weight – 390 Pounds
Color – Black, Beige, Dark Brown
---
Warranty and Customer Support: Which Brand Stands Out?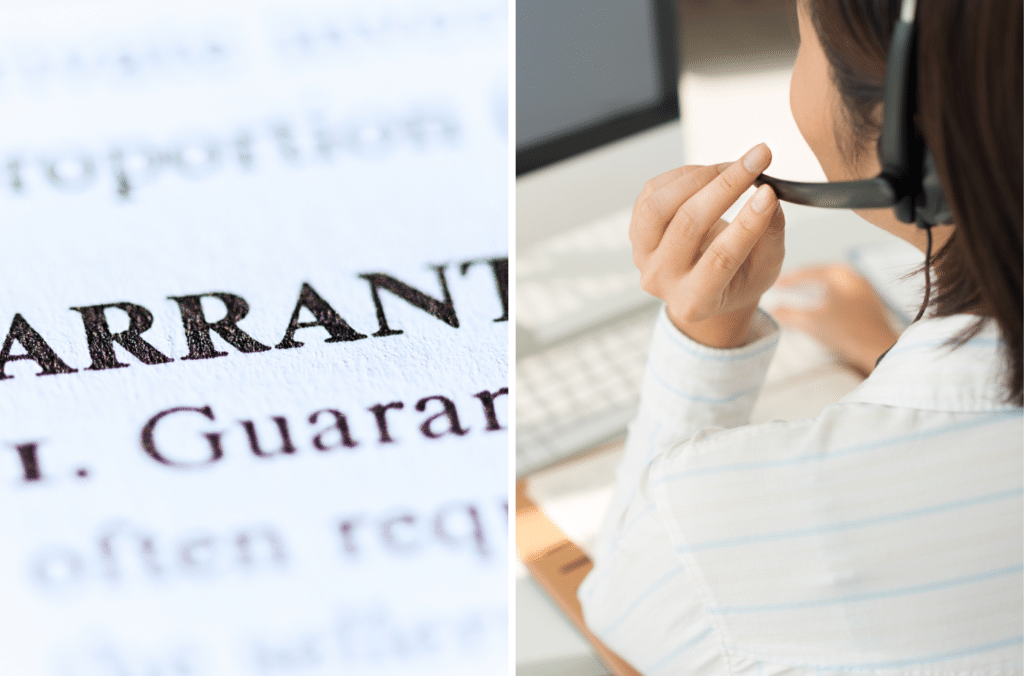 When investing in a massage chair, warranties and customer service of the particular should be exceptional. Kahuna offers three years of limited warranty coverage, including parts and labor costs, with upgrade possibilities for an additional fee.
The first year is entirely covered, while the last covers structural framework. Osaki also provides customers with its standard 3-year guarantee, which ensures satisfaction on their part. For assistance, customers can get help from Kahuna's team easily through a toll-free number or email address provided by them.
Both companies offer satisfactory guarantees and excellent support services so users have confidence when using their chairs without any fuss attached to them whatsoever!
---
Frequently Asked Questions (FAQs)
Where are Kahuna massage chairs made?
Kahuna massage chairs are manufactured in China and dispensed from Cypress, California. Offering a comprehensive head-to-toe massage experience due to such features as zero gravity settings, S/L track technology, or airbags. These innovative massagers make it possible for people to get complete relaxation right in their own homes. Kahuna Massage Chairs promise an incomparable quality of comfort that can be enjoyed any time!
Is Osaki a Chinese company?
Osaki is a US-based enterprise with many of their products sourced from China, Taiwan, and Japan. Some items are also manufactured in these countries outside the United States.
What is the main difference between Kahuna and Osaki massage chairs?
Kahuna massage chairs are renowned for their cost-effectiveness, and the latest technology included, while Osaki seats have added more luxurious elements along with top-of-the-range rollers to give a lavish feeling. Both styles provide excellent options when it comes to getting a massage chair.
---
Conclusion – The Bottom Line!
You can make a well-educated decision on which massage chair is most suitable for your needs and budget by considering the roller technology, preset programs, airbags, and compression massage of both Kahuna chairs (which are affordable with innovative features) as well as Osaki models (with advanced rollers plus luxury touches).
Both brands offer an array of options to suit different preferences. We hope that now you are totally clear about both brands of massage chairs and can easily pick the most suitable massage chair from our list. Thanks for reading our guide; if you have any queries regarding Kahuna & Osaki massage chairs, you are free to leave a comment below. We'd love to assist you.
---
References & Resources:
Kahuna Massage Chair Official Website
Osaki Massage Chair Official Website
User Manual:
---
Related Topics May Help You:
Best Osaki Massage Chairs on the Market
Best Kahuna Massage Chair – The Most Simple Guide
Kahuna LM-6800 vs SM-7300, Who's The Best?
Kahuna SM-7300 vs SM-7300S – Who's The Best?
Titan vs. Osaki Massage Chairs – Which One is The Best?