Do you want to pack up your day with a great relaxing massage? You can do that with the Osaki Maxim 3D LE Massage Chair. 3D massage chair, why? Well, there are 4D massage chairs available.
If your pocket can afford them, you can look forward to a 4D massage chair. Otherwise, the Osaki Maxim 3D LE is a perfect massage chair. A 4D massage chair will cost you $8000 or even more.
On the other hand, you can take this massage chair home for under $5000. The Osaki Maxim 3D le massage chair's price is not the only reason; the massage chair offers many features and functionality.
With those features, the massage chair can replicate the human-like massage. What are those features & functionality? Read this Osaki Maxim 3D LE massage chair review till the end.
Continue reading…
---
Osaki 3D Maxim Review – 3D Mechanism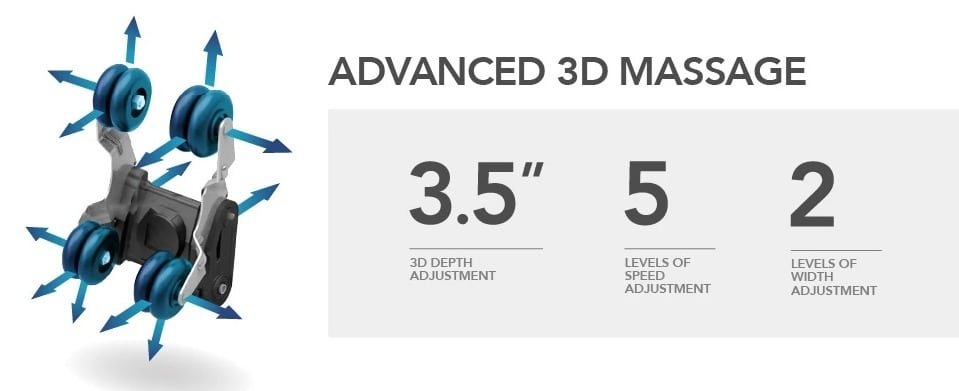 The Osaki 3D maxim LE massage chair comes with a 3D mechanism. 3D massage means 3-dimensional massage. The massage chair allows you to customize your massage with the 3D mechanism.
3D massage roller can extend from the track to give you a more intense massage. Because of this, it can replicate the hand motions of a massage therapist.
With a 3D mechanism, massage rollers can move up-down, left-right, and in-out. The plus point is you can adjust the intensity of massage rollers to make massage more effective.
3D massage rollers can focus on key areas where more intense massage is needed. Unlike 2D massage chairs, none of your muscles will be left over and untouched.
The 3D massage rollers can give you a perfect deep tissue massage with the capability to move in-out from the track. However, the 4D massage chairs are popular nowadays. But still, many customers find 3D massage chairs a perfect suit. You can check our article about the 2D vs 3D vs 4D Massage Chair.
Osaki Maxim 3D LE Massage Chair Review – SL-Track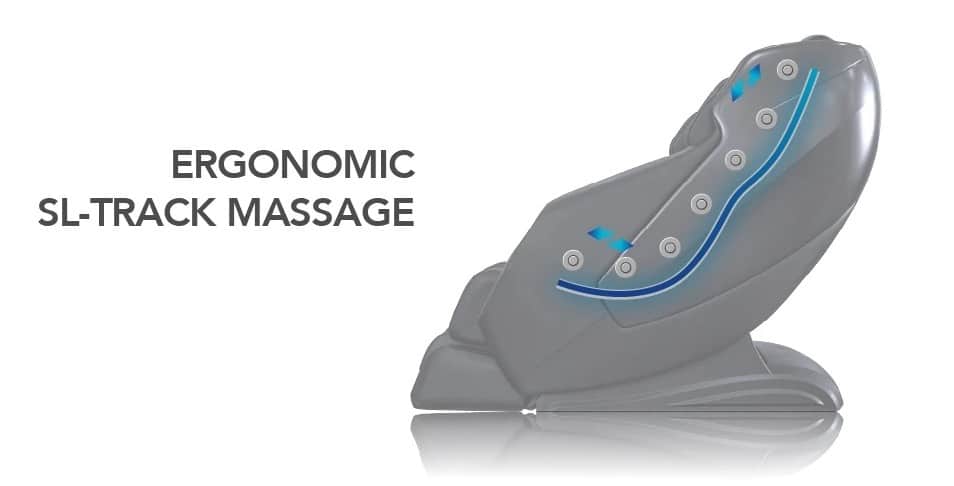 The Osaki Maxim 3D massage chair offers an SL-Track massage system. SL means "S-shaped long". The SL-Track system is an updated version of S and L-Track massage chairs.
It starts from your neck and goes down to your thighs and glutes. The SL-Track massage system gives you a comprehensive massage experience while massaging those areas often left by old massage systems.
Osaki Maxim 3D LE Review – Other Features
The Osaki massage chair also offers air massage, heating therapy, leg massage, and more. Let's discuss them in detail.
Air Massage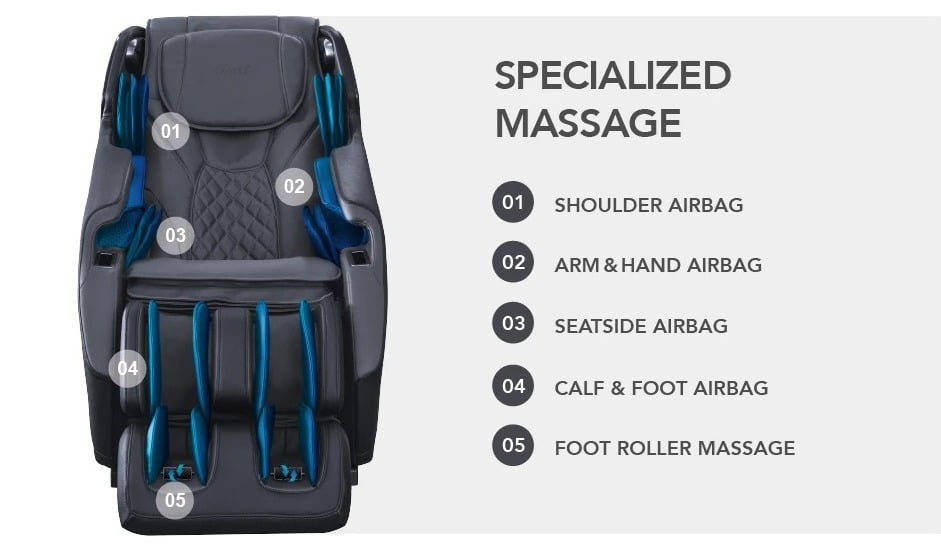 There are 38 air cells in the massage chair to provide you with a full-body air massage. It covers more areas of your body and gives you a fuller body massage experience.
The air massage also improves the longevity and reliability of the chair. The Oaski 3D Maxim has airbags for shoulders, arms, hips, calves, and feet.
Lumber Heating

The lumber heating function is helpful for people who are suffering from lower back pain. It improves blood circulation in your back and reduces pains and aches.
The lumber heating feature relieves tension from your muscles and gives you a soothing massage. Nothing is better than having a warm heating massage after a long hectic day.
Auto Massage

There are eight massage modes equipped in the Osaki Maxim 3D LE Massage Chair. The auto massage programs in this massage chair are designed according to the user's preference.
You can enjoy Swedish and Chinese massage at home with this massage chair. The eight massage programs are shown below.
Gentle
Therapy
Demo
Thai
Relax
Vigorous
Swedish
Chinese
It offers eight auto massage programs. But you can customize the Osaki Maxim 3D LE Massage Chair manually according to your comfort.
Manual Massage Styles

The massage chair has six manual massage styles. These massage styles include intense kneading motions, wide patting modes, etc. The Osaki Maxim 3D LE Massage Chair Manual massage modes are shown below.
Kneading
Tapping
Swedish
Shiatsu
Clapping
Rolling
Foot Rollers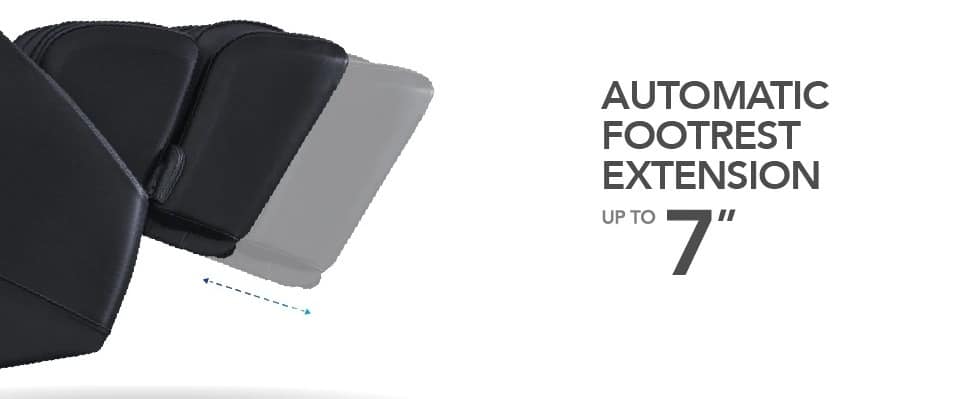 The Osaki Maxim 3D LE has scientifically designed acupuncture-enabled foot rollers. These powerful massage rollers will relieve tension from your muscles and tissues.
When you start the massage, the leg extension automatically extends and expands outwards. It can also retract automatically according to the height of any user.
Bluetooth Speakers & Remote Controller

The massage chair allows you to hum your favorite music while having a soothing massage. It has inbuilt Bluetooth speakers with mild chromo therapy for high-fidelity surround sound audio.
There is an easy-to-use remote controller. With this remote controller, you can control auto and manual massage programs. Two remote stands are designed on the armrest so no need to stand up to change the massage program.
Space Saving & Zero Gravity

The zero gravity position keeps your leg higher than your heart. It helps to improve blood flow in your brain. It is a NASA-inspired technology to relax your muscles.
The Osaki Maxim 3D LE massage chair comes with space-saving technology. Even in the zero gravity position, it will only require two extra inches.
---
Osaki Maxim 3D LE Massage Chair Assembly
You will massage the chair in different parts with two big boxes. The first task is to take out the main unit of the massage chair and other accessories from the boxes. You will find air pipes and wires under the seat and on the footrest.
Connect those wires and air pipes carefully. Assembly is too easy. You only have to connect the base and leg rest. You can check this information in the user manual of this massage chair.
---
Osaki Maxim 3D LE Error Code 42
Many people have this 'Error Code 42" in massage chairs. The error code 42 means there is a problem with the massage mechanism.
Your massage chair will need a massage mechanism replacement. You can check out the otasupport.com website or contact the Osaki service team at their e-mail address.
---
Frequently Asked Questions
Q – What are the ratings for Osaki massage chairs?
A – Well, Osaki is one of the leading brands of massage chairs. You will find 70% to 75% 5-star ratings of most Osaki massage chairs on any e-commerce shop.
Q – What is the warranty on the Osaki Maxim 3D LE massage chair?
A – You will get a year full warranty and a 2&3 years (parts only) warranty for free. However, you can extend the warranty up to two years (parts/labor) by paying extra dollars.
Q – Is Osaki a Chinese company?
A – Many people believe that Osaki is a Chinese brand. But, it is an American brand.
Q – Is the Osaki massage chair made in China?
A – Not all Osaki massage chairs are made in China. Some models of Osaki massage chairs are made in Japan.
---
Final Thoughts
The Osaki Maxim 3D LE massage chair has functions and features that can give you a massage like a professional masseur. The Osaki Maxim 3D LE massage chair price is low comparatively.
According to us, it will be a perfect fit for you if your budget is under $5000 or $6000. Don't worry about error code 42. It is a normal issue that can be solved easily by a replacement. That's it for now. See you in the next post.
---
References & Resources:
Osaki Massage Chair Official Website
Osaki Maxim 3D LE User Manual
---
Related Topics May Help You:
Best Osaki Massage Chairs on the Market
Titan vs. Osaki Massage Chairs – Which One is The Best?
Osaki OS Champ Massage Chair Full Review 
Osaki OS-Pro 4D Encore Review – A Detailed Review