The OHCO M.8 Massage Chair is one of the outstanding massage chairs in the world. This massage chair has a unique design. In fact, many people like to call it the Ferrari Chair with tons of jaw-dropping features.
In this massage chair review, we will discuss the various features of this chair, going from its special design to its in-depth features. Additionally, we will cover user feedback and the benefits it offers.
Without wasting any more time, let's get started!
ABOUT OHCO Massage Chair
OHCO is a Japanese massage chair brand known for its luxurious and well-designed massage chairs.
These Japanese massage chairs are designed by the world-famous designer Ken Okuyama, A Japanese shiatsu massage therapist renowned for his work on the Ferrari Enzo and Honda NSX. So, If you're on a tight budget but still want to experience the joy of driving a Ferrari, consider trying out the OHCO M.8 with a price of 300x lower.
OHCO M.8 4D Massage Chair – DESIGN OVERVIEW
Specification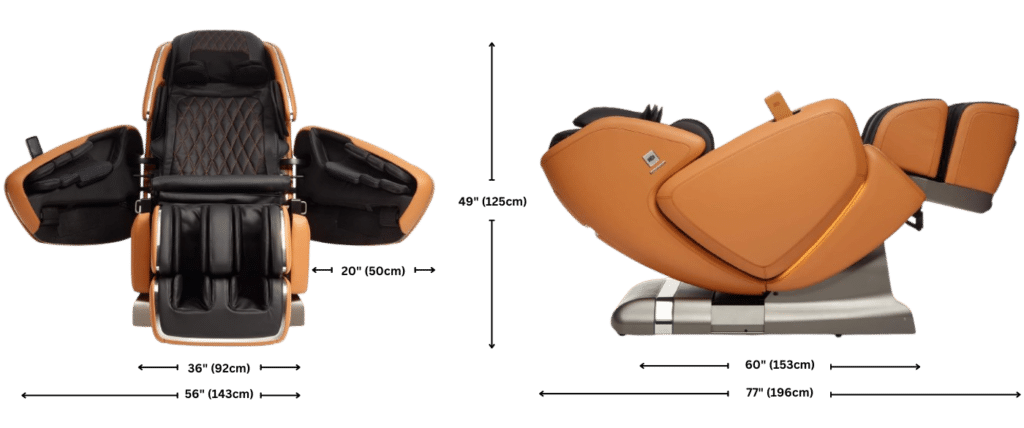 The OHCO M.8 is specifically designed for individuals who are between 5'1″ and 6'4″ in height, with a recommended weight limit of 265 lbs. For the dimensions, this chair has a width of 36 inches, and when the doors are opened, it extends to 40 inches (20 inches for each door). The length is 60 inches, and the height is 49 inches.
Wall-Hugging
The OHCO M.8 Massage Chair features a wall-hugging design, eliminating the need to pull the massage chair away from the wall to recline. Simply position it 6.25″ away from the wall and enjoy the reclining position.
Colors

The OHCO Massage chair offers you the choice to pick among five wonderful colors for the OHCO M.8: Walnut (Chocolate Brown), Midnight (Black), Pearl (Light Cream), and Saddle (Orangish-Brown). This gives you the freedom to select the color that best suits your room.
Rear Swing Doors

One of the special and jaw-dropping features of this luxury massage chair is that the chair has doors that can be opened from both sides, giving it a car-like style. This aligns with what we mentioned at the beginning of our review. This feature allows individuals who cannot sit from the front to sit from the side, similar to a car, and enjoy their massage.
---
OHCO M8 Massage Chair Review – Main Features
MaxTrack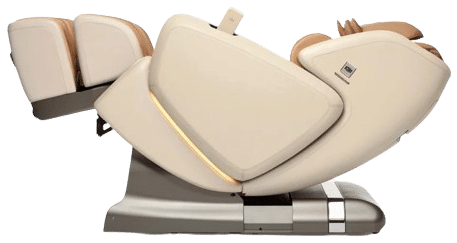 If you're struggling with whether to buy an L-Track or an S-Track massage chair, let me help you make a decision. An L-Track massage chair provides a track that massages all the way to your glutes and offers the added benefit of zero-gravity positioning. On the other hand, an S-Track massage chair comes with a flat reclining feature that stretches your muscles. The good news is, with the OHCO M.8, you don't have to choose between the two. It offers both of these features in one chair. In addition to an extended tracking length of 49 inches, it covers your neck all the way to the glutes. This feature makes THE OHCO M.8 the only chair in the world with this capability.
4D Rollers
In addition to the MaxTrack, the OHCO M.8 provides a 4D massage roller. The rollers can massage in various directions, including up and down, side to side, and in and out, which is similar to 3D massage.
The difference between the 3D and 4D Rollers is that with the 4D Rollers, you can control the rhythm and speed, which makes it look like a real-life massage; in fact, this is not a unique feature of the OHCO M.8 since a lot of the massage chairs have the 4D Rollers.
So, what makes the 4D Rollers of the OHCO M.8 a unique feature? The answer is that these rollers can massage your body even if you change your position. This 4D engine uses advanced massage algorithms to mimic a real human massage experience, And that's what makes OHCO M.8 one of the top 4D massage chairs.
Real also 2D vs 3D vs 4D Massage Chair – Full Guide
Heat Therapy
You shouldn't begin your massage session without warming up your muscles. The OHCO M.8, like other chairs, offers a heat feature. What sets this feature apart from others is that the massage zones are separated and distributed throughout the chair, providing a unique and comprehensive massage experience.
The massage zones are located in the feet, calves, seat, back, hands, and headrest. Additionally, the rollers that extend from the neck to the glutes are heated for added comfort.
Saying that the massage zones are separated means that you can control each zone individually by turning it on and off while keeping the others unaffected.
The heat feature offers comforting warmth that effectively alleviates pain and relaxes tight, sore muscles, similar to what massage therapists do before every massage session.
---
MASSAGE OPTIONS
MASSAGE TECHNIQUES
As a luxury massage chair, we were extremely disappointed to learn that the OHCO M.8 only includes one additional advanced massage technique in addition to the basic massage techniques. In total, It offers five massage techniques:
Kneading
Tapping
Rolling
Combination (Kneading + Tapping)
Shiatsu
MASSAGE PROGRAMS
If this is your first time purchasing a massage chair or if you are unsure about the type of massage that suits you, the OHCO M.8 offers 14 Automatic Massage Programs to choose from. Each preset program differs in intensity and speed, allowing you to find the perfect massage experience for your needs. The preset programs are as follows:
Programmed Sessions
Quick: A great choice for those looking to test the capabilities of this massage chair, including massage, air, heat, and rollers. Additionally, it provides a quick refreshment for the body.
Full Body: This shiatsu preset program is specially designed to mobilize your back, neck, and shoulders, increase blood circulation, and revitalize your mind, giving you an extraordinary shiatsu massage chair experience.
Float (Dreamwave): Unique to OHCO massage chairs, this program offers the perfect meditative and soothing experience. It utilizes a figure-eight technique to gently rock the hips and thighs, promoting balance in the body and relaxation in the mind.
Stress Relief: After a long and stressful day, this preset program is all you need. With its smooth and slow, dance-like movement, it directly targets the brain, providing a hypnotic and thoroughly calming massage.
Unwind: this program uses slow and calming massage techniques designed to bring you to a world of peace and tranquility. The predictable and repeated nature of these techniques enhances the overall massage experience, ensuring a truly relaxing and soothing session.
Stretch: It's an important program that focuses on mobilizing the back, shoulders, and neck, promoting a healthy extension movement and providing a full-body stretch.
Morning: Would you like to have a productive day? If so, start your day with this program. It helps revitalize your mind and promotes efficient blood circulation, directing it from the body's extremities straight to the heart.
Night: Unlike the morning program, this one prepares your brain for sleep and helps alleviate insomnia.
Full Body Air: Targets the arms, shoulders, back, hips, legs, and feet with a gentle and slow-paced air massage. It offers a peaceful experience that you must try.
Sports Recovery: Helps to rejuvenate the muscles and accelerate recovery after intense physical activity.
Focused Sessions
Neck & Shoulders: It seamlessly and comfortably massages your back with a variety of kneading massage patterns that specifically target your neck and shoulders.
Low Back: Utilizes a kneading and tapping massage technique that specifically targets the lower back and upper area.
Glutes: It helps to relieve tension in the lower back, glutes, and thighs.
Feet & Calves: Relieve soreness and discomfort in your feet and legs with air cells that surround the foot and calf area. Additionally, targeted rollers that specifically address the reflexology points on the soles of your feet.
MASSAGE TIMER
With this feature, you can easily set a timer for your session and customize it to suit your needs. The timer can be set for any duration between 10 to 30 minutes, providing you with flexibility and control over your massage session.
Link Massage
You have the option to combine two sessions, which extends the massage time to 35-40 minutes.
Zero Gravity & Lay Flat & Inversion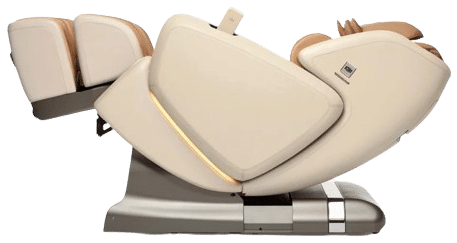 With an infinite recline angle, you can achieve three recline positions:
Zero Gravity: It is designed to simulate the feeling of weightlessness that astronauts experience in space. It allows you to recline the chair to a position where your body is in a neutral posture, with your legs elevated above your heart. This position helps distribute your body weight evenly, relieving pressure on your joints and promoting deep relaxation. We have already covered this topic extensively in another article. You can check it out here.
Lay Flat: This angled position is similar to sleeping in a bed, with your body extended, which helps to stretch it.
Inversion: Inversion therapy is a technique that involves hanging upside down or at an inverted angle to help alleviate back pain and improve spinal health. This feature is also available on massage chairs, allowing users to tilt backward and experience partial or full inversion.
FULL BODY AIR MASSAGE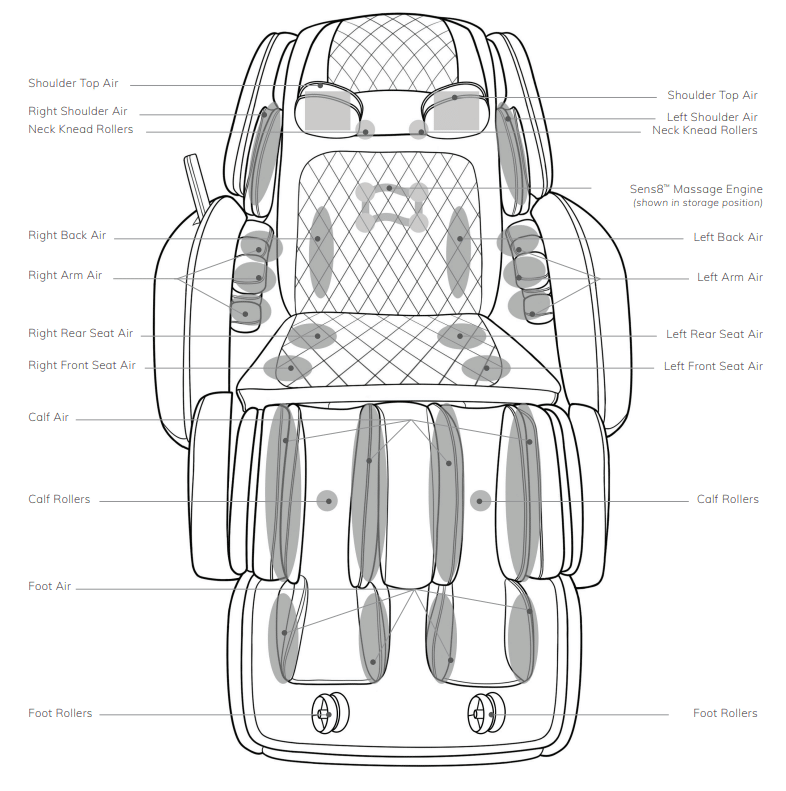 It is considered one of the 14 preset programs, with 48 thoughtfully placed airbags throughout the chair. It provides a gentle massage option for those who prefer a lighter touch instead of intense massages. Another great feature is the ability to control each zone individually. The zones are as follows:
Feet
Calves
Hips
Outer thighs
Glutes
Arms
Hands
Neck
Shoulders
KNEAD AND STRETCH HEADREST

Experience the ultimate relaxation with a rejuvenating massage for your cervical spine. A specialized headrest provides a combination of stretching and kneading techniques that will leave your neck feeling refreshed. Enjoy the air-driven stretch followed by the soothing warmth of the heated rollers.
Calf Kneading and Foot Rollers
Experience the perfect calf massage with a combination of compression and rotation applied to the side muscles of your calves. Additionally, a roller covers the entire median line on the back side of your calves, ensuring a truly satisfying experience.
For a foot massage, The 2-way foot roller is designed to massage the bottom of your feet. As mentioned earlier, these rollers are heated, which is a feature not commonly found on all massage chairs. If you prefer a more intense foot massage, the OHCO M.8 4D Massage Chair also includes a removable shiatsu pad.
Same for the back massage. If you want to increase the strength, all you have to do is flip the back pad to the back of the chair. This will result in direct contact between the rollers and your back.
---
ADDITIONAL FEATURES
Bluetooth Speakers
Playing relaxing and soothing music during massage therapy can greatly enhance the results. It effectively reduces pain and helps the brain release mood-enhancing chemicals known as endorphins. The OHCO M.8 Luxury Massage Chair, like other chairs, offers the feature of connecting your device to its speakers, allowing you to enjoy your favorite music while receiving a massage.
Multi-Language Remote Control
A slim and simple LCD remote with an easy-to-read interface, as well as a display in multiple languages.
Aromatherapy
This time, we have a feature that caters to your olfactory senses. You can add your favorite oil to the slot located on the headrest and enjoy a massage while indulging in the delightful aroma of your chosen perfume.
Air Ionizer and White Noise Generator
Experience the refreshing benefits of clean air with an air ionizer, conveniently situated next to the aromatherapy diffuser. This innovative feature effectively removes dust, spores, and dander from the air, ensuring a healthier breathing environment. To enhance the experience, a fan located on the headrest gently blows the ionized air, creating a soothing echo reminiscent of ocean waves.
M-Sense Light Pool
A smart LED light detects your presence as you approach your chair and illuminates your room in the darkness.
Slot Holder and USB Power Ports
The left arm of this chair features a convenient slot holder designed to store your smartphone, TV remote, and other valuable items. In addition, each arm of the chair features conveniently placed USB power ports, giving you the freedom to charge your phone while indulging in the best massage experience of your life.
Note: The left arm slot is used to store the remote for the chair.
---
OHCO M.8 Review – Specs
NAME
OHCO M.8
RECOMMENDED USER HEIGHT
5'1″ – 6'4″
USER WEIGHT LIMIT
265 lbs
AUTOMATIC SESSIONS
14
MANUAL ACTIONS
9
MANUAL AIR PROGRAMS
4
TRACK TYPE / LENGTH
MaxTrack / 49″
AIR CELLS
76
CHAIR DIMENSIONS
Upright: W 36″ (+20″ for each open door) X L 60 X H 49″
Reclined: W 36″ X L 77″ X H 36″
CHAIR WEIGHT
364 lbs
PRICE
Check Price
---
OHCO MASSAGE CHAIR WARRANTY
You have two options with the OHCO Warranty. The first option is a standard 3-year warranty that comes with all OHCO Chairs. The second option is an extended 5-year warranty, which you have 30 days to purchase starting from the first day of purchasing the massage chair. Warranties include on-site service that covers all parts and labor.
For more information about the warranty, you can visit the official OHCO website.
Pros
Unique door swing feature
MaxTrack Technology
Heated zones are controlled individually and distributed throughout the chair
The inversion recline angle
Headrest Rollers deliver a Human-Like Neck Massage
Deltawave 4D engine
Cons
The chair is expensive, but it is worth the money.
The weight capacity may not accommodate people over 265 lbs.
Only one advanced massage technique is available.
The massage intensity may not be suitable for individuals who prefer rough massages.
---
OHCO M.8 ELITE VS. LIMITED EDITION
You may have heard about the OHCO M8 LE or LIMITED EDITION, and I'm sure you're curious about the difference between the M.8 and the M.8 LE. In my opinion, there isn't a significant difference between the two. Both models share the same features that we have previously reviewed. The OHCO M.8 LE has an additional cost, which is due to the limited availability of the M.8 LE Massage Chair with only 2,000 chairs. Furthermore, it features genuine leather with rose gold trim.

The OHCO M.8 LIMITED EDITION is available in three stunning colors: Bordeaux LE, Rosso Nero LE, and Saddle LE. Furthermore, a signed certificate from the designer, Ken Okuyama, will be included with this limited edition, conveniently located on the left side of the chair.
From my perspective, with only 2,000 chairs produced, I firmly believe that this limited edition is an ideal choice for collectors. On the other hand, the Elite model (OHCO M.8) offers the same features at a lower price.
---
OHCO M.8 VS. INADA DREAMWAVE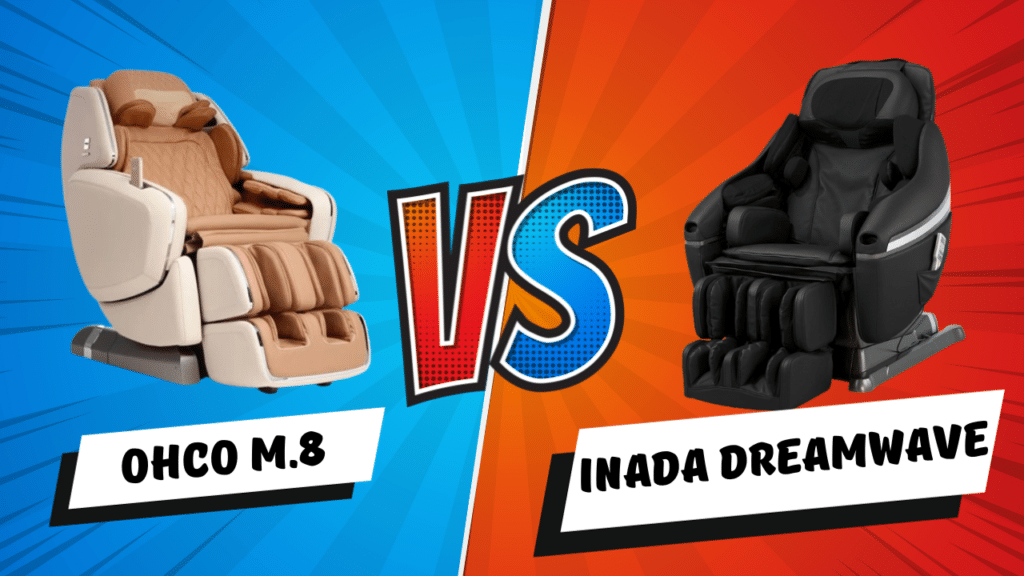 The OHCO M8 Massage Chair was previously known as the Dreamwave M8 before the m-series massage chairs being rebranded as OHCO. Both the M.8 and Dreamwave chairs share some features while differing in others. In order to provide you with a better understanding, let's proceed with a brief comparison between these chairs. Let's get started!
Heat Therapy
The Dreamwave features heat pads in the lumbar and seat area, while the M.8 goes above and beyond with heat pads in the feet, calves, seat, back, hands, and headrest. It's clear that the M.8 excels in providing comprehensive heat therapy.
Preset Programs
The OHCO M.8 Elite Massage Chair comes with 14 pre-programmed massages. On the other hand, the Dreamwave offers 16 preset programs, taking the lead with 2 extra programs.
Roller Track
As mentioned earlier, the M.8 utilizes MaxTrack technology, which is a hybrid of the L-Track and S-Track. On the other hand, the Dreamwave solely relies on the S-Track Roller, which gives an advantage to the M.8.
Space Saving
With the M.8, all you need to do is position the chair 6.25″ away from the wall, and you can recline as much as you want. In contrast, the Dreamware requires 16″ of space from the wall, which is twice as much as the M.8.
Additional Features
The OHCO comes with a wide range of features, such as aromatherapy, Bluetooth speakers, an air ionizer, and more. Unfortunately, the Dreamwave does not have as many features as the OHCO. Speaking of colors, OHCO comes in 5 different options. The Dreamwave, on the other hand, offers a choice of 3 colors: black, cream, and espresso.
Price
Speaking of price, just by looking at the features that the M.8 chair offers, it's evident that it is an expensive option. The M.8 is priced at around $11,000, while the Dreamwave is priced at around $7,000.
Specs
| | | |
| --- | --- | --- |
| Image | | |
| Name | OHCO M.8 | Inada Dreamwave |
| Track Roller | 49″ MaxTrack | 30″ S-Track |
| Roller Type | 4D | 3D |
| Space Saving | Yes, 6.25″ | Yes, 16″ |
| Advanced Massage Program | 14 | 16 |
| Airbags | 45 | 100 |
| Weight Capacity | 265 lbs | 300 lbs |
| Height Range | 5'1″ – 6'4″ | 5'0″ – 6'5″ |
| Price | Check Price | Check Price |
---
Final Verdict
In conclusion, this OHCO M8 review highlights that this chair is a masterpiece, excelling in both design and performance. Additionally, we mentioned earlier that OHCO offers two models, and it is worth noting that the limited edition is specifically crafted for collectors. If budget is not a concern, the M.8 is definitely worth every penny. However, if you need to consider factors such as weight capacity or recommended height and you don't have the budget, the Inada DreamWave is also a good choice.
Thank you for taking the time to read until the end. We appreciate your attention and hope that our review of The OHCO M.8 & M.8 LE has addressed your question. We look forward to having you join us in our next article.
---
References & Resources:
Ohco Official Website
Inada Dreamwave Offical Website