Zero-gravity recliners are designed to elevate your legs to the same level as your heart. This position reduces the strain of gravity on your vertebrae, which in return relieves back pain, and muscle tension and improves deeper, more relaxed adequate circulation.
And when it comes to picking the most classical zero gravity recliner, we pick Svago ZGR Plus SV395 zero gravity recliner. Not only is the recliner aesthetically pleasing, but it also offers heated massage therapy, memory foam support, and an extended armrest for full arm support even in a reclined position.
In this blog post, we'll tell you why the Svago massage chair is among the top massage chairs, its decent features, along with the perks you'll get. At the end of this review, you've got a clear idea of why you should consider purchasing the Svago ZGR Plus SV395 Zero Gravity Recliner.
---
Svago Zgr Plus SV395 Zero Gravity Chair – Detailed Review!
If you wish, you could have a massage chair that takes you into a state of relaxation that's akin to floating in space, then consider Svago Zgr Plus SV395 Zero Gravity Chair, which is designed to offer exactly that.
Super Soft Material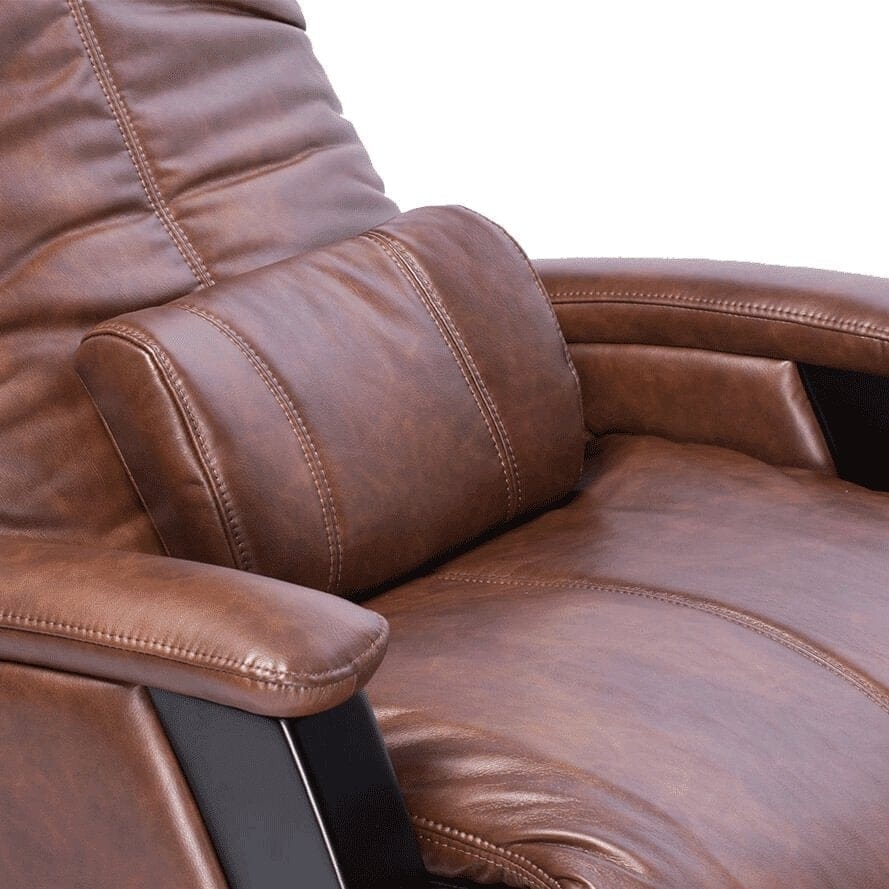 The chair boasts a super soft material crafted from Synthetic Polyurethane Leather that's not only laundry safe but also feels luxurious to the hand's touch. We also like the cushioning it offers, and it's like the kind of comfort one dreams of after a long day at work.
Remote Control
The remote that comes with the zero gravity recliner is decently designed with a user-friendly interface. So you can smoothly adjust the backrest and the footrest. With its two manually adjustable pillows, one each for your neck and lumbar area, you can get the ideal level of support you are looking for.
If you're watching a movie and need a different angle, and it's to indulge in a massage, the chair can adapt. Speaking of health benefits, zero gravity chairs are known to optimize lung performance and enhance oxygen-rich blood flow. It's like giving your body a mini-vacation.
Heat Functions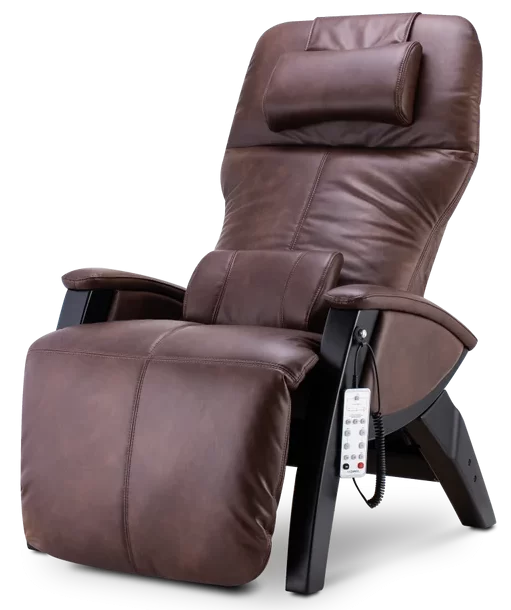 This chair goes above and beyond with its massage and heat functions. The two vibration massage programs paired with heat therapy can transport you into a state of deep relaxation and relieve all the stress, joint pains, and neck and leg pain in your body.
Another great benefit we appreciate is its smart alarm feature. It's like if you are relaxing in the Svago recliner and want a short nap, you can get by setting up a wake-up time alarm. For added comfort, the chair comes with a removable Sensi-Temp Foam Lumbar Pillow that's pretty suitable when it comes to ensuring maximum support, and the independently adjustable headrest so your neck and head are always comfortably positioned.
Whether it's a weekend movie long-drawn-out or an evening of reading, this chair promises a cozy and riveting feel.
Modern Design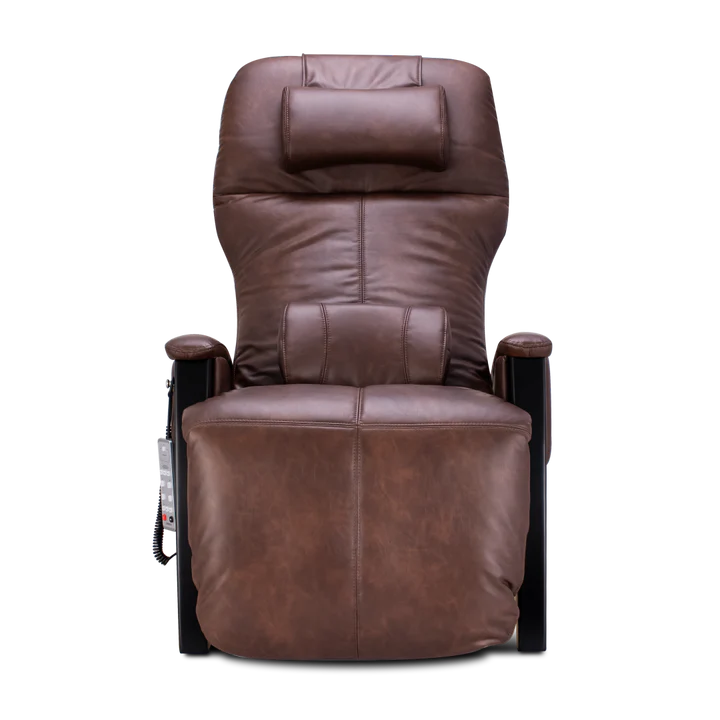 The design intelligence of the Svago Zgr Plus SV395 Zero Gravity Chair is apparent not just in its advanced features but also in its aesthetic appeal. It's well-built and has sleek contours, and its modern design blends seamlessly with any interior. The chair takes up quite extra space when fully reclined, so it's best if you can position the chair in your living room. But, if you have a big house with extra spacious rooms, then you can place it even in your bedroom or office room too.
Key Features
Super Soft Synthetic Polyurethane Leather
Advanced Cushioning
User-friendly Remote Control
Independently Adjustable Features
Two Manually Adjustable Pillows
Massage and Heat Functions
Optimized Health Benefits
Smart Wake-Up Program
Removable Sensi-Temp Foam Lumbar Pillow
Modern and Stylish Design
Key Specs
Brand – Svago
Material – Vinyl
Dimensions – 43.3 x 30 x 47.5 Inches
Color – Black, Chestnut, Cognac, Cognac / Black, Midnight Black, Snowfall White
Surface Advice – Hard Floor
Real Weight – 95 lbs
Maximum weight capacity – 300 lbs
Age Range – Adult
---
Frequently Asked Questions (FAQs!)
What is the difference between a recliner and a zero-gravity recliner?
A traditional recliner offers the comfort zone for sitting, lying back, and elevating your feet. It's like a throne fit for relaxation royalty! A zero gravity recliner, on the other hand, mimics the position astronauts take during launch. In this position, the feet are elevated higher than the heart, promoting better blood circulation and taking pressure off the spine.
Are zero-gravity chairs good to sleep in?
Zero gravity chairs are designed for relaxation and therapeutic benefits rather than prolonged sleep. While they can be exceptionally comfortable for short naps or relaxation sessions, they might not provide the same support and comfort as a proper bed for a full night's sleep. Extended sleep in a zero-gravity chair can restrict movement, which is essential for muscles and joints during sleep.
Read also Best Zero Gravity Massage Chair under $500 – A Complete Guide
Is zero gravity good for back pain?
Zero-gravity position aims to reduce pressure on the spine by distributing body weight evenly. This can help alleviate tension in the back muscles and reduce compression in the spine.
How long should you sit in a zero-gravity chair?
There's no one-size-fits-all answer to this, as individual needs and comfort levels vary. Some people find relief in just 15-20 minutes, while others may prefer up to an hour. The key is to listen to your body. Start with shorter sessions and gradually increase the time as you see fit. It's essential to get up, move around, and stretch occasionally to ensure good blood circulation and prevent muscle stiffness.
---
Conclusion – Final Thoughts!
In wrapping up, the Svago Zgr Plus zero gravity recliner emerges as a standout product with advanced features designed to optimize relaxation and health benefits. The stylish design, coupled with its user-friendly controls, heat functions, and super soft material, make it a worthy investment. The zero gravity position it offers significantly enhances blood circulation, reduces back pain, and even boosts lung performance.
We hope this review of the Svago ZGR Plus SV395 Zero Gravity Recliner has covered everything you needed to know. So that's it for now. See you in the next post…