Osaki brand has earned its reputation for designing some of the most avant-garde and deluxe massage chairs in the market, and the Osaki OS Hiro LT 3D massage chair is no exception when it comes to sleekness, sophistication, decent build, and overall value for money.
Even better, it's easy to assemble, has 14 airbags, zero gravity reclining, 3D rollers, Japanese brushless motors, computer body scan, SL track massage, Bluetooth speakers, a decent remote, and a 3-core processor for faster response.
In this review, I'll share with you my research-based recommendations for the Osaki OS Hiro LT 3D massage chair. What features make it the most hyped massage chair, and is it genuinely worth it? So, if you are planning to purchase this particular massage chair, I honestly recommend you thoroughly read this review.
Osaki OS 3D Hiro LT Massage Chair – In-Depth Review
The Osaki OS Hiro LT 3D Massage Chair is a marvel of engineering that brings together sophistication, technological excellence, and a wellness-focused design. Its 3D massage functionality offers a transformative body massage experience. The chair effectively mimics the hands of a skilled masseuse, giving you smooth massage therapy tailored to your body's unique needs.
Key Features
Here are some of the core features I've listed that you can get after purchasing the Osaki OS massage chair.
1. Easy Assembly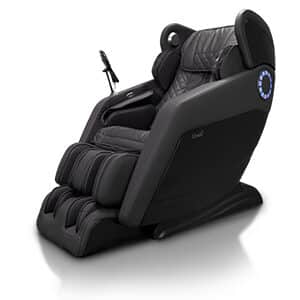 Well, according to the user's testimonials and expert guide, the assembly of the Osaki massage chair is pretty simple: it doesn't take you more than 20 minutes to assemble the chair. Its control panel is also pretty straightforward to use, and you can master its features in less than twenty minutes, too! This expedited setup means you can quickly jump into your first deep tissue massage session.
---
2. Robust Build Quality

The last thing you want from your massage chair is to replace it after a few years of service due to its poor build quality. The Osaki OS Hiro LT 3D Massage Chair comes with top-notch construction, durable materials, and a luxurious look, so you can expect at least half a decade of lifespan from this massage chair.
Its sturdy frame can withstand a maximum weight capacity of up to 330 lbs, so whether you are a big-sized person with some extra pounds or an average adult, you should have no problem using this massage chair. The chair is also designed to operate efficiently, allowing you to experience smooth massage therapy with no hiccups or lags.
Visually, the Hiro LT is thoughtfully designed and comes available in 3 color options (black, espresso, and beige) to blend in with your living room, office room, and bedroom decor.
---
3. Japanese Brushless Motors: Efficient, Quiet, Reliable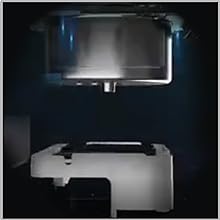 Okay, the most hyped and standout feature of this chair is its use of Japanese-engineered brushless motors. The main difference between brush and brushless motors is that the latter has more torque density and a more extended lifespan due to its superior design.
Not only are these motors efficient and quiet, which is pivotal when you're diving into a deeper massage, but they also add to the overall reliability of the Osaki OS Hiro LT 3D Massage Chair.
With less noise and more power, these motors enhance your overall experience, letting you focus solely on your relaxation and improved blood flow.
---
4. SL Track Massage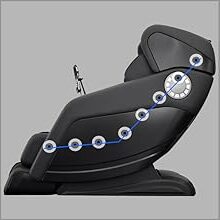 SL-track rolling massage technology is another feather in the cap for Osaki OS Hiro LT. This feature allows the chair to conform to the natural S-curve of your spine, ensuring you get a massage that not only focuses on surface relaxation but also penetrates into the deeper layers of your muscles. Its ability to adapt to your body's nuances improves blood circulation and sets the stage for a truly customized massage experience.
---
5. 3D Airbag with Position Sensor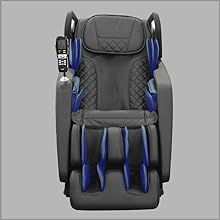 There are a total of 14 airbags on the calves and lumbar area, and the ideal thing is that they have position sensors that detect your body's contours and apply pressure accordingly. This technology allows for the airbag massage to be as intuitive as possible, seamlessly adjusting in real-time to the unique curves and angles of your body.
Compared to other massage chairs that may provide a more generic airbag experience, this chair customizes each session for you. You get deep massage precisely where you need it, and the experience comes as close as possible to what you'd get from human hands.
---
6. Auto Leg Computer Scan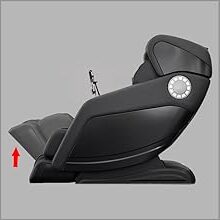 The massage chair's left and right spinning reflexology massage roller can be used in tandem to massage your feet, or you can use them individually to massage your calves, thighs, neck, or spine. Feet, neck, calves, thighs, spine, and arms all benefit from the middle space's constant kneading massage as the rollers spin. As a whole, we really appreciate this feature as the scanning of the optimal leg length, foot rollers, and airbag massage in the leg unit is perfectly aligned with your body, thereby optimizing the rolling massage you receive.
---
7. Computer Body Scan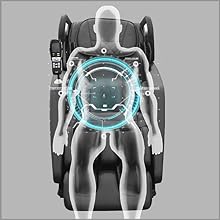 Moving beyond the legs, the Computer Body Scan utilizes advanced algorithms to gather multiple data points across your back and shoulders. Unlike other massage chairs that may provide a one-size-fits-all approach, this feature creates a mapped-out plan tailored specifically to your body.
It then uses this data to provide a range of massage techniques, ensuring a full-body massage experience that's second to none. This is where the chair's roller and airbag massage capabilities truly shine, offering a personalized touch that is typically hard to achieve with automated systems.
---
8. Zero Gravity Position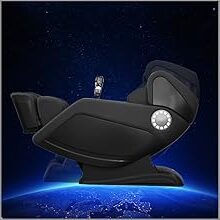 The Zero Gravity positioning feature elevates your legs to the same level as your heart; that's a simple funda that almost all massage chair users know and want to their chair to minimize the strain of gravity on your vertebrae and relieve the discomfort of back pain.
This desired position allows for deeper penetration of massage techniques into the muscle tissue, effectively enhancing blood flow and setting the stage for deep relaxation. Besides, the zero-gravity experience enhances the effectiveness of both roller and airbag massage techniques, making your session incredibly impactful.
---
9. Heat Therapy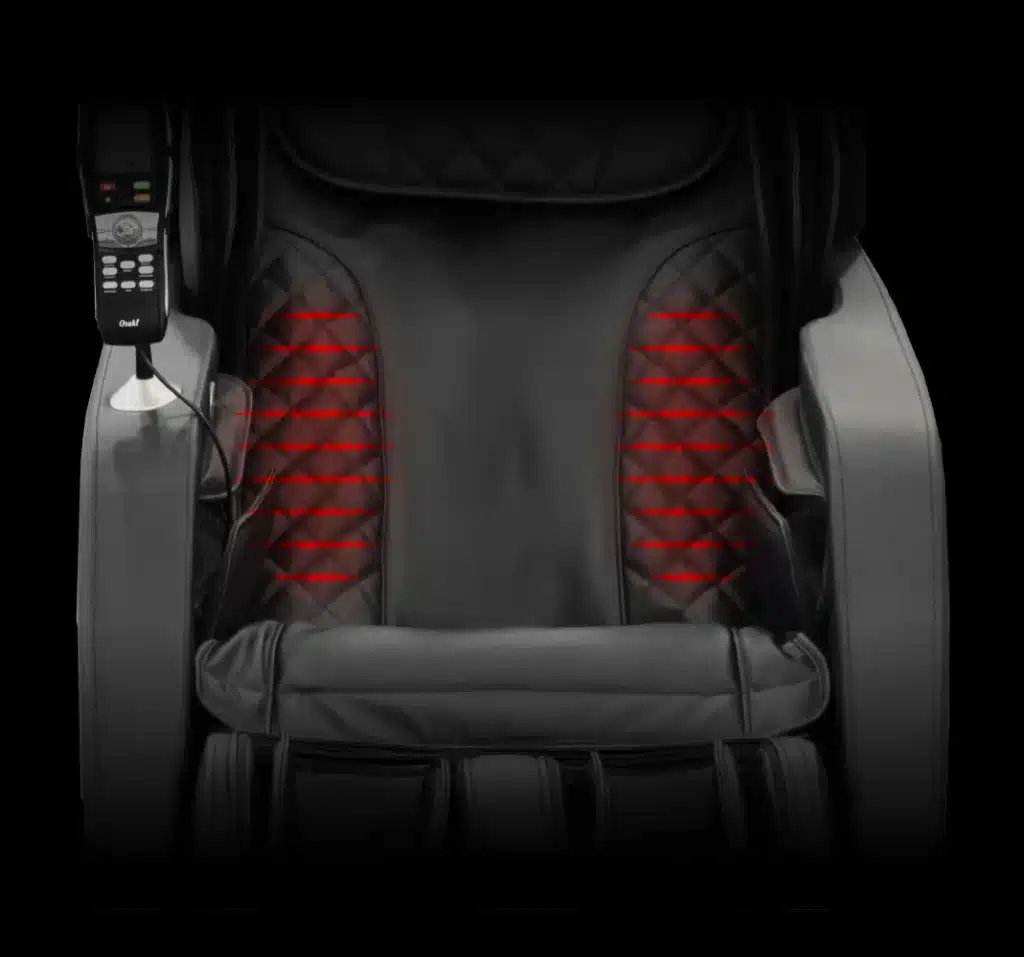 Heat therapy often complements massage therapy to relax the muscles and improve blood circulation. The Osaki OS Hiro LT goes the extra mile by incorporating warm and relaxed lights into its heat therapy session. In addition to providing uniform warmth, this setting also provides a relaxing ambiance. When all put together, these features provide a level of relaxation, support, and comfort level, that's often not found in other massage chairs. The atmosphere is perfect for individuals who want to get the most out of their full-body massage experience.
---
10. Chromo therapy Lighting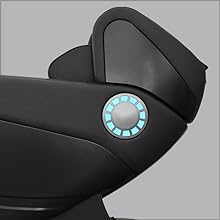 Chromotherapy refers to the practice of employing color therapy to realign one's energetic vibrations with those that promote wellness and balance. The Hiro LT takes advantage of this advanced lighting system to provide an even more relaxing massage. The soothing blue light will illuminate the room's walls, making the massage more relaxing and enjoyable. Whether you're looking to relieve pain or loosen tense muscles, the color changes sync with the massage rollers and compression massage to create an immersive experience.
---
11. Bluetooth Speaker & USB Connector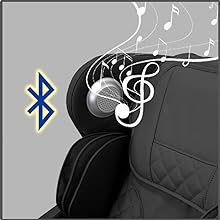 The Osaki OS Hiro LT comes equipped with Bluetooth technology, allowing you to pair your smartphone or other devices for a personalized audio experience. These aren't just any speakers; the high-quality sound Bluetooth speakers elevate your relaxation to a whole new level.
Imagine enjoying a soothing kneading style application while your favorite tunes play in the background. Further, the USB connector offers the convenience of charging your devices. You can keep your phone juiced up and continue increasing blood circulation through a massage without ever having to leave the chair.
---
12. 3D Rollers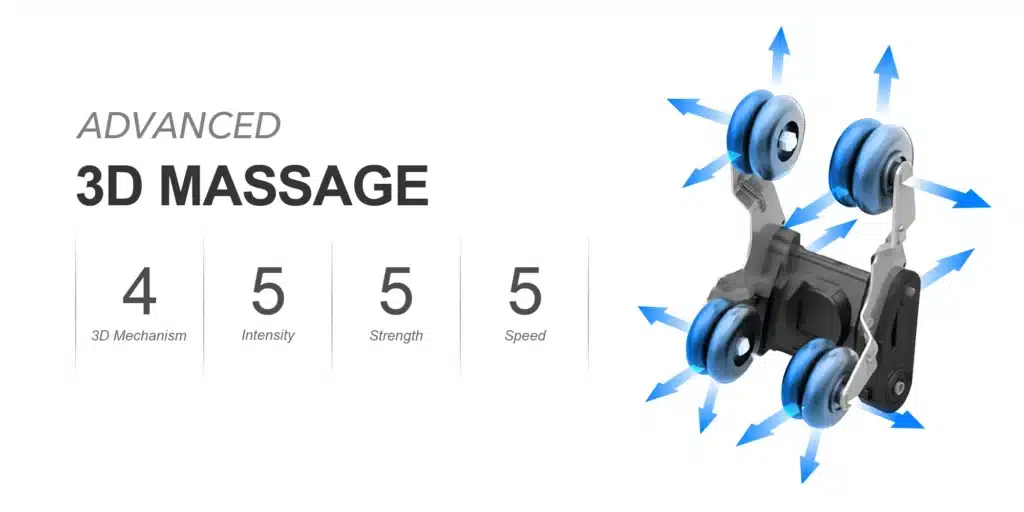 The 3D rollers in this chair are a game-changer. They move up, down, left, right, and even extend out for a much deeper massage. But it doesn't stop there; the rollers are designed to stimulate acupuncture points effectively. So if you're suffering from sore muscles or stress, these rollers provide a targeted application that can help. The 3D nature of the rollers means that they can adapt to the contours of your body better than traditional 2D rollers. Whether you're looking to increase blood circulation or simply loosen up after a long day, these rollers offer a customizable experience tailored to your needs.
You may like to check this article about 2D vs 3D vs 4D Massage Chair – Full Guide
---
13. Space-Saving Technology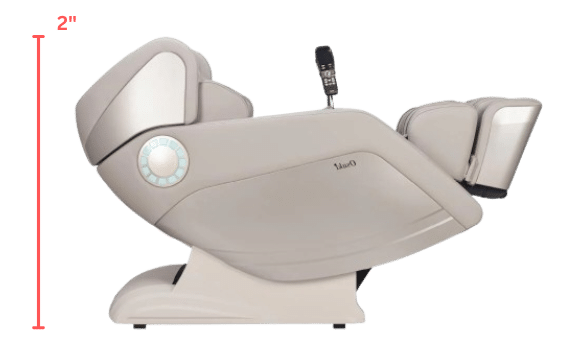 No one wants a massive, bulky chair taking up half their living room. That's where the space-saving technology of the Osaki OS Hiro LT comes in handy. With this feature, the chair moves forward as it reclines, minimizing the amount of room needed behind it. So, even if you're tight on space, you can still enjoy all the benefits this chair has to offer, from soothing massage rollers to chromo therapy lighting. The forward chair movement ensures that you're making the most efficient use of your available space without compromising on any of the chair's robust features.
---
Pros & Cons
What We Like
Decent scanning technology
Threshold delivery
Chromo light therapy
Leg scanner
Body scan technology
8 Auto massage programs
High-quality speakers
Space-saving technology slides the chair forward as the chair reclines
Quite okay heat therapy
Quick assembly
52-inch L-Track Pairs Well With The 3D Rollers
Synthetic leather seat, which is comfy, strong, and endorsed
Nice build quality
Luxurious look
What We Don't Like
Concerns in heat therapy
Overhyped massage chair
Pretty high price tag
---
Key Specs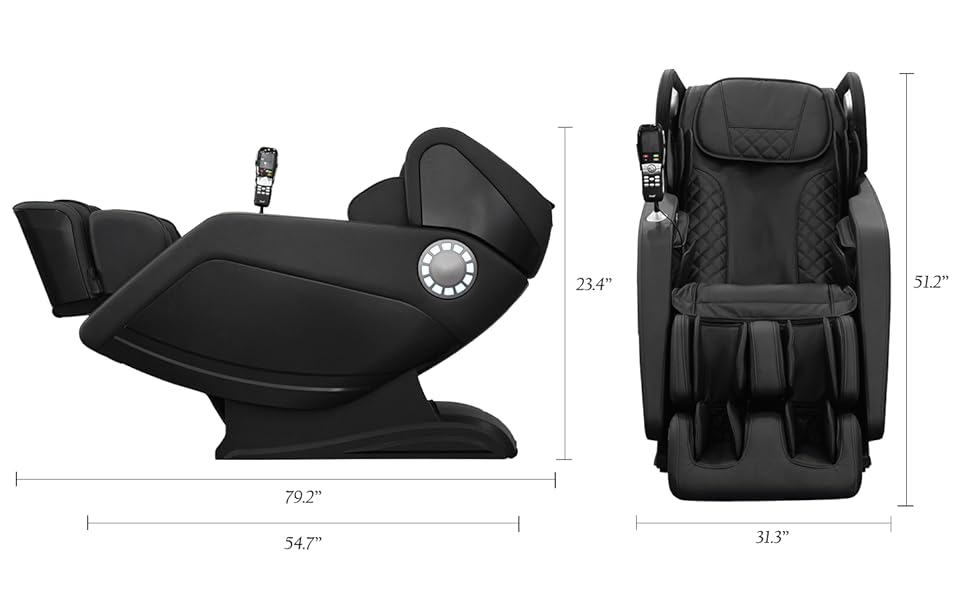 | | |
| --- | --- |
| Brand | Osaki |
| Massage Chair Color | Brown – Black – Tope |
| Dimensions | 79.2 x 20.1 x 23.4 Inches |
| Overall Weight | 250 lbs |
| Maximum Recommended Weight | 330 lbs |
| Style | Japanese |
| Age Range | Adult |
| Surface Recommendations | Hard Floor |
| Chair Material | Synthetic Leather |
| Height Range | 5 feet – 6 feet 2 inches |
| Roller Length | Approximately 52 Inches |
| Roller Type | 3D |
| Total Airbags | 14 |
---
Is It Worth Buying Osaki OS Hiro LT 3D Massage Chair – Personal Recommendations!
I've got to say, if you're in the market for a high-end massage chair that offers a little more than just a basic rubdown, the Osaki OS Hiro LT 3D Massage Chair might just be your go-to. This chair is packed with features that offer a total-body relaxation experience. I was really impressed by its Chromo therapy lighting, which not only looks cool but actually enhances the mood.
Even better, when you just want to kick back and relax to some tunes, the high-quality Bluetooth speakers really make a difference. This chair has excellent sound quality, which is important to me. The 3D rollers may be changed to provide a deeper or gentler massage, which is another reason why I like them. Is it really worth it, if you ask me? Absolutely. I suggest going for it if you can afford it. It's money wisely spent on improving your health.
---
Frequently Asked Questions (FAQs)
Is Hiro's massage chair good?
For complete, personalized relaxation, the Hiro massage chair is a great investment. It offers a customized massage with its 3D rollers, 14 airbags, and height range. Additionally, its high-quality Bluetooth speakers and Chromo therapy lights boost relaxation. It's a luxury chair with several features, making it a popular option.
Are Osaki massage chairs good?
Osaki massage chairs are known for their quality and innovative features. They provide a customized experience with 3D rollers and airbags. Osaki chairs' thermal treatment and zero-gravity setting encourage wellbeing. They are recommended for their longevity and customer service, making them a good long-term health investment.
What is the difference between 3D and 4D massage chairs?\
3D massage chairs include adjustable rollers to vary massage strength, while 4D chairs have speed control to add another dimension. 4D technology simulates a professional masseuse's hands, which may speed up or slow down mid-stroke for a more comprehensive and focused massage. Thus, 4D chairs give a more realistic, hands-on massage, although both relieve distinct pain locations.
Where is Osaki massage chair made?
Osaki massage chairs are mostly made in China. However, certain high-end models are made in Japan to ensure quality and innovation. Osaki's chairs satisfy worldwide dependability and durability criteria due to strict quality control standards at every production location.
---
Conclusion – The Bottom Line!
All in all, the Osaki OS Hiro LT 3D massage chair is a pretty okay model, not so over supreme when it comes to price tag, but feature-wise, it didn't lack and offered you the greatest comfort, support, and design. Even better, it helps you boost immunity, reduce stress and anxiety, improve cardiovascular health, and manage your lower back pain. So, that's everything about the Osaki OS Hiro LT 3D massage chair. After in-depth research and expert recommendations, we wanna give this massage chair a 9 out of 10. We really hope this massage chair review helps you understand the chair, like our previous reviews.
---
References & Resources:
Osaki Massage Chair Official Website
Osaki OS-Hiro LT User Manual
---
Related Topics May Help You:
Best Osaki Massage Chairs on the Market
Titan vs. Osaki Massage Chairs – Which One is The Best?
Osaki OS Champ Massage Chair Full Review
Osaki OS-Pro 4D Encore Review – A Detailed Review
Best 8 Massage Chairs for Small Space